Bounce into spring break with activities in Henderson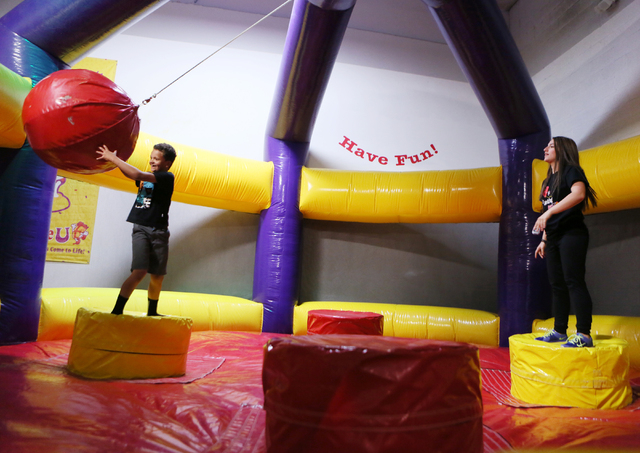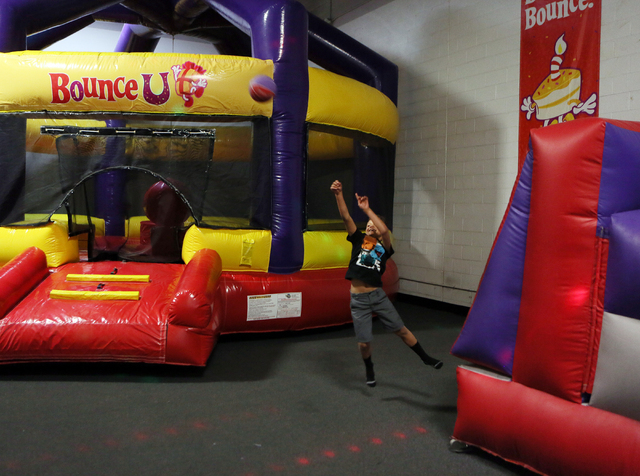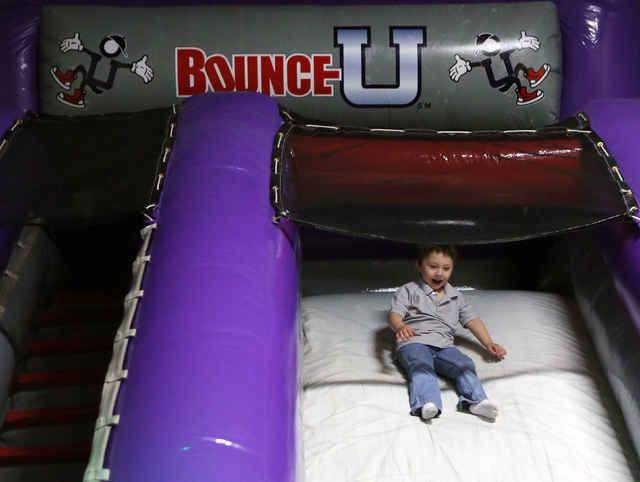 As parents search for options for children on spring break, places around Henderson have announced various opportunities.
INDOOR ADVENTURES
BounceU, an indoor facility featuring inflatable obstacles and bouncing structures, is scheduled to host its spring break camp from 9 a.m. to 3 p.m. April 14-18 at 1000 Stephanie Place.
The one-week camps costs $159 per child with a 10 percent discount for siblings.
BounceU has been in Henderson six years according to Mandy McElroy, general manager of BounceU Henderson.
"We are open year-round," she said. "We are great for birthday parties or just after-school fun."
McElroy said the facility has added equipment recently and made changes to the rooms so people get fresh experiences.
"There have been lots of improvements and changes over the years," she said.
While continuing to offer its open bounce times throughout the week, McElroy said this year the organization is scheduled to offer a spring break camp.
Along with access to bounce rooms, snacks and arts and crafts activities are planned.
McElroy said there are also child care options before and after the camp for $8 an hour.
"It goes up to 6 p.m. and as early as 7:30 a.m.," she said.
BounceU is also expected to have a summer camp June 9 through Aug. 22. Registration is open for summer.
"We did the summer camp the last two years," she said. "People can sign up as long as there is space."
For more information, visit bounceu.com.
HENDERSON KIDS ZONE
The city of Henderson is scheduled to offer its Kids Zone.
"We offer Kids Zone during spring and winter breaks," said Kim Becker, a spokeswoman with the city of Henderson.
Spring break camp is scheduled from 7 a.m. to 6 p.m. April 14-18 at the Henderson Multigenerational Center, 250 S. Green Valley Parkway, and the Black Mountain Recreation Center, 599 Greenway Road. The cost for the camp is $90, with sibling discounts available.
There are 25 spots at the Black Mountain Recreation Center left, but the Henderson Multigenerational Center is full.
"Each site can host up to 90 children per week," Becker said.
She added that Henderson has other options including a Junior Lifeguard Clinic for youths 12 to 15 from 8 to 11 a.m. April 14-17 at the Heritage Park Aquatic Complex. The program costs $50.
"It serves as an introduction to our formal Junior Lifeguard program," she said. "It gives kids a chance to learn what life guarding is about and see if maybe it's something they wish to pursue by becoming a Junior Lifeguard."
For more information, visit cityofhenderson.com/parks.
BOYS & GIRLS CLUBS
The Boys & Girls Clubs of Southern Nevada is scheduled to offer spring break events from 7 a.m. to 6 p.m. April 14-18.
"As an organization, we encourage creativity and fun year-round," said Alma Spears, the area director for the organization. "We focus on non-school days as a time to maximize special activities."
The clubhouse charges $25 for children 5 to 12 and $5 for teens.
During spring break, the Reynolds Clubhouse, 2980 Robindale Road, fee is $110 for the week and the Southern Highlands Clubhouse, 10900 Southern Highlands Parkway, fee is $110 for elementary students, $90 for middle school and $10 for teens.
"Each of our 14 clubhouses have fun-filled programming scheduled," Spears added. "This includes field trips, water days, bounce houses, obstacle course, game room tournaments, trivia competitions and spring break parties on Friday to close out the week."
For details, visit bgclv.org.
SUNSET STATION VACATION
At Sunset Station, 1301 W. Sunset Road, Kids Quest offers games, an indoor play area and arts and crafts for children year-round from noon to 11 p.m. Monday through Thursday, noon to 2 a.m. Friday, 10 to 2 a.m. Saturday and 10 a.m. to midnight Sunday.
Children 6 months to 29 months can participate in the tiny tots program, which costs $8.50 per hour Monday through Thursday and $9.50 and per hour Friday through Sunday. For children 30 months to 12 years, the program is $8 per hour Monday through Thursday and $9 per hour Friday through Sunday. For more information, call 702-547-7773.
Contact Henderson View reporter Michael Lyle at mlyle@viewnews.com or 702-387-5201. Follow on Twitter @mjlyle.