Downtown becomes more bike-friendly
September 26, 2013 - 9:46 am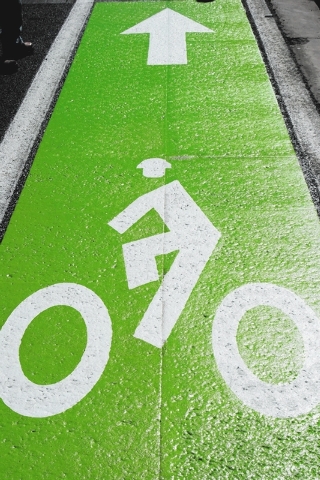 The Regional Transportation Commission of Southern Nevada has been given the green light, or the green lane rather, to create a network of green bicycle lanes and related signs on various downtown roadways. These include First, Third and Sixth streets; and Hoover, Gass, Garces, Bonneville, Clark, Bridger and Ogden avenues.
In addition to these urban biker-friendly improvements, bike-share programs at the RTC and places such as the Molasky Corporate Center are creating a thriving biking culture in the downtown area.
"Currently, the RTC and the city of Las Vegas are working to implement a number of new facilities and amenities over the next year that will provide safer, more convenient access for pedestrians, bicyclists and transit riders in downtown Las Vegas, the second largest employment center for the valley," said David Swallow, director of engineering services at the RTC.
"These efforts incorporate Complete Streets design principles to encourage comfortable and safe pedestrian movement," he added.
The biker-friendly improvements are focused in the downtown area as it's the RTC's main transit hub and location of the city's only commuter bike center. By the end of 2014, the RTC, together with the Nevada Department of Transportation, will roll out the first phase of a new public bike-share program.
The RTC anticipates installing a system of 12 to 18 stations with 120 to 180 bikes in the downtown area providing affordable, hassle-free access to bicycles for short trips. By the end of 2014, the RTC anticipates the valley will have more than 60 downtown blocks with bike lanes.
"The intent of the program is to provide the 'last mile' connection with the public transportation system to increase accessibility of affordable modes of transportation to residents and visitors for short-distance trips," Swallow said.
Last year, the Molasky Corporate Center launched its bike share program featuring 10 Electra "townie" bicycles. Those who work at the Molasky Corporate Center or in the IRS Building can ride a "townie" bicycle complete with basket, bell and rack around the downtown area free of charge.
The center hopes to inspire its workers to lead a healthier, greener lifestyle by providing them with this alternate commute option. In February, the program won the Award for Organizational Excellence by the Green Building Council/Nevada Chapter.
Downtown Project is also creating a bike-share program featuring Via Cycle bicycles (about $2,000 each) that are equipped with chains that registered riders can unlock with their phones. The bike-share program, inspired by London's and New York's bike-sharing systems, is part of Project 100 that allows invited members to have access to 100 bikes and 100 electric Tesla vehicles to commute around downtown.
With more and more downtown residents moving in, downtown bike-friendly projects will ensure a greener and safer commute for those who choose a bike over a car.