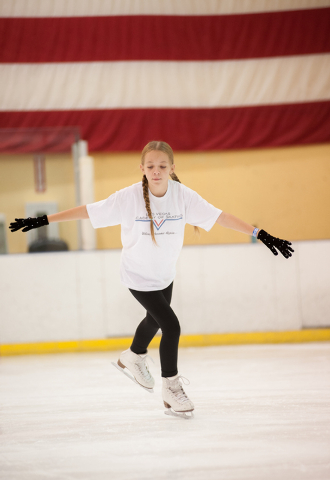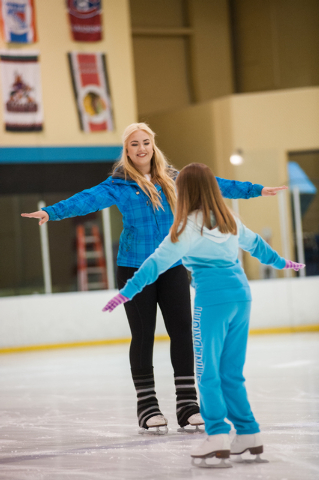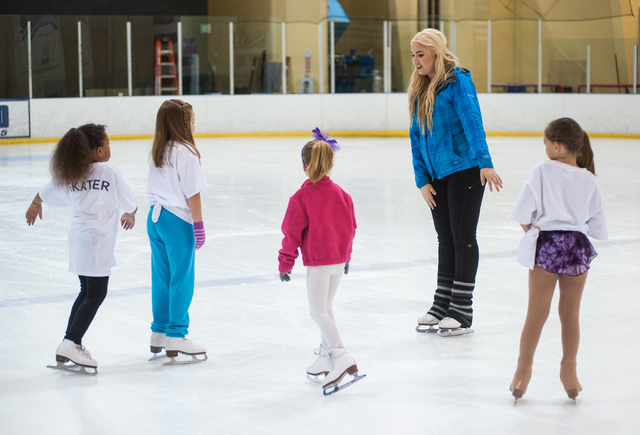 A new ice skating program at the SOBE Ice Arena at the Fiesta Rancho, 2400 N. Rancho Drive, is not only allowing kids to learn a new skill but is enabling them to come out of their shells through performance.
The Summer Fun on Ice program started this summer as part of the Las Vegas Academy Skate School, but rather than focus on skating skills, the program allows participants to pair their learned skating skills to music in a showcase capping the eight-week program.
"It is great because unlike other programs, the kids get to perform," said coach Harley Rhodes. "It is not an easy thing to tie skills to music, so apart from helping them come out of their shell, it gives them a good basis for being able to skate well and perform in front of other people."
During classes, participants spend half the time learning swirls and jumps and the other half focusing on pairing skating skills with music.
The $255 program fee includes 17 lessons of twice-weekly classes over two months and 17 public ice sessions.
"This is a good space for people to have fun," said Camilla Nilsson, skate school director. "Skate school is always a great way for people of all ages to have fun, but Fun on Ice allows kids to have fun while learning to perform as opposed to just learning the skills the whole time. Besides, I don't know why anyone wants to be outside in the summer when they can be in an ice rink."
"I like skating here," said 9-year-old participant Saylor Hites. "It's really fun because we learn how to do things, but we make friends, too."
According to her mother, Ariana, when Saylor started the program, she was shy, but given that she has made new friends and gotten used to the idea of skating in front of people, she has become more extroverted.
"It is really interesting for us as parents to see her have this experience and having something that she has really clicked with for the first time ever," she said. "Before we found skating and this particular program, she never really clicked with other activities."
The program has also been beneficial to experienced skaters because, even though they may be more advanced in their skills, learning to perform has been a new experience for them.
"I've learned how to put my moves so that they go with music. I now get to dance with my brother, and that is really fun," said participant Hunter Perdergraft, 15. "Even though I have been learning for a while, it is always nice to learn more so I can feel confident in my skills and what I can do."
"This program has been great for her because she is a very shy person, and it has really helped her with her self esteem," said Hunter's mom, Kimberley. "For her, especially, the opportunity of having to do a number in front of other people has really helped her come out of her shell because she gets to show who she is by doing the thing she loves."
Learning and performing allow the kids to make skating their own and want to take it a step further. For instance, Saylor's parents have enrolled her in private lessions so she can learn additional skills.
"The coaching is really positive and encouraging," she said. "The fact that these are technically trained coaches makes you feel even more at ease because you know that they will teach the kids well from the start."
"I love teaching the kids here, especially now through this new program because I get to see them grow in their confidence and their skills," Rhodes said. "I think this program is a great entry way into skating, whether the kids just want to improve their skills or become competitor skaters."
While the program enrolls people of all ages, seven kids, ages 9 to 15, enrolled in the summer program.
For more information, visit tinyurl.com/summerfunonice.
Given the success the kids have had in the summer program, the Fiesta Rancho plans to have a fall program starting in September.
Contact reporter Maria Agreda at magreda@reviewjournal.com or on Twitter at @mjfagre.