Jumping into business: Rockin' Jump trampoline park owners sought kid-friendly venture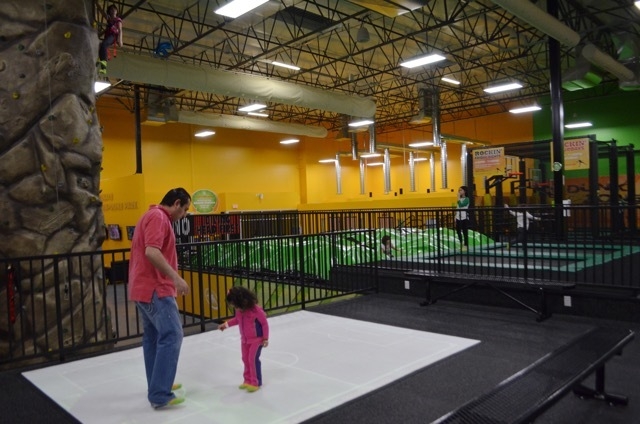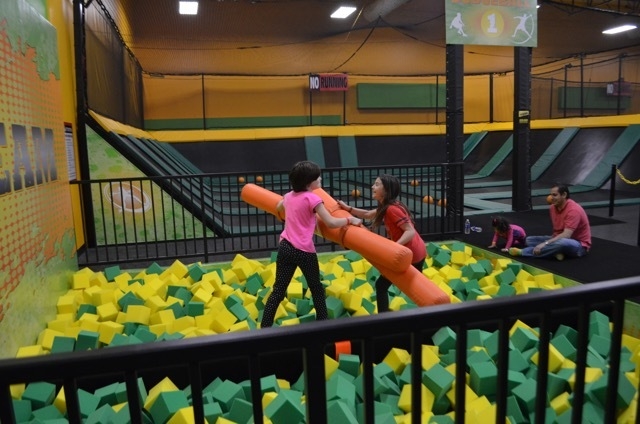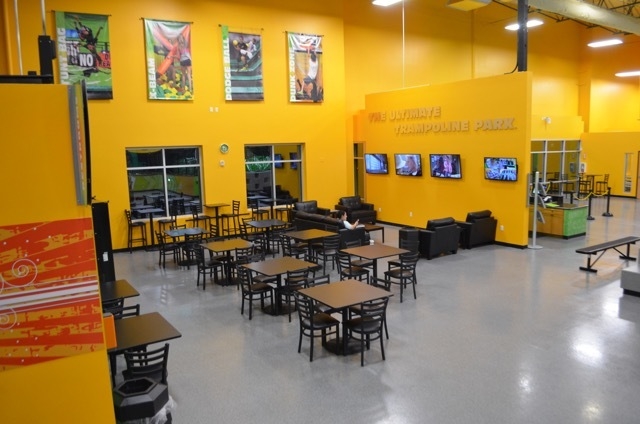 "A bouncing baby boy" — for John and Gina Emmons, that phrase took on an amplified meaning as they opened Rockin' Jump Las Vegas, a new indoor trampoline sports park at 7200 Montessouri St., Suite 160, at the same time they were expecting their third child.
"That was a fun experience," John Emmons said. "Her due date was actually our original grand opening date. So we were kind of all freaking out."
To add to the challenge, the couple had just moved from the Bay Area in California to launch the startup with their best friends Chad and Mari Rodrigues.
At a little more than 2 months old, the Emmons' youngest isn't bouncing yet, but his 2-year-old sister and 7-year-old brother and the Rodrigues' 2- and 6-year-olds are.
John Emmons came to visit with the Rodrigues family two years ago when he was out for CES, the Consumer Electronics Show. While he was here, they decided to launch a business together — a business that would allow them all to spend more time with their kids. A trampoline park seemed like the perfect fit.
The entrepreneurs contemplated starting from scratch, but then they flew out and met with Rockin' Jump, a company that has, as of 2016, 23 parks in the U.S. and one in Thailand, with 130 U.S. parks and 50 international parks planned by 2020.
"We decided to take the plunge," Emmons said. "One thing led to another, and here we are 11 months later. It was quite a quick turnaround from, 'Oh, I think we should do this,' to 'Oh, we're open.' "
The 20,000-square-foot park features a large open jump area with wall-to-wall trampolines. Kids 6 or younger have a dedicated space to jump. There's also a spot where jumpers of any age can leap from trampolines into a pit topped with a stunt air bag. There are two trampoline dodge ball courts, three basketball court bays with varying heights of hoops and a three-story rock climbing tower. Visitors are also invited to grab a padded log and battle gladiator-style, balancing on a beam with foam pits on either side.
Or guests can play soccer, hockey and a variety of other virtual games on a floor-mounted projection screen. Parents can relax in a lounge area and indulge in free Wi-Fi, or they can jump along with the kids.
Emmons said it's important to him and the other owners that admission price be all-inclusive. So, for about $14 an hour, everything from the trampolines to the climbing wall is included. Even lockers are free.
"I don't like being nickled and dimed," he said. "I wanted to give parents the same sort of experience that I would expect from a business."
Emmons said he also loves that the facility is bright and open, "and you can see your kid from almost anywhere."
For preschoolers and parents, there's Rockin' Tots, a time from 9 to 11 a.m. Mondays through Thursdays and 8 to 10 a.m. Saturdays, when parents and kids 6 or younger can jump for $15 for one parent and child and $3 per additional child.
Teens and tweens may prefer Friday or Saturday night offerings with disc jockeys.
Up until about 10 years ago, Emmons was a middle school teacher, and until the family moved to Las Vegas, Gina was an elementary school teacher.
As former educators, they decided to make school fundraisers a big part of their focus. Schools that schedule a fundraiser can get a 50 percent share in the profits, which, with a capacity of 445 visitors, John Emmons said can add up quick.
They also plan to put on regular fundraisers for the Las Vegas Natural History Museum, the Discovery Children's Museum and the Springs Preserve, and they recently donated $1,000 to the American Heart Association.
"We're really about being a part of the community," Emmons said.
So far, the facility has almost 70 employees. Among them is general manager Medin Gebrezgier. He met the owners when they were working with him at the Nevada Small Business Development Center where he was a counselor. They saw talent in him and lured him away.
"I was so excited about the idea of having another trampoline park, something awesome for the kids," Gebrezgier said. "It keeps people active, and it's something better to do with their time than just going to a casino."
Visit lasvegas.rockinjump.com.
Contact View contributing reporter Ginger Meurer at gmeurer@viewnews.com. Find her on Twitter: @gingermmm.