Las Vegas Golf & Tennis opens in Boca Park
February 26, 2013 - 12:00 am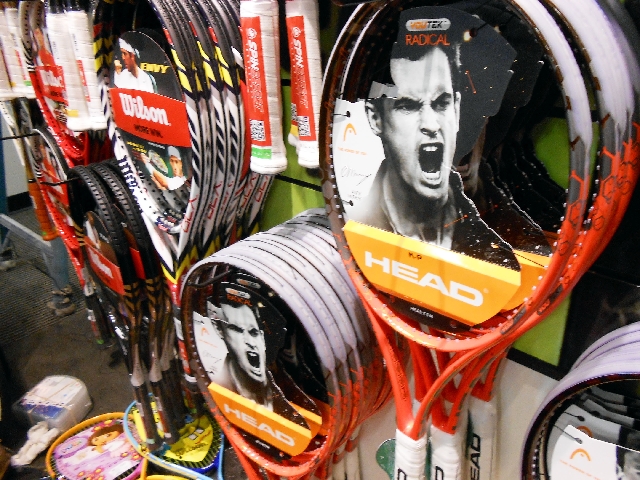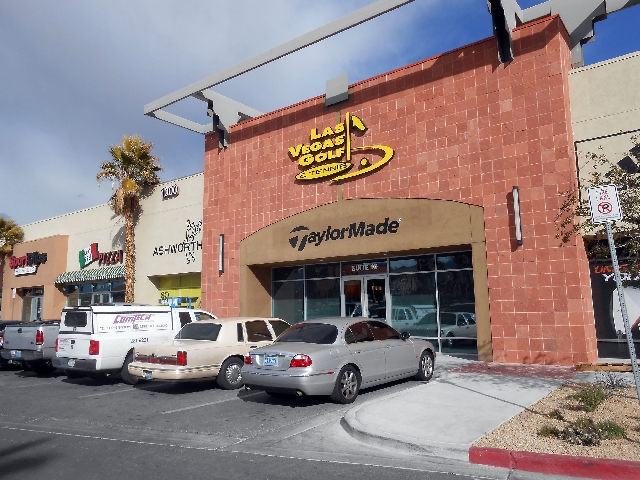 Outside, painters finished dabbing on the final coat. Sign company workers used squeegees to adhere decals of life-sized sports figures to the windows.
Inside was a flurry of activity as merchandise was wheeled around, displays were set up, products were unloaded from boxes, apparel was fitted on display racks and a scissor lift carried electricians toward the overhead lights.
The shattering of glass brought everything to a standstill. Heads turned to stare.
"He's bleeding. Where's the nearest Quick Care?" someone called out.
The man was escorted out, and the activity resumed. Everything had to be ready for the next morning.
Las Vegas Golf & Tennis opened in Boca Park, 1000 S. Rampart Blvd., Suite 10, the next day, Feb. 9. The new store sits on the inner ring, near the corner of Rampart and Charleston boulevards, and faces west.
"Summerlin –– we always thought about making the trip out here," said John Boreta, who co-owns the store with his brother, Ron. "Summerlin's like the golf capital of Las Vegas.
"We kept getting asked, 'When are you guys going to open in Summerlin?' "
Boca Park is not in Summerlin but near its border.
Boreta said the company had been keeping an eye on Boca Park as a possible location for some time and liked its high traffic volume.
"Our clientele, with the restaurants and the shopping, it's, we're, a perfect fit," John Boreta said. "This store will be 100 percent locals."
The left side of the 6,000-square-foot store is devoted to golf, with tennis on the right. A corner in the back is shoe central. Next to it, a practice area lets customers try out clubs or have their swing analyzed.
Clubs and bags promote their brands –– Nike, Adams Golf, TaylorMade and Titleist.
"The TaylorMade fitting system is a valuable tool," John Boreta said. "Not many stores have the feature."
The family business actually had its start in San Francisco when their father, Voss, partnered with another man to open a golf shop in the Bay Area. It was called McCaffrey's Golf Shop and is still in existence. When the company was looking to expand to Las Vegas in 1974, Voss Boreta parted ways with his partner and opened a shop on his own. Las Vegas Golf & Tennis was born.
The first store opened at the corner of Tropicana Avenue and Paradise Road. It moved a couple of times, first to Harmon Avenue and Paradise Road and then to Flamingo and Paradise roads. The latter became its flagship location for many years.
"In (those years), he saw golf in Vegas ramping up to be a big part of Las Vegas, other than gambling," said John Boreta. "There were no golf stores in town, just little retail places inside the country clubs. There were no golf shops."
Voss Boreta also had a store at Rainbow Boulevard and Sahara Avenue for about 12 years, as well as a location in West Los Angeles.
In the late '90s, his sons got involved in the business and now run it. There are now two locations. The flagship store is at 4711 S. Dean Martin Drive, 18,000 square feet of sports equipment and apparel. Eighty percent of its clients are tourists.
The brothers also own the Callaway Golf Center, 6730 Las Vegas Blvd. South, which sees a lot of locals.
The Boca Park location opened after the brothers closed their location at The District at Green Valley Ranch, which opened in 2006. Business was never robust there, he said, and they decided to close it in favor of a location near Summerlin.
The employees were moved to the new westside operation.
One of them was Steve Appleton, manager, who was overseeing the product display, the lighting, the signage and getting the electronics up and running.
"It's very exciting, it's very smooth … The District (store) was a little bit bigger, but this is definitely a nicer store," he said.
Las Vegas Golf & Tennis at Boca Park is open from 8 a.m. to 8 p.m. Monday through Saturday and 9 a.m. to 5 p.m. Sunday.
For more information, call 702-878-4653 or visit lvgolf.com.
Contact Summerlin/Summerlin South View reporter Jan Hogan at jhogan@viewnews.com or 702-387-2949.