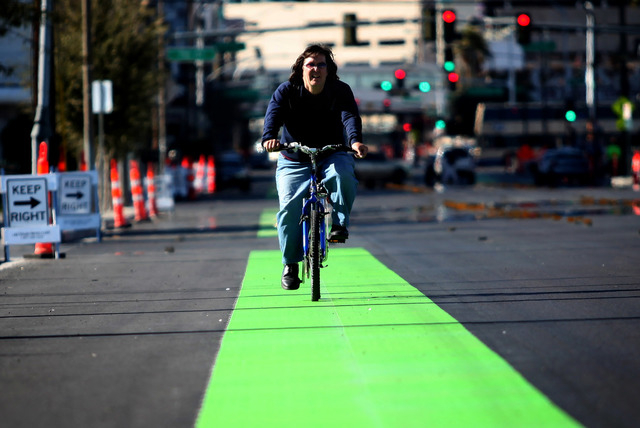 Henderson and Las Vegas are gaining national recognition for initiatives to make their communities welcoming for bicyclists.
The two cities were recognized Wednesday as bicycle-friendly communities by the League of American Bicyclists, a national nonprofit and one of the largest membership organizations for cyclists.
The bronze-level award recognizes efforts to increase cycling and safety awareness through education, encouragement, enforcement, engineering, and evaluation and planning.
This is the first time either city has earned the award, joining 301 other cities in the United States.
Las Vegas has 444 miles of bike lanes and 102 miles of paved off-road trails. The city has a bicycle parking partnership with downtown businesses and has donated 10 public racks. The city previously installed 27 bicycle racks.
Las Vegas was also named a bicycle-friendly employer by the League in November for its employee bike racks and showers at City Hall.
Las Vegas Mayor Carolyn G. Goodman said the city has worked with various community partners to ensure cyclists feel safe riding in the city.
"The outcomes of these improvements can be seen in our burgeoning cycling community that includes not only traditional road and mountain biking clubs, teams and competitions, but also purely social downtown groups and rides," Goodman said. "This is part of the city's sustainability initiative and shows our commitment to providing healthy transportation alternatives to the public that are good for our environment."
Henderson has approximately 100 miles of striped bike lanes and more than 184 miles of bike trails. The city is spending $200,000 this year on its Bike Henderson initiative and community events, including Bike, Swap &Ride in March, and Stroll 'n Roll in April and November. The city also supports the Bike­Henderson.org website.
Mayor Andy Hafen said Henderson's main goal in "nurturing a cycling culture" is to improve quality of life for residents and people who work in and visit the city.
"We are thrilled to be a bicycle-friendly community," Hafen said. "We are committed to the continual enhancement of our bicycling amenities and opportunities for years to come."
Both cities have citizen advisory committees, the Las Vegas Bicycle Coalition and Henderson Bicycle Advisory Committee, that give feedback on city bike projects and promote bike safety.
Mesquite, 80 miles northeast of Las Vegas, was also recognized for the first time with the bronze award. Reno-Sparks was previously recognized at the bronze level.
The League of American Bicyclists' announcement comes during National Bike to Work Week. May has been National Bike Month since it was established in 1956 to promote the benefits of cycling.
Contact reporter Arnold M. Knightly at aknightly@reviewjournal.com or 702-477-3882. Follow him on Twitter: @KnightlyGrind.