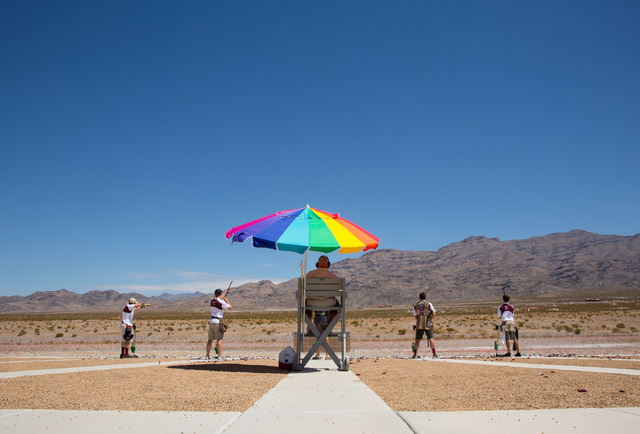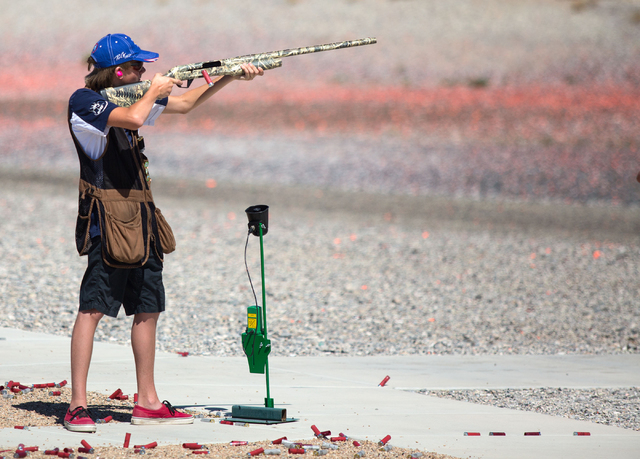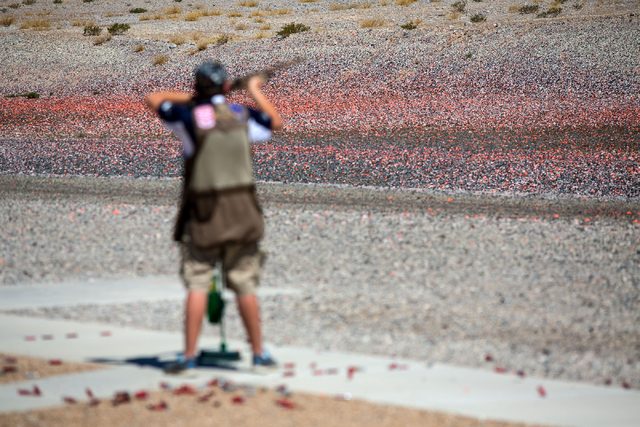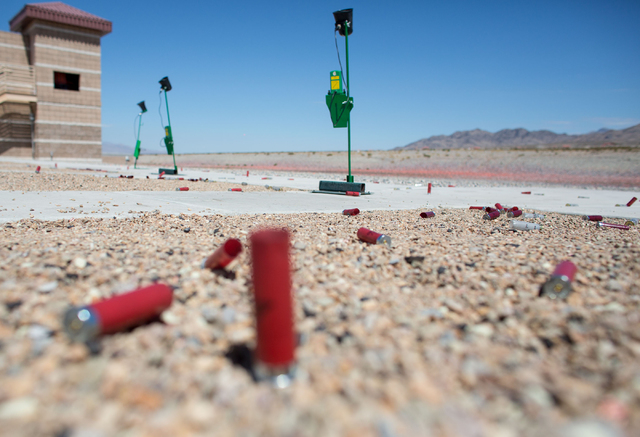 What brings together a competitive and all-inclusive sport for youth and economic benefits to Las Vegas?
The answer is likely found at the Clark County Shooting Complex. Its fourth annual U.S. Open for Youth Sport Shooting Championship allowed youths from across the country to compete in a variety of shooting disciplines while their families enjoyed Las Vegas entertainment, gaming and dining.
The championship, held from July 9-12, was open to boys and girls from fourth through 12th grade to compete in skeet, sporting clays and trap shooting — clay target disciplines in which participants shoot at a disk that is four inches in diameter, according to Linda Hand, president of the Nevada Youth Shooting Sports Association and coach of the local youth shooting club Silver State Clay Breakers. She was also honored in the Nevada Shooting Hall of Fame.
"These kids are really competitive," she said. "They are all using shotguns and shooting at moving targets. None of the targets are stationary, and competitors get one point for every target that they hit."
The competition was attended by a variety of clubs and high schools from throughout the western U.S., and it has grown to be the largest shooting championship for youths in the West. Most of the participants came from California.
"Since we began with the championship here four years ago, it has grown at a rate of almost 30 percent every year," said Dave Tanner, president of the California Youth Shooting Sports Association, who helped found the championship at at the Clark County Shooting Complex four years ago. "This year, we are seeing a whole bunch of people that are migrating from the East Coast to come here."
According to Tanner, the main reasons people choose to compete in Las Vegas are the city's cheaper amenities and the ability for kids to compete at a top-notch facility.
"Las Vegas has something different to offer for everyone, so while Mom and Dad come here to watch the kids shoot in the morning, in the evening, they can go watch shows; there is gaming, and there is nightlife," Tanner said. "It appeals to everyone, plus it is also affordable to bring the kids here for the championship. We get more bank for our buck than going just about anywhere else."
According to Tanner, given that most of the kids travel with their families, the championship generates high revenues for the city. He said that approximately $2.5 million was produced from the roughly 1,600 competitors and their families who attended in 2014.
Tanner added that the city provides an opportunity for kids to experience things they have never seen, and they look forward to competing in Las Vegas every year.
"The facility is grand and second to none," said Clark County Shooting Complex Program Administrator Steve Carmichael. "It really is beautiful, and shooting here is an experience on its own."
"The sporting course is incredible here," said 17-year-old California competitor Michael Marymee. "Other sporting clay courses take really long, but we got through here really fast. It fits a lot of people, and it is very cool."
Michael's mother, Jolayne, said that while her family likes coming to Las Vegas for the entertainment, the Clark County Shooting Complex is a definite addition to her experience.
"You can tell that this place is very well-organized, and not all places are like that," she said. "So many people can come here and fit comfortably. It is important that Michael is here because he enjoys the sport so much, and the championship lets him get together with his team and his friends. It's a good experience for him."
The Clark County Shooting Complex prioritized the experience of those competing, not only by opening the venue to the championship, but also by maintaining high safety standards, Carmichael said.
"These kids are very responsible and disciplined," Tanner said. "We like to brag about the fact that we have never ever had an incident since the championship started."
Given its popularity and its venue, the championship at the Clark County Shooting Complex continues to attract more people, pulling competitors from East Coast clubs.
"I think this program is within one or two years from really exploding," Carmichael said. "I think, with so much national attention, some of the people who were going to other events back in Midwest and the East Coast will want to come out here and discover our great complex and our great city."
For more information, visit tinyurl.com/shootingparklv.
Contact Maria Agreda at magreda@reviewjournal.com or follow her on Twitter at @mjfagre.