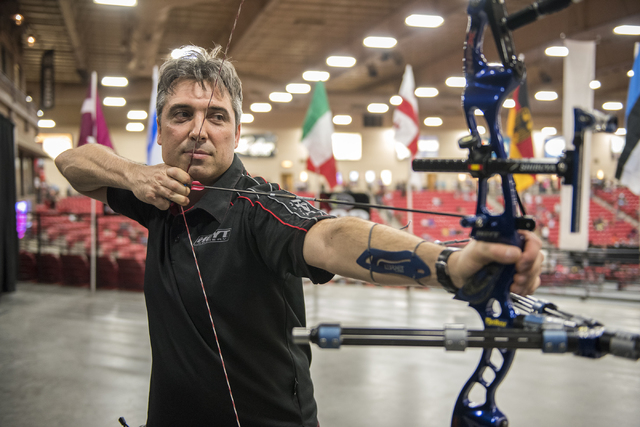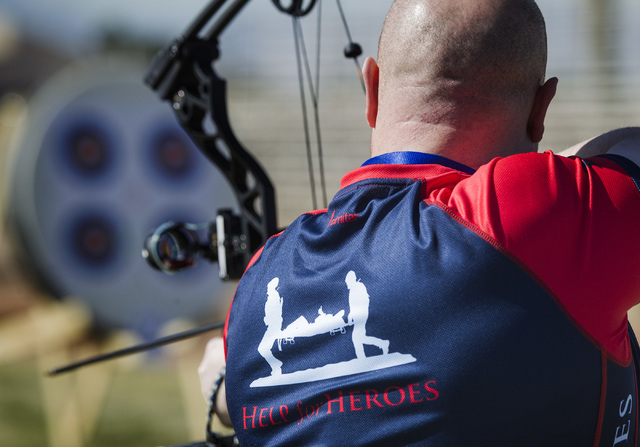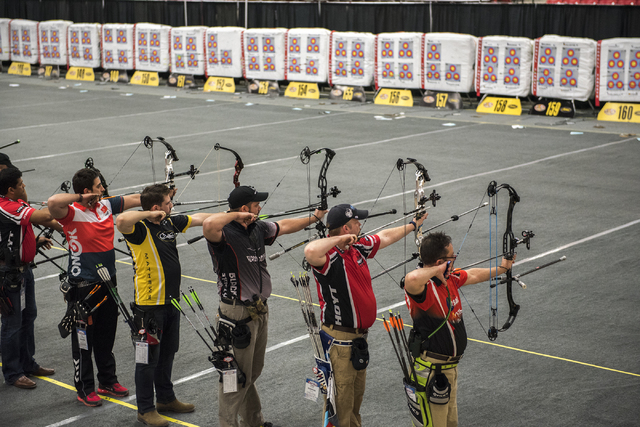 If you've ever dreamed of shooting arrows like Robin Hood or Katniss Everdeen from "The Hunger Games," View has your back, exploring archery ranges throughout the valley.
IMPACT ARCHERY
Impact Archery, 6323 Dean Martin Drive, opened in July 2013 and offers rentals and lessons in its 3,300-square-foot indoor facility, according to owner Charlie Roof.
"We have a 10-minute basic lesson in which we run through proper hand placement, how to aim and draw back and basic safety rules," Roof said. "Then we have private lessons that are a step up from the basic. We require all customers to go through a basic lesson, and all our lessons are taught by instructors certified by the USA Archery association."
Rentals are available and include recurves, a traditional single-stringed bow, and compounds, a multi-stringed bow that uses a levering system.
"At least 70 percent of people shoot compound, because it's where all the latest and greatest technology is at. It's more efficient and accurate," Roof said. "However, some people just prefer the older style. Plus, the Olympic committee doesn't allow compound bows, so if that's your aspiration, then we have recurves available."
Lessons range from $13 to $35. Impact Archery is open from 10 a.m. to 7 p.m. Monday through Friday and 9 a.m. to 5 p.m. Saturday and Sunday.
For more information, visit impactarcherylv.com or call 702-701-7766.
HENDERSON ARCHERY
The city of Henderson provides archery lessons and events at the Whitney Mesa Recreation Area, 1661 Galleria Drive.
"The area opened in March 2013, and the archery and camping components were the result of public input," said city spokeswoman Kathy Blaha.
A six-week beginning class teaches participants 6 or older archery techniques, stance, safety and basic bow maintenance and repair. The course is scheduled for 5 p.m. Fridays starting April 24 or 9 a.m. Saturdays starting June 6. The cost is $39 and $33, respectively, and includes equipment.
Free two-hour introductory classes are also set to teach basic archery skills at 9 a.m. May 30, June 20 and July 11. Equipment is provided.
The city also offers Boy Scouts of America Archery Merit Badge workshops from 3 to 5 p.m. April 17 and June 12 and 9 to 11 a.m. July 24. Participants must read the merit badge booklet and complete the required preparatory work before attending. The cost is $20, and registration is required.
Open range times are scheduled from 7 to 11 a.m. and 3 to 7 p.m. Thursday through Saturday April through August. The cost is $4 for children 5 to 16 and $7 for those 17 or older. Rentals are available for an additional cost.
For more information, visit cityofhenderson.com or call 702-267-4017.
PACIFIC ARCHERY
Pacific Archery, 4084 Schiff Drive, offers rentals, lessons and leagues throughout the year in its indoor facility, according to manager Katrina Baker.
"We have a women's league that we started, and it has been very successful," Baker said. "We also have a kids' team named The Centaurs, and they just made nationals."
The facility caters to four styles of archery: recurve, compound, crossbow and horse bow.
"A crossbow is a rifle-bow combo," Baker said. "A horse bow is like a traditional recurve bow, but it's shorter because it's meant to be shot off a mounted horse."
Archery lessons cover shooting, safety and bow functions and are taught one-on-one with a certified instructor for $40.
"We also have kids nights on Sunday, Monday and Friday," Baker said. "It motivates them and just brings everyone together."
Pacific Archery is open from noon to 8 p.m. Monday, Wednesday and Friday, noon to 6 p.m. Tuesday and Thursday, 9 a.m. to 5 p.m. Saturday and 10 a.m. to 3 p.m. Sunday.
For more information, visit pacificarcherylv.com or call 702-367-1505.
To reach Henderson View reporter Caitlyn Belcher, email cbelcher@viewnews.com or call 702-383-0403. Find her on twitter: @caitlynbelcher.