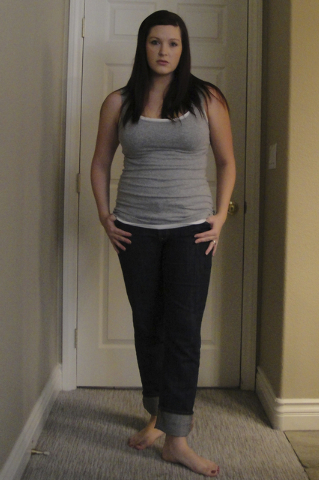 After losing more than 40 pounds after her second pregnancy, getting into shape and getting healthy was something Megan Buckley wanted to share with others. As a personal trainer and working mother, she inspires and teaches others to get fit.
"I have always liked to do fitness and been interested in it for a long time, but it wasn't really my focus until after I had my second child in 2011," said the 30-year-old Centennial Hills resident.
After her second pregnancy, Buckley weighed 182 pounds and was wearing size 14 pants. She decided to lose the baby weight. To do so, she began participating in a boot camp class at Body Sports Fitness in February 2012 and fell in love with fitness.
"After going to boot camp for a while, my attitude completely changed, and it wasn't just about losing the baby weight," Buckley said. "It was then I decided I wanted to live a different way and changed my lifestyle and what I was doing."
After working out for five months, Buckley said she was getting good results because she was focusing on what she was eating apart from going to the boot camps four to five days a week.
"When she started, she wasn't obese but was slightly overweight," said Mel Fabros, owner and manager of Body Sports Fitness. "It was very inspiring how she participated in the boot camps and gave all she had. At a certain point, you could tell it was a passion, not just a workout, for her."
After she started getting into shape, Buckley said lots of people kept asking her what she was doing and wanted her advice on losing weight. It was then she decided to become a certified trainer by the American College of Sports Medicine, one of the most comprehensive certifying programs for fitness trainers in the United States.
After becoming certified, she came up with the Full Intensity Interval Training (FIIT) method for her students. The program works similarly to High Intensity Interval Training (HIIT) but with Buckley's personal twist.
"I like the intensity interval training because it helped catapult my progress," she said. "So, in my classes, you really get a good variety of training because I integrate a lot of different styles of training, and I like to constantly switch things up."
Not only does she offer personal and group training through her FIIT with Megan program, she also offers distance coaching to train people in other states.
"I offer distance training and have had a few little fitness challenges where everybody has been out of state, so I just send the meal plans and the workout program to help keep them accountable," she said.
According to Buckley, when people seek training from her, they want something that's quick and that they can easily fit into their day.
"I go over two different workouts with them," she said. "Each one is only about 15 minutes, so they are still easy so people can do them on their own and are more likely to do them on their own."
Buckley said she also likes to focus more on the way people feel as opposed to merely focusing on how much they weigh.
"The way I look at my clients and anybody I talk to is more about fitness and their body composition," she said. "I don't even focus on my weight so much anymore either, really just how my clothes are fitting and how I am feeling."
Within her training, she also accommodates the needs of her clients, so even though she has some go-to sets, she will change them if necessary to adapt to her clients' fitness needs.
"For example, I have one client that has a physical inability and can't do certain movements, so I supplement with different exercises and instead of doing more body weight work, I have to do more weights," she said.
Her fitness journey took her from being a student to being a teacher at Body Sports Fitness, where she teaches a boot camp class three times a week.
"I like the dynamic of the class setting. I love the people that come into my class and how hard they work," Buckley said. "It's really exciting when I see some of my clients or the people in my classes advance in their health and fitness goals."
Fabros said, "Her students get really inspired because she is a mother of two who could have easily fallen off the wagon but has worked hard to become fit. It's great to having seen her evolve because we did not just help one person with her, but now that person is also helping others as well."
Contact reporter Maria Agreda at magreda@reviewjournal.com or on Twitter at @mjfagre.