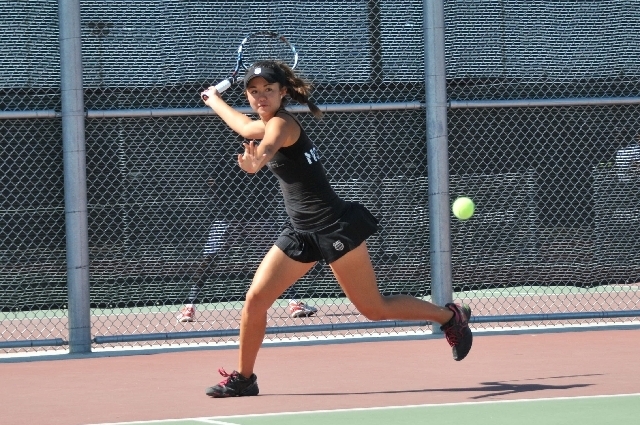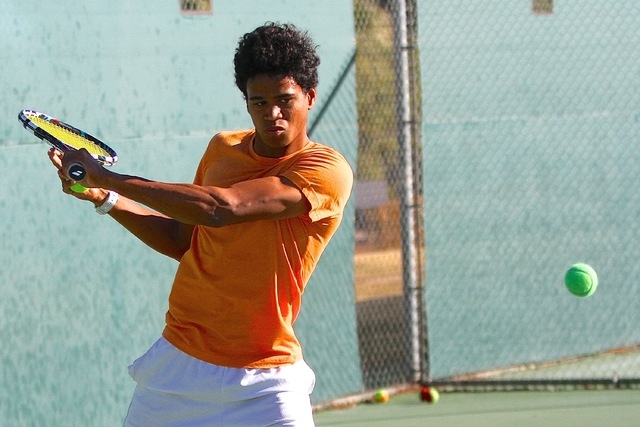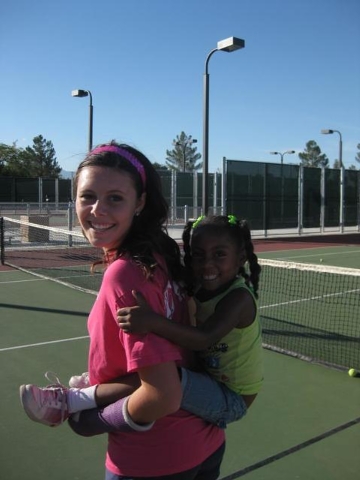 Three players from the west side of the valley are making waves in tennis.
Summerlin-area resident Kimberly Yee accepted the nation's highest junior tennis award July 12 at the International Tennis Hall of Fame in Newport, R.I. Only about five such awards are given out in the country, said Ryan Wolfington, executive director of United States Tennis Association-Nevada.
Yee, 17, a graduate of Odyssey Charter High School, attended The Meadows School, 8601 Scholar Lane, through 10th grade. She was the recipient of the Bill Talbert Junior Sportsmanship Award, which is presented each year by the board of directors of the International Tennis Hall of Fame.
Yee credited her parents, her USTA friends, the USTA Serves Foundation and her teammates at the No Quit Tennis Academy.
"My parents have done everything to help me since I was born," she said. "My father left his job to help train me as my main coach. My mom works long night shifts to support me. When I was young, I never really appreciated it, but now I can't believe how much they do for me. It's my motivation to give my best."
Yee maintained straight A's while being ranked No. 1 in the USTA national rankings in girls' 12s, 14s, 16s and in the Top 10 in the 18s. She came through the local Las Vegas National Junior Tennis & Learning chapter called the Marty Hennessy Junior Tennis Foundation. She is also part of Team Bryan, a USTA NJTL Excellence Team in partnership with the Hennessy Foundation, where she mentors youngsters. Adam Yee and Tim Blenkiron from No Quit are her coaches.
"Kimberly's award is the No. 1 biggest award and honor in junior tennis," said Wolfington, who started the foundation 10 years ago. "More importantly, she is the kindest, most humble student-athlete our foundation has ever had. She volunteers six days a week and with a passion to help others. She is one in a million."
In related news, USTA Serves, the national charitable foundation of the USTA, named two Las Vegans, William Elmore and McKay Novak, as scholarship recipients. Novak, another Odyssey Charter High School graduate, is the recipient of a $10,000 Rosalind P. Walter Tennis Scholarship. Elmore is the recipient of a $10,000 Dwight F. Davis Memorial Scholarship.
This year, USTA Serves granted 49 high school students a variety of college scholarships, totaling $330,000.
Elmore, 19, graduated from Nevada Virtual Academy with a 3.54 GPA. A Spring Valley-area resident, he ranked as high as No. 1 in the USTA Nevada Section and No. 8 in the Intermountain Section. Elmore plans to attend Villanova University in Pennsylvania to study business and play on the tennis team.
"USTA Serves is proud to award these students for their academic achievements and tennis success," said Dan Faber, USTA Serves executive director. "It is exciting to know that with these scholarships, they can continue to prosper."
Novak, a northwest Las Vegas resident, is a three-time scholar-athlete winner for her school's tennis team and maintained an overall GPA of 4.44. She has been coached by Blenkiron at No Quit since 2005. She has served as a volunteer for the Hennessey Foundation in Las Vegas since 2007. This fall, Novak plans to attend The Wharton School at the University of Pennsylvania for a degree in international business.
"One of the best gifts I have ever received was the idea that I should work for what I am given," Novak said. "When teaching (younger children) on and off the court, I embrace the opportunity to help and mentor (them). I love that I can have a positive impact on others."
Contact Summerlin Area View reporter Jan Hogan at jhogan@viewnews.com or 702-387-2949.