Graduates of Hope for Prisoners say Las Vegas program makes a difference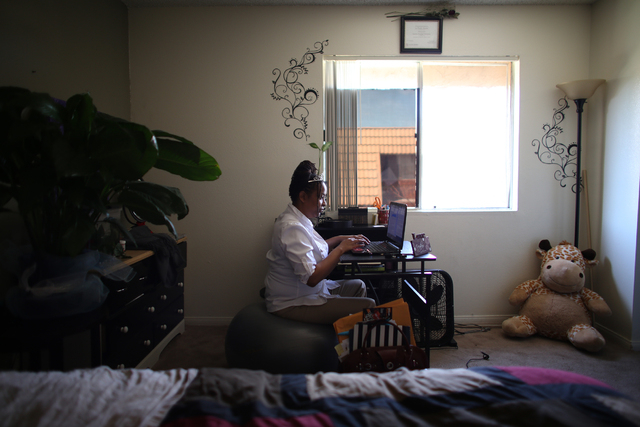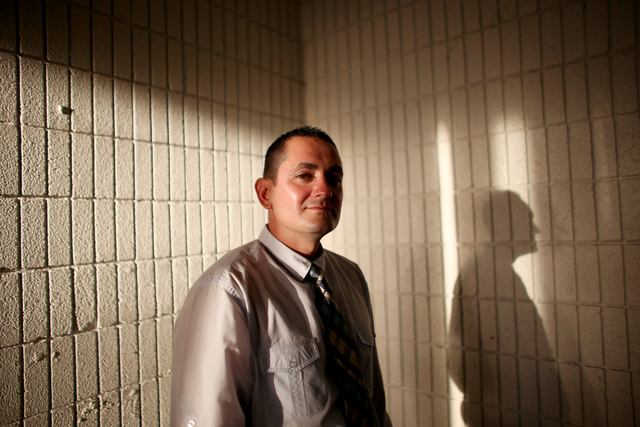 Editor's note: This is the second of a two-part series about Hope for Prisoners, a program with spiritual roots that strives to help those who have done time turn their lives around.
Freddy Duarte and Lateefa Starks have a lot in common. Both spent years in prison and both straightened out their lives through the nonprofit Hope for Prisoners, founded by former ex-offender Jon Ponder.
The program, housed at 3430 E. Flamingo Road, has graduated about 1,300 since the doors opened in 2009.
"I spent eight years in prison from 2006 to 2014," recalled Starks, a former Head Start teacher who was convicted of conspiracy to commit robbery. "I was engaged to a young man whose friend implicated me in a night of their bad behavior."
Starks, who spent five of her years in prison at Florence McClure Women's Correctional Center in North Las Vegas before finishing her sentence at Jean Conservation Center, said prisoners are often written off, which leads to the high recidivism rate.
Starks is now attending Lincoln Christian University in Las Vegas and expects to graduate in 2018.
"Hope for Prisoners allows people to make changes through the help of its support groups," Starks explained. "It allows you to grow by leaps and bounds."
Starks said she used her prison experience to turn her life around.
"I didn't even know anyone who had been in prison before," she recalled. "I had no tangible understanding of what it was. There are two lifestyles: the same with no changes or you can be whatever you want.
"Going to prison was a jolt, but I would not trade the years I spent in prison for anything. You have an opportunity to be everything you wanted to be before. You're given a chance to start all over again."
Starks, who moved to Las Vegas in 2002, said she gave her life to Christ when she was just 15.
"I carried a Bible with me," she said. "Going to prison was part of my spiritual journey.
"I taught classes in prison. Since I have been out of prison I have been able to teach life skills classes. While I was in prison, I was also a chaplain's porter. I was able to be discipled by so many volunteers who came in to help me learn to love Jesus. The only way to be a special person is to be a kind, loving person."
Duarte, a 38-year-old graduate of Cimarron Memorial High School, was a habitual criminal who spent more than 11 years in prison. His last crime came when he broke into a home owned by a federal magistrate.
"I had heard about Hope for Prisoners about 2½ years ago through a couple of friends," Duarte explained, adding that alcohol and meth played roles in his troubles. "I saw what it did for them and I knew I wanted to do the same. However, I didn't know how to go from Point A to Point B."
Ponder agreed to meet with Duarte, who was 26 when he entered prison.
"Jon wanted me to sign up for the program," recalled Duarte, who now works as a cook. "He wanted to give me the best of the best and encouraged me to submerge myself. I had to start at the bottom and I now want to continue to grow and pay forward to the next person who has been in the same situation as me."
Ponder's program has been the answer to correcting a bad situation.
"Hope for Prisoners has been super awesome," Duarte said. "I took a finance class to manage my money for the rest of my life. I was also provided with a mentor who is going to be with me for the next 18 months, or the rest of my life, if need."
Hope for Prisoners encourages ex-convicts to make amends with family members and more specifically, address any child support.
"I'm picking up where I left off," Duarte said, noting that he has also been taking parenting classes. "It feels so good not to be running from the law anymore and in fact, I have some Metro officers who are now my friends. It's amazing to feel the way I do now."
Among the proponents of Hope for Prisoners is former Sheriff Bill Young, a fifth-generation native Nevadan who retired from the Metropolitan Police Department in 2007. He said programs such as Hope for Prisoners could make a big difference in torn neighborhoods such as Ferguson, Mo., and Baltimore
"After I stepped away from law enforcement, I discovered there was a nexus of recidivism and the lack of a plan or job or way to make a living on the part of a released individual," Young said. "I learned about this group when a friend of mine called me after getting out of prison. He had no way to make a living. I saw him succeed through determination. He was a graduate of Hope for Prisoners."
Graduation is especially rewarding, said Young, now senior vice president of security and surveillance for Station Casinos.
"To see these guys embrace law enforcement is really amazing," Young added. "They spent so much of their life running from the police and all of a sudden, they're embracing the people who arrested them. Instead of running away, they're running toward each other to shake hands or give each other a hug."
The Rev. Bonnie Polley of Christ Church Episcopal and chaplain for the Clark County Detention Center, is known by many of the inmates. She is also a big believer in Hope for Prisoners, where she serves on the advisory council.
"It's wonderful," said Polley, a 52-year resident of Southern Nevada who has worked at the detention center for 34 years. "I have been involved in several re-entry programs, and this one is the best that I have seen."
Further information regarding Hope for Prisoners can be found by calling 702-586-1371 or by visiting www.hopeforprisoners.org.