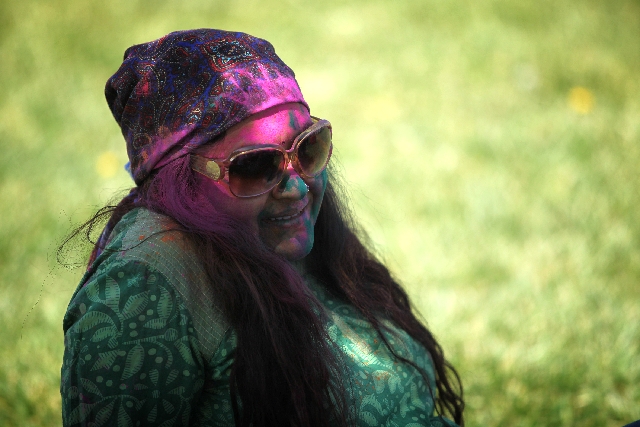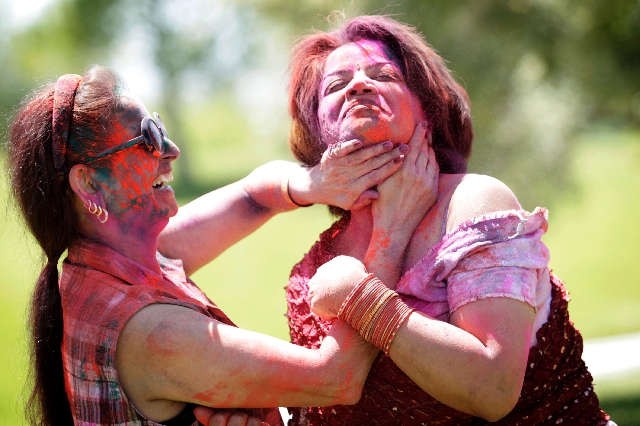 HUES AND CRies OF CELEBRATION
To Westerners, the vibrant Holi festival at Mountain Crest Park on April 28 may have looked more like the chromatic fun-runs that have become popular in Las Vegas than the image conjured of a religious festival. However, Indian celebrants have partaken in the colorful Hindu celebration for centuries.
Also known as the Festival of Colors, the tradition encourages revelers to sprinkle and throw brightly colored powder, called "gulal," on each other in commemoration of spring. While the custom is Indian in nature, the Holi has gained popularity in other parts of the globe.
In Las Vegas' version of Holi, organized by the nonprofit cultural organization Friends of India, men and women unself-consciously danced in the sweltering midday sun, cheerfully and loudly singing modern Indian songs (modern meaning last century) in unison to the beat of a hand drum.
The air punctuated with cheerful greetings of "happy Holi!" participants smeared the vibrant, dry paste on the skin of whomever was close by throughout the afternoon, a more playfully aggressive touch often reserved for the familiar.
Organizers say it is a time that participants forget hostilities and engage with each other despite past differences. Friends of India has been holding the spirited Las Vegas Holi celebration at various locations throughout the valley for more than 20 years, and one thing's certain: If you walk into the revelry unmarked, celebrants will remedy that.