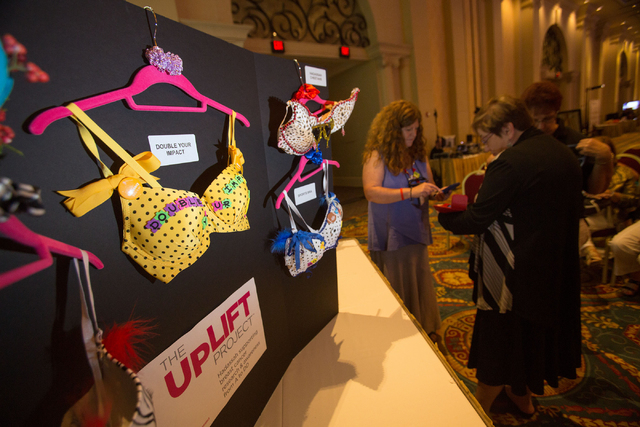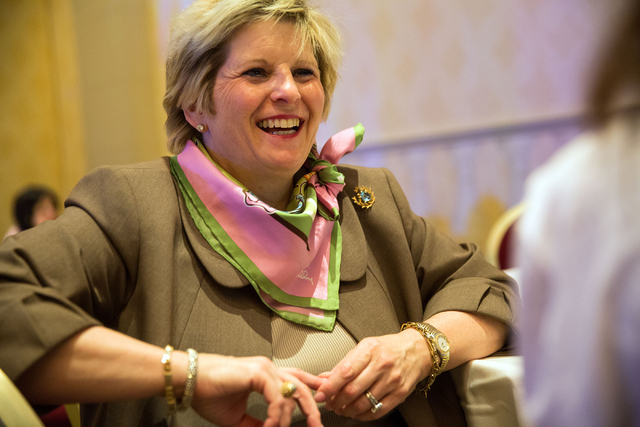 Next to a bra sporting googly eyes, another bra makes less eye contact, but still stands out. Hot pink and tiger-striped, it's decorated with flowers and birthday cakes — flung across a table.
"If you do your preventive workups, you'll have many more birthdays," declares the bra's creator, Gail Hammerman. As a member of Hadassah, the Women's Zionist Organization of America, Hammerman serves on the organization's national board.
Hadassah unveiled The Uplift Project, a community outreach campaign, at "Inspire, Imagine, Ignite," the organization's 97th national convention, attended by approximately 750 delegates from across the country at the Sands Expo and Convention Center July 21-23. Uplift engages members to join forces in transforming bras into works of art, posting photos on Facebook, inviting celebrities to do the same, and spinning off other activities, varying from chapter to chapter.
The goals: to promote awareness of breast cancer, the importance of women caring for themselves, and the research done by Hadassah Medical Organization — not to mention fostering sisterhood, amid jokes about "decorating your units."
But the organization is broaching more than bra sizes, and has done so for more than a century. Founder Henrietta Szold, the daughter of a rabbi, disrupted the Conservative rabbinate when she enrolled in the Jewish Theological Seminary of America around the turn of the 20th century, according to Haddasah's website. She had to promise she wouldn't pursue the rabbinate.
Instead, she went on to accomplish goals that included creating the model for nighttime ESL schools — at the time, for Jewish immigrants in the U.S. who needed better English-speaking skills to prosper.
In 1912, she founded Hadassah as a volunteer women's organization. Its first mission was to eradicate suffering and disease in Palestine.
According to Marcie Natan, national president, Hadassah membership numbers about 300,000, with a U.N. presence and members in every congressional district — entirely women, although men serve as "associates."
In Israel and the U.S., the organization seeks to strengthen Jewish unity through activities spanning everything from land reclamation in Israel and women-centered advocacy, to progressive health care. That includes support of Hadassah Medical Organization. HMO encompasses two hospitals in Jerusalem and the Sarah Wetsman Davidson Hospital Tower, as well as medical research.
As a two-time winner in her own personal battle with breast cancer, Natan says she's especially committed to The Uplift Project.
"I think it is so appropriate for an organization that seeks to support women, women's rights and women's health," she adds.
Mindy Bloom, a national vice president and chairwoman of the project, emphasizes its universal importance, and that of other Hadassah programs over the years.
"We are curing breast cancer at Hadassah," she says, referring to HMO research. "We worked with (National Institutes of Health) researchers back in the '90s to find the BRCA1 and the BRCA2 genes. Major health concern, not just for Jewish women, but women in America, and women around the world. We're also at the forefront of stem cell research in Israel, and that's been helpful, too, in the curing of many diseases."
Although Hadassah stands for research, she adds, "we're all about women, we're for women. We're bubbling up from the grass roots."
Resolutions, panels and heated discussions at the convention touched on everything from disparities in medical treatment of women, engaging younger women in the organization, and the issue of human trafficking, to women's heart health and a Leadership Fellows program to "create tomorrow's leaders," according to Natan.
The organization unveiled a domestic advocacy agenda that includes its new Gender Equity in Medical Research Initiative. Organizations are reputedly banding together through that initiative to ensure that medical research benefits everyone. Advocacy presenters pointed out that current medical research can be gender-neutral or skewed toward male physiology.
Moreover, many diseases, including heart disease — the No. 1 killer of women in the U.S., according to presenters — are often misdiagnosed or overlooked entirely in women.
"Here it is with heart disease — physicians not listening to women," says Diane Issenberg, a national board member and health and wellness team leader, PRAZE Division, an acronym for program, advocacy, Zionism and education. "Women need to be empowered through education and action."
One recent policy action taken by Hadassah: supporting the Research for All Act of 2014 (House Resolution 4879), sponsored by Reps. Jim Cooper, D-Tenn., and Cynthia Lummis, R-Wyo. The legislation would emphasize consideration of sex differences in basic and clinical research.
"One of my personal goals when I came in as president was to revitalize advocacy efforts," Natan says.
As part of that process, convention delegates approved eight resolutions. Local chapters can then decide to act upon them, whether it's through activism on the Hill, participating in rallies, writing letters, or initiating a special program with approval from Hadassah's legal department. When a local chapter achieves success, the organization broadcasts it to other chapters for possible duplication.
Among the approved resolutions was the decision to take a stand on human trafficking. That issue hits home especially for the chapter in Las Vegas.
"It really came to the top of the pile when we got together with Nevadans for the Common Good," says Barbara Raben, local convention co-chairwoman, past president of the chapter, and area vice president of the Desert Mountain region. Nevadans for the Common Good is a local organization that promotes leadership development to address community issues. In 2013, it worked toward changes in state law that cracked down on sex-trafficking pimps.
Raben says the chapter is planning to have a speaker address the issue in the fall, so that members can discuss, decide and take action.
Realizing just how close the issues hit home has also been a galvanizing force for Bloom.
"What got me really excited about this organization was, I didn't know Hadassah cared about the things I cared about," she says. "I didn't know what the hospital in Israel meant to me until a friend of mine had breast cancer, and I realized it was the kind of research being done at our world-class hospital in Israel that was helping to treat my friend at home. What a reward to know that we're part of that solution."