Say goodbye to the same old thing
October 12, 2008 - 9:00 pm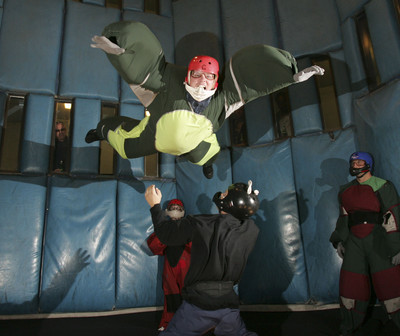 Anyone looking for a thrill in Las Vegas — a legal one, that is — can always buy a house.
Will prices stabilize or will they tank? Whatever the outcome, the journey is sure to keep the adrenaline pumping.
But if you're not that much of a daredevil, there are some far less risky options, such as taking a ride in a hot air balloon, gliding over the valley or even zipping across a desert canyon at 50 mph with only the aid of a cable and a harness. If staying on the ground is your thing, there's always land sailing or driving a race car.
"It's the closest thing to flying you'll ever come to," says Rex Owen, co-owner of Bootleg Canyon Flightlines in Boulder City. "You get a little bit of an adrenaline rush."
Dangling by a harness more than 1,000 feet above the ground, riders zip across the canyon reaching speeds of about 50 mph.
"This thing is simply the most exhilarating, heart-stopping, eye-opening experience," says rider Mike Pacini, a Boulder City councilman. "When I finished with this, I felt like I could run around the world. You feel so exhilarated, like you've flown like an eagle."
Glider tours offer the adventurous a chance to see the valley while gliding peacefully through the sky, says Thierry Maioli, owner of Motorglider Tours Las Vegas.
Maioli takes riders over the valley; once he reaches 8,000 feet, he turns the engine off. Then they glide back to Las Vegas. It's one of the most scenic experiences, he says, offering people views of Red Rock Canyon National Conservation Area, Mount Charleston, Valley of Fire State Park and other features.
"It's a unique feeling, you can hear the wind," he says.
A hot air balloon ride is one of life's unique pleasures, says Doug Campbell, owner of Las Vegas Balloon Rides. Flying mostly out of dirt lots in the southwest part of the valley, Campbell offers an hour ride, weather allowing. It's always just around sunrise for safety reasons, because that's the coolest part of the day.
Afterward, riders celebrate with a champagne toast and snacks.
If you like the idea of flying through the air but don't actually want to do it, there's always indoor sky diving.
"It's awesome," says Canadian Joyti Bharaj, 29. She and three co-workers took a dive recently at Vegas Indoor Skydiving. There, a giant fan creates approximately 100 mph winds that push people into the air, simulating the free-fall experienced during a sky diving jump — but without worrying about parachutes failing to open or hitting birds in the sky. The "landing" is on thick foam padding.
For those who like to keep their feet on the ground, land sailing can provide a thrill and the safety of dry land.
Land sailing is great for people who always have wanted to try sailing but don't have the money or time to take it up, says Pete Lyons, owner of Land Sailing Tours.
"It's easy to get going," Lyons says. "I also like that sense of freedom, of when you're in a very large open space. You can really get out there and get away from it all and not risk drowning or getting bit by sharks."
If you've always wanted to see how your driving skills match up against the pros, Las Vegas Motor Speedway offers several programs that put you behind the wheel and on the racetrack.
Richard Petty Driving Experience lets you drive a NASCAR race car while the Mario Andretti Racing School puts you behind the wheel of an Indy-style race car. Midnight Mayhem at the Speedway gives you the opportunity to pit your car against others. Just show up every other Friday night, pay $10 and then race a quarter-mile as many times as you want.
It's not uncommon to have 300 cars out during the event, says track spokesman Jeff Motley. Participants must drive up in the car they intend to race, he says.
"You can race almost anything," Motley says. "People come in pickup trucks, Mom and Dad's minivan, or even motorcycles."
Contact reporter Sonya Padgett at spadgett@reviewjournal.com or 702-380-4564.
IF YOU DARE
Bootleg Canyon Flightlines: Costs $149; 1512 Industrial Road, Boulder City; 293-6885; bootlegcanyonflightlines.com
Land Sailing Tours: Costs $200 for eight hours near Area 51 (including lunch), $125 for four hours in Primm (including snacks and beverages); based in Primm; 877-770-7245; landsailingtours.com
Las Vegas Balloon Rides: Costs $150, including champagne toast with snacks; 248-7609; lasvegasballoonrides.com
Las Vegas Motor Speedway: Costs $10 for Midnight Mayhem every other Friday night (the next event is Friday); 644-4444; lvms.com. For Richard Petty Driving Experience, book classes online at 1800bepetty.com; prices vary, for instance, the "rookie experience" costs $449. For Mario Andretti racing classes, book online at andrettiracing.com; prices vary, for instance, the "Indy-style Champ Ride" is $179.
Vegas Indoor Skydiving: Costs $75; 200 Convention Center Drive; 731-4768; vegasindoorskydiving.com