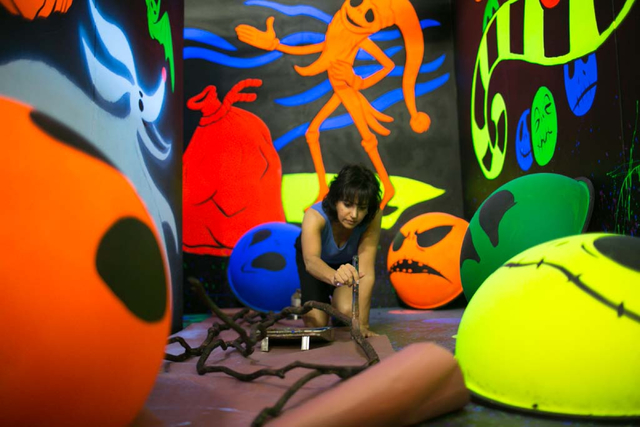 Fall is in full swing across the Las Vegas Valley, and the southwest has plenty of events on tap in October to get you in the mood.
Springs Preserve
The Springs Preserve, 333 S. Valley View Blvd., gets spooky this fall with the Haunted Harvest, an event featuring trick-or-treat stations, carnival games and circus activities, a petting zoo and live entertainment.
"This is a great family-friendly event," said Springs Preserve representative Russell Greenhalgh. "There's also face-painting activities, a haunted train ride and plenty of food vendors."
Haunted Harvest is scheduled from 5 to 9 p.m. Oct. 14-16, 21-23 and 28-30.
Admission is $8 or $4 for Springs Preserve members and free for children 2 or younger. Visit springspreserve.org or call 702-822-7700.
Opportunity Village
Opportunity Village, 6300 W. Oakey Blvd., is set to host its fourth annual HallOVeen event, featuring a spooky Magical Forest where attractions and rides are home to ghouls and goblins from 5:30 to 9:30 p.m. Oct. 14-31.
"It's basically the Magical Forest 'ghostified' with a little bit of bats and spiders, and we think people will have a frighteningly good time at the event," said Marty Wood, Opportunity Village marketing director.
Wood said Opportunity Village has doubled the number of treat stations and incorporated a family-friendly escape room into the event. He added that "Wizard of Oz" flying monkeys are also hidden throughout the forest, and guests will be able to enter a social media contest to guess the total number of monkeys for a prize.
Admission is $11.99 for adults and $9.99 for children. Combination passes are $21.99 for adults and $18.99 for children. Wristbands will be sold for $12 and individual ride tickets for $3.
In addition to HallOVeen, Opportunity Village is set to host its first OktOVerfest sponsored by Lee's Discount Liquor from 3 to 8 p.m. Oct. 1, with traditional German music, food and over 50 beers to try. Adults 21 or older can purchase tickets for $40 at any Lee's Discount Liquor store.
Adults also can participate in HallOvino, an annual wine tasting event by the Opportunity Village Legacy Society and Sundvick Legacy Center, planned from 5:30 to 8:30 p.m. Oct. 20.
Visit opportunityvillage.org or call 702-259-3741.
Spring Mountain Ranch
Spring Mountain Ranch State Park, 6375 state Route 159, is set to host its Halloween Spooktacular with fall activities from noon to 4 p.m. Oct. 15. A costume parade, bowling with pumpkins, aerial apple diving, arts and crafts, and hayrides are planned. Halloween costumes are encouraged. Admission is $7 per vehicle for Nevada residents and $9 per vehicle for out-of-town guests.
The park is about 10 miles west of the 215 Beltway and Charleston Boulevard interchange. Visit parks.nv.gov/parks/spring-mountain-ranch-state-park or call 702-875-4141.
Bonnie Springs Ranch
For those looking for more adult chills, haunted attractions are set to take over Bonnie Springs Ranch, 16395 Bonnie Springs Road, for Bonnie Screams from 6:30 p.m. to midnight Oct. 6-9 and 13-31.
Attractions are clown-themed and include the MistfIT Manor, Screams and FreakShow. Also, performing nightly is Fire Breather and Dixie Dooley Master Mystifier.
A zombie paintball bus ride where patrons will be invited to shoot at suspected spooks out of the windows is $30 and includes 200 paint balls. Attractions are recommended for ages 13 or older. Admission is $25.
Visit bonniescreams.com or 702-875-4191.
Asylum and Hotel Fear
For the 18th year, the stand-alone haunted houses Asylum and Hotel Fear are set to rain terror in the parking lot at Meadows Mall, 4300 Meadows Lane. Hours of operation are from 6:30 p.m. to midnight Fridays and Saturdays and 6:30 p.m. to 10 p.m. Thursdays and Sundays through Oct. 30 and 6:30 p.m. to midnight Oct. 31.
Admission is $15 for one attraction or $25 for both.
Visit lasvegashaunts.com.
Mckee Ranch Pumpkin Patch
The Pumpkin Patch at Mckee Ranch, 8982 Dean Martin Drive, is open from 2 to 7 p.m. Mondays to Fridays and 10 a.m. to 6 p.m. Saturdays and Sundays through Oct. 30. For a $20 donation, families can enter the farm and enjoy a mini photo session, a corn maze, free hayrides and pick out a pumpkin to take home. The ranch will also be collecting canned goods for local charities, and in exchange, donors will receive bucket of carrots to feed the farm animals. There will also be pony and train rides, a cow milking experience and face painting for additional fees.
Call 702-361-9606.