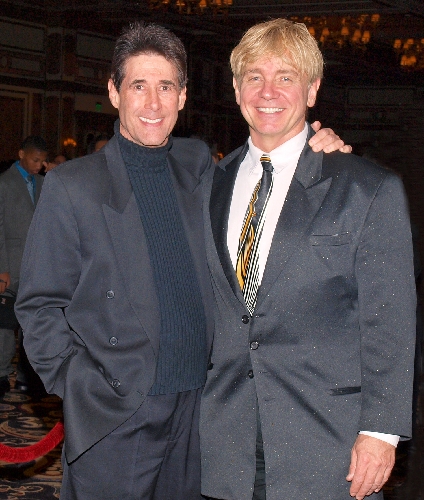 Celebrities, including Emmy Award-winning actor Bryan Cranston ("Breaking Bad"), turned out in force for the Canon Customer Appreciation Reception on Jan. 11 at Bellagio to benefit the National Center for Missing & Exploited Children.
Canon U.S.A. paired the cocktail reception with a celebrity golf tournament Jan. 12 at the Tournament Players Club.
The two-day event began with the cocktail reception for 900 guests.
The 13th annual affair opened with celebrities walking the red carpet, including Mark Steines ("Entertainment Tonight"), Jeffrey Donovan ("Burn Notice"), Chris Rich ("Reba"), Michael Peña ("Gangster Squad"), Dr. Gadget Dave Dettman, local TV host Tony Sacca and Mary Wilson of the Supremes. They were interviewed by host, comedian and magician Murray SawChuck of "America's Got Talent."
Other entertainment and sports celebrities on hand included Kurt Bevacqua, Stephen Baldwin, Robert Hays, Eddie Payton, Paul Legan, Danny Masterson, Nat Moore, Doug Pitt, Joe Regalbuto, Kim Coutre, Ken Norton, Eric London, Steve Rossi, Rick Faugno, Don Gloude, Sammy Anderson, Rollie Fingers, Paula Trickey and cast members from "Thunder from Down Under."
John Arnos, representing Canon U.S.A., introduced the event's special guest speaker, John Walsh ("America's Most Wanted"), co-founder of the National Center for Missing & Exploited Children. Also introduced was former Nevada Gov. Bob Miller, who was responsible for stepping up Nevada's Center for Missing Children.
Canon promotes programs and gives equipment to law enforcement agencies to help find missing children. Ninety-three cents of every dollar raised through the benefits goes into Canon's programs and quick dissemination of photos and public service announcements of missing children. Before the 2012 celebrity weekend, more than $5 million had been raised and 1,069 missing children found as a result of the efforts.
Other guests included Secretary of State Ross Miller, Bob Fisher, Sheila Arnos, Peggy Sanders, Dave Carter, Charli Carter, Denny Weddle, Christine McKellar, Tami Belt, Bob Cummings, Jackie Brett, Mel Carter, Amanda Kaiser, Lynn Garlock Wright, Dawn Woodhouse, Patricia and Richard Wright, Trish Williamson, and former U.S. Sen. Pete Domenici, R-New Mexico .
Former Eagles guitarist Don Felder provided entertainment.
Christian Kolberg conducted a live auction for a Stirling Club membership, a remodeled kitchen, dinner for 25 in the top bidder's home by Ferraro's Restaurant, resort vacations, and an oil-on-canvas painting by contemporary artist Tim Hovde, who also attended the event.
Jacki Baskow produced the event.