Tahiti Joe's offers Polynesian flair
August 22, 2007 - 9:00 pm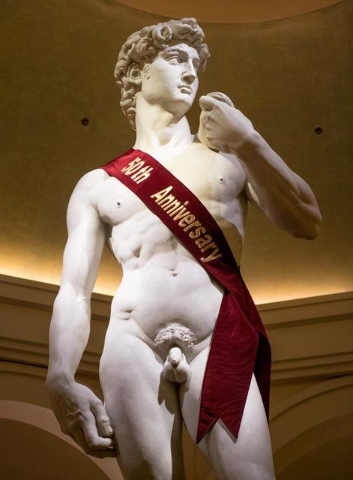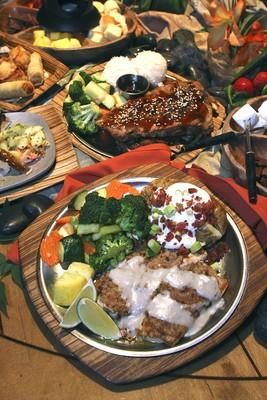 Umbrella drinks, bamboo chairs and Polynesian-style cuisine add up to Tahiti Joe's on the second floor of Tahiti Village, 7200 Las Vegas Blvd. South.
Executive chef Gerard Canales has a background in the restaurant's cuisine. He's formerly of Little Buddha at the Palms and Japengo at the Hyatt at Lake Las Vegas, has worked at Pacific Rim restaurants and at a French-Vietnamese restaurant in southern France.
He plans to add more items with a "Polynesian flair," he says. "I've always been doing Polynesian things. All of our marinades for beef, fish and chicken are made here."
One of the restaurant's more popular appetizers, Blue Lagoon Crab Rangoon, featuring crabmeat, cream cheese and green onions stuffed into a won ton, was created in-house by sous chef Beth Webb.
Tahiti Joe's has some comfort food items as well, such as meatloaf and hamburgers, but with a Polynesian twist to them. For example, the calamari appetizer features ginger, garlic, scallions and jalapenos in the breading.
Sam Dash, the bar manager, says there are 15 different frozen drinks available and a cocktail and martini list, as well as wine and beer. The bar-lounge seats up to 25 people.
There's live entertainment from 9 p.m. to midnight Sundays.
A happy hour runs daily from 4 to 6 p.m. and from 11 p.m. to 2 a.m.
Tahiti Joe's bar is open 24 hours and the dining room is open from 11 a.m. to 11 p.m. daily.
Reservations are accepted by calling 440-6950.
Starters: Joe's Spring Chicken Rolls featuring a crispy lumpia wrap filled with chicken breast, carrots and stir-fried vegetables and served with a sweet Thai chili sauce ($7.95); Blue Lagoon Crab Rangoon with crabmeat, cream cheese and green onions in a won ton wrap, also served with a sweet Thai chili sauce ($8.95); char-grilled Luau Spare Ribs basted with the chef's homemade Chinese barbecue sauce ($8.95); wok-cooked crispy calamari served with a tangy remoulade sauce ($8.95); and Todd's "Surf's Up" Satay Sticks with peanut lime sauce, teriyaki or sweet chili sauce (soy ginger shrimp, $9.95; sesame beef, $7.95; soy ginger chicken, $7.95).
Soups and salads: Joe's Royal Velvet Corn Soup with creamy roasted corn, ginger, kaffir lime leaves and clam broth ($3.95); Caesar salad ($6.95); Joe's Garden Paradise Salad with hearts of palm, artichokes, cucumbers and mixed lettuce ($7.95); Maria's Polynesian Pear Salad with romaine and mixed lettuce tossed with pears, blue cheese and caramelized walnuts ($7.95); and Oriental chicken salad with char-grilled chicken, stir-fry vegetables, mixed greens and mandarin oranges tossed with fried won tons and a honey lime vinaigrette ($8.95).
Entrees: Joe's Tahitian Chicken Nui with chicken breast grilled and sauteed with a sweet Thai chili sauce ($14.95); Tahiti Village Lobster Stir-Fry with lobster, Asian black bean sauce and egg noodles ($16.95); Mahi Mahi King's Catch featuring baked mahi mahi with a sweet onion macadamia nut crust, Parmesan cheese and lime butter sauce ($18.95); Grand Palapa Pork Ribs basted with a homemade Chinese barbecue sauce (half order, $14.95; large order, $21.95); and Joe's Kobe Beef Mainlander Meatloaf ($15.95).
Desserts: Joe's Original Vanilla of Tahiti, ice cream made in-house using Tahitian vanilla beans ($4.95); Joe's Fire Mountain S'mores with graham crackers, marshmallows and milk chocolate, serving two or more ($9.95); Liquid Lava Fondue with pound cake, chocolate brownie, strawberry, banana, pineapple and warm chocolate fondue ($9.95); Kon Tiki Hot Fudge Brownie with a scoop of ice cream and whipped cream ($4.95); and Smoldering Sunset Cheesecake topped with a choice of caramel, chocolate or berry sauce ($5.95).
Appetizers is a weekly informational column about new developments on the Las Vegas dining scene. Items should not be considered reviews or recommendations and none is a paid advertisement. Contact Ken White at 383-0256 or e-mail him at kwhite@ reviewjournal.com.
KEN WHITEMORE COLUMNS