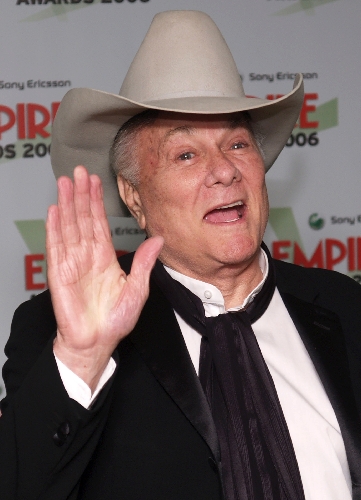 Shining shoes as a boy, shining on-screen as a star, shining even among the blinding bright lights of Las Vegas that became his adopted home, Tony Curtis was never less than a megawatt personality, one that always seemed lit by a childlike glow of wonderment.
It took him through a sometimes tumultuous but always fascinating life that was the stuff of Hollywood legend, one he actually transplanted to Las Vegas decades before he moved here in 2000 and became an instant fixture on the charity and party circuits.
The Oscar-nominated actor died of cardiac arrest at 9:25 p.m. Wednesday at his Henderson home, Clark County Coroner Mike Murphy said Thursday. He was 85.
Services will be 11 a.m. Monday at Palm Mortuary, 7600 S. Eastern Ave. The service is open to the public. A reception will follow at Luxor.
"He died peacefully here, surrounded by those who love him and have been caring for him," his wife, Jill Curtis, told The Associated Press outside their Anthem Country Club home. "All Tony ever wanted to be was a movie star. He didn't want to be the most dramatic actor. He wanted to be a movie star, ever since he was a little kid."
His first wife was actress Janet Leigh of "Psycho" fame; actress Jamie Lee Curtis is their daughter.
"My father leaves behind a legacy of great performances in movies and in his paintings and assemblages," Jamie Lee Curtis said in a statement Thursday. "He leaves behind children and their families who loved him and respected him and a wife and in-laws who were devoted to him. He also leaves behind fans all over the world."
Jill Curtis, his sixth wife, said the actor had been hospitalized several times in recent weeks for treatment of chronic obstructive pulmonary disease and other lung problems she blamed on smoking 30 years ago. She said he recently returned home, where he died in his sleep.
"His heart survived things that Tony would always say would kill an ordinary man," she said. "This time, his heart was ready to go and ready to be at peace."
Curtis first attracted critical notice as Sidney Falco, the press agent seeking favor with a sadistic columnist, played by Burt Lancaster, in the 1957 classic "Sweet Smell of Success."
Other prestigious films followed: Stanley Kubrick's "Spartacus," "Captain Newman, M.D.," "The Vikings," "Kings Go Forth," "Operation Petticoat" and "Some Like It Hot."
"The Defiant Ones" (1958) remained his only Oscar-nominated role. (Turner Classic Movies will present a 24-hour marathon of 12 of Curtis' movies, including "The Defiant Ones," on Oct. 10.)
In 2000, an American Film Institute survey of the funniest films in history ranked "Some Like It Hot" at No. 1. Curtis, famously imitating Cary Grant's accent, and Jack Lemmon play jazz musicians who dress up as women to escape retribution after witnessing a gangland massacre.
Playwright David Mamet, in a 2001 article he wrote for The Guardian in Great Britain, claimed Curtis' acting was underrated. "We do not laud and revere Curtis' great technique," Mamet wrote. "We merely remember the moments of his performances our entire lives."
Curtis was born Bernard Schwartz in the Bronx in 1925, the son of Hungarian Jews who had emigrated to the United States after World War I. His father, Manny Schwartz, had yearned to be an actor, but work was hard to find with his heavy accent. He settled for tailoring jobs, moving the family repeatedly as he sought work.
"I was always the new kid on the block, so I got beat up by the other kids," Curtis recalled in 1959. "I had to figure a way to avoid getting my nose broken. So I became the crazy new kid on the block."
His sidewalk histrionics helped avoid beatings and led to acting in plays at a settlement house. He grew to love movies. "My whole culture as a boy was movies," he said. "For 11 cents, you could sit in the front row of a theater for 10 hours, which I did constantly."
After serving in the Pacific during World War II and being wounded at Guam, he returned to New York and studied acting under the GI Bill. He appeared in summer stock theater and on the Borscht Circuit in the Catskills. Then an agent lined up an audition with a Universal-International talent scout. In 1948, at 23, he signed a seven-year contract with the studio, starting at $100 a week.
Bernie Schwartz sounded too Jewish for a movie actor, so the studio gave him a new name: Anthony Curtis, taken from his favorite novel, "Anthony Adverse," and the Anglicized name of a favorite uncle. After his eighth film, he became Tony Curtis.
In his first movie speaking role, Curtis played a bellboy in the Las Vegas-set "The Lady Gambles."
Curtis' rise to big-screen stardom in the 1950s coincided with Las Vegas' ascent as an all-American playground. He and Janet Leigh, to whom he was married from 1951 to 1962, appeared in Las Vegas News Bureau promotional photos taken at Hollywood's favorite Vegas haunt, the Sands.
Curtis also had a taste of Las Vegas headliner fame. In 1967, the first full year of operation for Caesars Palace, he spent a month hosting a live version of "The Hollywood Palace," an ABC variety show of the day.
And Curtis was among the many celebrities who joined golf greats on the Desert Inn golf course for the annual Tournament of Champions.
The 1965 slapstick saga "The Great Race," which reunited Curtis with "Some Like It Hot" co-star Jack Lemmon, was supposed to make a location stopover in Las Vegas.
"Why they filmed it in Versailles, Kentucky, I'll never know," Curtis later joked.
Curtis struggled against drug and alcohol abuse as starring roles became fewer, but then bounced back in film and television as a character actor.
Eventually, Curtis made his big on-screen Las Vegas connection as casino mogul Philip Roth in the 1978 television series "Vega$."
On the "Vega$" set, Curtis "was more of a jokester" than series star Robert Urich, who played Dan Tanna. "I would deliberately forget a line or remember his lines and say them along with him," Curtis said in an interview with the Review-Journal following Urich's 2002 death.
Despite the "Vega$" link, it wasn't until 2000 that Curtis and his wife, Jill Vandenberg (whom he married in 1998), moved to Henderson.
But it didn't take the couple long to make themselves at home in Southern Nevada, plunging into the social swim at parties and benefits.
An acclaimed artist, Curtis often donated paintings to fundraisers.
Even more often, he lent his presence to a variety of worthy causes, from Nevada Ballet Theatre's annual Woman of the Year benefits (including one saluting past co-star Debbie Reynolds) to the Shiloh Horse Rescue and Sanctuary, his and his wife's pet project.
Earlier this year, Curtis joined his wife, and a minihorse from Shiloh named Mojo, at a local library to participate in a kids' reading program.
"Everyone, including Mojo, had a great time," Curtis' June 1 Internet blog entry said, accompanied by a photo of him and Mojo surrounded by kids.
That photo showed Curtis in a wheelchair, a remnant of his late 2006 hospitalization for pneumonia and myriad complications (including a drug-induced coma) that initially left him unable to walk — or talk.
After that ordeal, Curtis had trouble walking.
But talking? Never a problem for Curtis, who loved to regale audiences of all sizes, from a lone interviewer to a theater full of fans, with tales of playing the role of a lifetime: himself.
Curtis also shared his memories in print — twice. His second autobiography, "American Prince: A Memoir," hit the best-seller lists after its fall 2008 publication; "Tony Curtis: The Autobiography" appeared in 1993.
To promote "American Prince," Curtis hit the publicity trail, promoting it from Europe to his home base in Southern Nevada.
"It's not that I forgot" what it's like to have fans, Curtis said at the time. But he relished the firsthand evidence that "they're glad to see me and glad that I'm feeling better."
Curtis took a fatherly pride in daughter Jamie's success. They were estranged for a long period, then reconciled.
"I understand him better now," she said, "perhaps not as a father but as a man."
He also had five other children. Daughters Kelly, also with Leigh, and Allegra, with second wife Christine Kaufmann, also became actresses. His other wives were Leslie Allen, Andria Savio and Lisa Deutsch.
Curtis continued to pop up in the public eye, whether reading a question on TV's "Who Wants to Be a Millionaire" during a New York visit last fall or answering questions in the June issue of GQ under the headline "Tony Curtis, The Last of the Playboys."
And while Curtis never stopped hoping that "maybe one day, someone will ask me to go back to working in movies again," as he told the Review-Journal for a 2009 feature article, Curtis suggested his work as an artist represented a greater creative achievement.
Despite his Hollywood success, "all I had contributed was full dark hair and blue eyes that blew people away," he told the Review-Journal in April. "My sense of who I was, was generated by my looks, my walk, my attitude. There was nothing unique about me. If I hadn't done these (expletive) paintings, I would be nothing, there would be no contribution of me."
During his years as a Southern Nevadan, however, locals could catch Curtis at a charity car wash or at the Forum Shops at Caesars. He might clamber onto the showroom stage at the MGM Grand while headliner Tom Jones was belting out a number or trip the light fantastic at a Bellagio nightclub, where "swarms of younger ladies tried to dance with him," as Review-Journal columnist Norm Clarke recounted. (And why not? Curtis was only 78 at the time.)
As quickly as Curtis took to Las Vegas, Las Vegas took to him.
A scant four months after his 2000 arrival, the local CineVegas film festival honored him with its Marquee Award for lifetime achievement.
Usually, "in America, you have to die before they say something nice about you," Curtis quipped after a CineVegas news conference. In his new hometown, however, "everyone is so pleasant and sweet," he told the Review-Journal. "I feel like a Las Vegan. I felt a part of it immediately after I arrived."
Henderson's Anthem development named one of its most-trafficked thoroughfares Tony Curtis Drive in 2002 in honor of the star buying a house there and adding his own artist's studio to it.
"This was just something special to do for somebody who put the community on the map in Hollywood. There are a lot of people who bought in the community because of Tony Curtis," said Jacque Petroulakis, a spokeswoman for developer Del Webb.
"He would speak at community events and attended social events. He was really a model resident and neighbor in addition to being a big celebrity name in a small neighborhood," she added.
In 2001, Curtis joined magician Lance Burton for the unveiling of a new U.S. postage stamp depicting the legendary Harry Houdini, whom Curtis played in a 1953 movie that he ranked as one of his favorites. Later that year, the University of Nevada, Las Vegas presented "The Prince: A Retrospective Edition of Work by Tony Curtis," showcasing paintings, prints, art boxes and other works at the Marjorie Barrick Museum.
It was only one of several Curtis exhibitions throughout Southern Nevada, from a 2004 UNLV salute to a three-day art fundraising bash in June 2005 that marked his 80th birthday.
"The moment of creating is very powerful and this is given to us as a joy beyond compare," he reflected in an April Review-Journal feature. "That's what I want, buddy, that these paintings express me."
Curtis began painting as a boy in New York — though his "big hope, from the time I was bar mitzvahed" at 13, "was to be in the movies."
In addition to acting and painting, however, "I write poetry. I've written two novels. I extend myself in a lot of directions," he told one Review-Journal reporter. "Maybe part of the magic for me is that I can disappear. I can become invisible."
Tony Curtis? Invisible? Not as a big-screen legend, thanks to such classics as "Some Like It Hot." And certainly not in his final role as hometown hero.
In a way, it was a case of life imitating art. In 1957's scathing "Sweet Smell of Success," Curtis' finest hour as a dramatic actor, his character, scummy press-agent-on-the-make Sidney Falco, describes his ultimate goal: "I'm in the big game with the big players. … From now on, the best of everything is good enough for me."
At least in real life, Curtis found his own happy ending.
"I'm a glorious person," he remarked to a Review-Journal reporter. "I don't want to be anybody else."
The Associated Press and Review-Journal writers Steve Bornfeld, Mike Weatherford and Norm Clarke contributed to this report.
RELATED STORIES
• NORM: Tony Curtis made himself at home
• R-J reporter remembers Tony Curtis
• Film legend Tony Curtis reveals his painter's soul – 4/1/10
• Tony Curtis recalls bleak childhood, Hollywood adventures in candid memoir – 1/22/09
MULTIMEDIA
Norm Clarke reminisces about Tony Curtis
Norm Clarke talks to film icon Tony Curtis
– 7/19/09
Tony Curtis photos
Tony Curtis timeline