Famed flowers among many WWI reminders in western Belgium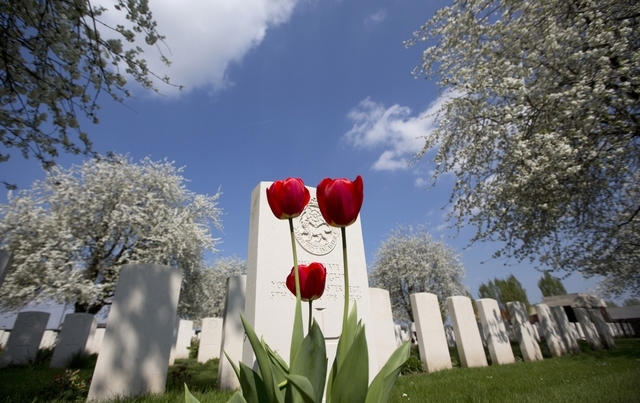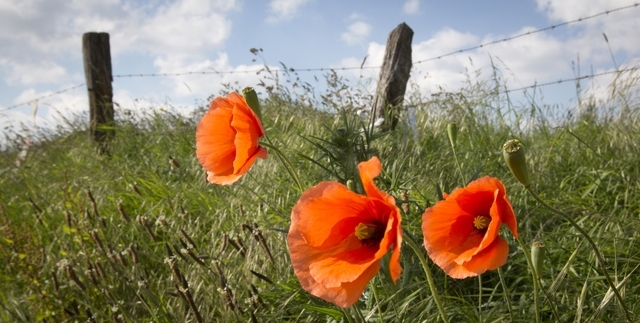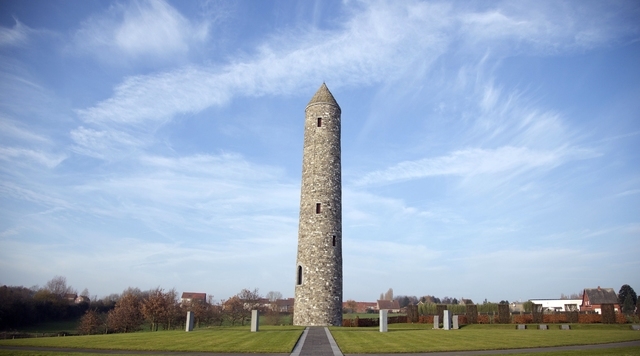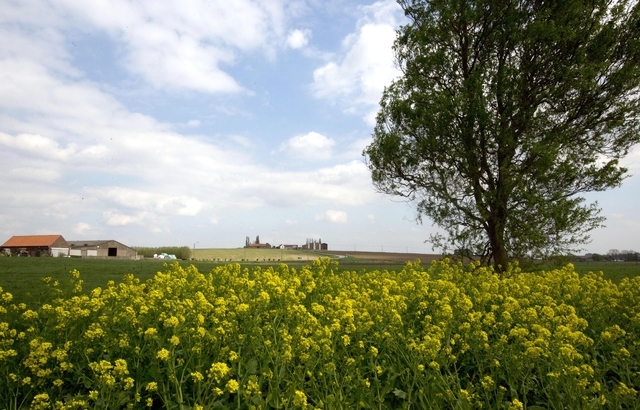 YPRES, Belgium — Crimson poppies still dance in the breeze as if nothing horrific happened in Flanders Fields. But a century after the start of World War I, the flowers endure as a symbol of war dead, in part because of a celebrated poem:
"In Flanders fields the poppies blow — Between the crosses, row on row."
The famous flowers are among many reminders of the region's connection to the Great War. Amid monuments and headstones in this western corner of Belgium, Flanders' eerie landscapes, trenches and bunkers continue to evoke the soldiers who died here by the hundreds of thousands. As carefree 21st-century travel goes, a tour of Flanders Fields packs a punch that can long stay with you.
The haunting poem "In Flanders Fields" was written by Lt. Col. John McCrae, a
Canadian doctor who ran a field hospital during the war. During a recent wreath-laying ceremony at the massive Tyne Cot burial grounds to honor the dead, the poem was read aloud by a student visiting with a group from St. George's Academy in Sleaford, England.
"The kids are really moved by it," teacher Charlotte Tilley said. "We had about half a dozen crying."
One stunning aspect of a visit here is the region's beauty and serenity. A spectacular springtime has turned the once barren, muddy battlegrounds lush with ripening wheat fields and pastures where cattle chew thick grass.
Walk through Ypres, which has four battles named for it, and you'd be forgiven for thinking you're in a splendidly preserved medieval town with a Gothic hall, gabled houses and spires. But what was left of the town on Nov. 11, 1918 — when the war ended — were stumps, rubble and vague memories where homes once stood. Ypres' second battle saw the first use of chemical arms in warfare, and its third, named for the tiny village of Passchendaele, saw 150,000 men die in 100 days.
Some wanted Ypres to stay in ruins as remembrance. The people immediately decided otherwise and started rebuilding, "as if there never had been a war. It was very much a psychological reaction," said Piet Chielens, the coordinator of the In Flanders Fields Museum, which is housed in the rebuilt neo-Gothic hall on the marketplace.
"Ypres immediately became a center of remembrance. The first tourists and pilgrims arrived in early spring of 1919," Chielens said.
Massive crowds are expected this year. "We believe there will be something like half a million visitors this year coming from at least 70 different nations," Chielens said.
Even ahead of the official start of the centenary in August, hundreds, sometimes a few thousand, flock to the 8 p.m. playing of the Last Post, the daily salute at Ypres' Menin Gate, where walls list 54,000 soldiers who perished but were never found.
The deafening silence once the bugle stops playing is a must in remembrance tourism, as is the In Flanders Fields Museum.
But visitors should also take time away from the ceremonies and crowds to wander across the flat fields dotted with low-flung ridges where so many fought and died.
"The real museum is still out there," Chielens said. "The traces, the scars in the landscape, the numerous monuments and cemeteries that will give you that sense of loss and tragedy."
It might be a tiny cemetery where only dozens of soldiers lie, a rain-sodden trench, or a derelict German bunker.
The city of Diksmuide has the Ijzertoren memorial with sweeping views of battlefields from atop its 275-foot tower. Nearby, the warren of Dodengang trenches brings the claustrophobia of war home, even if it no longer has the rats, stench and enemy within shouting distance.
Yet tourists should not limit their trip to pondering war. "You learn to understand what the importance of living and enjoying life is after you have been confronted with the experience," Chielens said.
For kids, that might mean a visit to the Bellewaerde theme park. For grown-ups, gastronomy stands out. Those with money and foresight to reserve ahead should try In De Wulf, considered one of the world's best restaurants, in the village of Dranouter, close to the Kemmel ridge battle site. You might spot a chef picking flowers in the fields that will turn up on your dinner plate, or you might be served, as a vegetable, shoots from hop plants used in brewing the region's famous beer.
For tourists, there's nothing like a summer evening with a Hommelbier or St. Bernardus tripel on a terrace to let the day sink in. And while the memory of those fluttering poppies may fade, the sense of what happened here is likely to grow stronger. As McCrae wrote:
"If ye break faith with us who die — We shall not sleep, though poppies grow — In Flanders fields."