Flagstaff offers refreshing taste of winter
February 23, 2015 - 6:21 am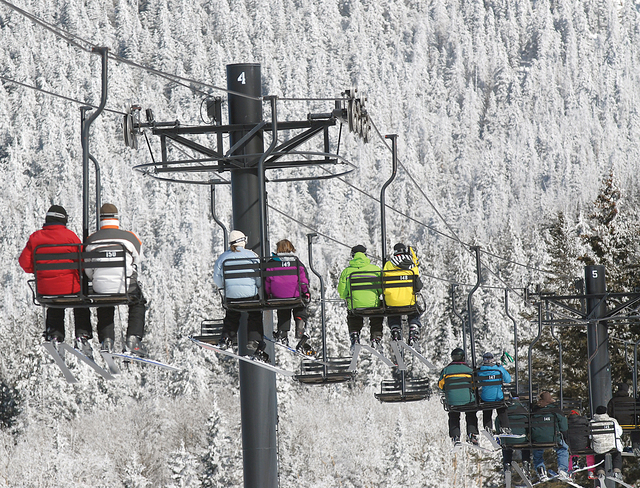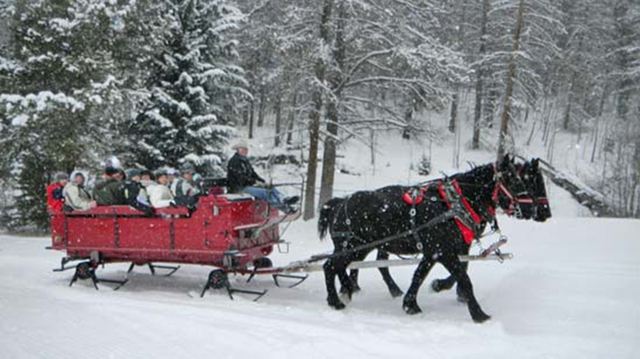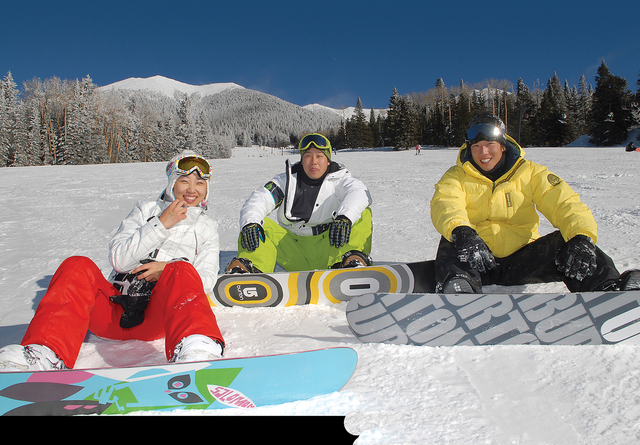 Many a Las Vegan enjoys dealing a hand of sun-bathed, snowless desertscapes this time of year to kith and kin braving frigid temperatures in the bleak Back East.
We smile, warmly, as we don shorts, tank tops and flip-flops while cable news reporters drum up icy terror in the streets of some unfortunate Midwestern city. We daintily cover a special cactus with a beach towel when temperatures make a rare turn toward 32 — perhaps our closest equivalent to wintertime weatherproofing, like wrapping pipes or letting faucets drip.
But without the latest "unprecedented" blizzard someplace else, where would our lovely valley get material for the next meteorological comedy routine?
My travel buddy and I bear this deeply philosophical question as we leave Las Vegas about noon on a recent Friday, bound for the heights of Flagstaff, Ariz., where ski season lasts from mid-December to mid-April.
Patches of snow first appear along Interstate 40, about 35 miles of west of Flagstaff near Williams, Ariz. If the white stuff doesn't clue you in, you'll know the elevation has angled upward by the foliage. You've left the familiar Mojave Desert scrub for pines. These, at about 7,000 feet above sea level, happen to be designated Kaibab National Forest.
The shadows from the pines hide the snow splotches from sunlight.
And I'm already enchanted.
It's like the obnoxious Facebook posts and screenshots of 70-degree forecasts melt like snowflakes in your palm.
As a Vegas transplant from other warm climates (Florida, by way of Louisiana), snow, for me, is a novelty. I saw it a handful of times growing up. Thinking about it brings back fond memories of canceled school days spent sliding down a short hill on an old science fair board and saving snowballs in the freezer so I could pelt an unsuspecting sibling some summer day.
Back in the present, that nostalgia surely colors my view. Late afternoon lighting enhances the charm. The sinking sun casts a golden hue on the surrounding hillsides and trees. Snow-capped Humphrey's Peak — our next day's destination, which also is Arizona's highest point, at 12,633 feet — tops it all off in the background. For the Instagrammers out there, picture the real world in Hefe filter.
We roll into Flagstaff after just less than four hours. Wispy clouds divide brilliant oranges and pinks from the darkening sky. (Remember, this time of year Nevadans lose an hour heading into Arizona.)
Our first stop was the Ski Lift Lodge &Cabins, about 7 miles north of downtown. It's right across U.S. Highway 180 from the winding road leading to the Snowbowl.
The front desk also is part of the restaurant, which is empty save for a few waiters around 6:30 p.m. Our room is $116 with tax, but you can get more than room keys here. A tip for newbies or last-minute trekkers (like us): We got our one-day lift tickets here for $45 apiece, about $20 cheaper than was available up the hill.
We drop off bags at our cabin, one of 25 rooms on site. It feels rustic. There's a furnace in a corner of our pinewood-paneled room, with two double beds and a small bathroom with a standup shower. Appropriate for those here to ski the San Francisco Peaks.
Dinner that night is back at the lodge restaurant. It's busier an hour after we registered, with moms, dads and kids at dining tables and three guys in ski bibs at the bar. The menu includes sandwiches and wraps that run from about $8 to $11. We opt to split the Ski Lift Pie, with lots of pepperoni, sausage and bacon, for about $16.50. It's just OK for what seems like oven-baked frozen pizza. But the cup of green chili stew, a spicy broth filled with potatoes, corn and chicken chunks we tack on for a few bucks more hits the spot.
As we dine, a pair of reunited friends from high school, now in their 30s, anticipate the next day's fun. "Let's shred this ice, bro," one says with a laugh.
Back in our room, snowboarders fly and spin three and four times before landing during the televised winter X Games. A little inspiration for our early rise.
Last note on the Ski Lift Lodge: The price of our room included a solid breakfast with bacon, sausage, eggs, cereal, juices and coffee.
SNOWBOARDING FOR NEWBIES
By the time we make it up the hill to the Arizona Snowbowl, with its 40 runs and 777 skiable acres, it's teeming on this Saturday morning in late January. Parking lots are filling up by 8 a.m., and the line for rentals is a good 40 people deep. It was enough for a young man who usually works on skis in the back to begrudgingly leave his post to come out front to deal with — gulp — renters.
"They said I have good customer service," he says. "I should have been meaner."
We both decide to try snowboarding. With boards and boots rented, we head out for a group lesson.
Our class is nearly evenly divided in age groups, which we would soon learn also lines up with skill level. Four of us are somewhere in our 30s. And three boys range from late tweens to mid-teens. Two are Boy Scouts, and a troop leader goes over merit badges they could earn that day: heading downhill facing forward, backward and then doing something called a turn jump and then there was an S-turn.
I only understand the first two options. My previous attempts at gliding on snow were college ski trips more than a decade ago.
And that soon becomes obvious to the instructor. We start with strapping in one foot and pressing the loose one on a stop guard to learn to steer as we head down a wide run full of beginners. I can make myself go a certain direction, but stopping without falling is harder. Literally. The bowl gets an average of 260 inches of snow annually. At this point it's getting packed pretty hard after melting underneath the cloudless sky with temperatures approaching 50 degrees, then refreezing at night.
Strapping in the second foot just leads to spending more time on my back. I'm having a hard time mastering the S-turn (that curves just like the letter it's named after), so it doesn't take long for me to lose control and hit the ground. Meanwhile, the youngsters are weaving back and forth and right around me while I lie there.
Our patient teacher notices and offers to give a hand. In a split second he lifts me by the armpits in what feels like a half nelson. But once I start my descent I have the same problem. Keeping my knees bent and leaning forward seems counterintuitive.
Again on my back a nearby teenager advises me to "just Army roll, man."
"Isn't that maneuver a somersault?" I think to myself. But I can flip onto my belly, and it's easier to get back on my feet standing up backward. But again, I fear for the lives of anyone downhill when I head in their direction.
Also, at this point, three layers of clothing including thermals and jackets is feeling pretty warm. Most of us shed a layer or two.
The naturals in our group (at least one of which I later learned had transferable skills from skateboarding) head on up in the lift while the rest of us slip and fall some more. Which gets old after a couple of hours.
With that, four of us who are of age head toward the food court with hopes of finding a beer. One has a sprained wrist, and the rest know we will be covered in bruises by morning.
I'm glad we're not going for merit badges.
My advice for other first-timers: Get a private lesson.
DOING DOWNTOWN
Just because we hadn't done so hot ourselves doesn't mean we don't appreciate seeing others do it.
Our trip happens to coincide with the Mountain Dew Downtown Urban Ski and Snowboarding Festival. Flagstaff shuts down a section of San Francisco Street, covers it in snow and sets up jumps that range from ramps to steps and railings — like a skate park for skiers and snowboarders.
It's fun, with kids competing for prizes while spectators look on. Radio station deejays toss goodies to the crowd, including necklaces and Mountain Dew products. One prize is a windshield scraper, and the mother of the girl who caught it tries to explain they won't need that when they get home to Phoenix.
A group of Northern Arizona University students pass out plastic blue and gold leis and basketball schedules for the Lumberjacks' ongoing season. And Colorado-based New Belgium Brewing Co. serves up its beers on tap.
That night we stay in The L Motel on Milton Street. There are much nicer spots, but as I said we were a little late making plans. It's right off historic Route 66, and with small rooms and a horseshoe-shaped driveway/parking area, it feels like a motor hotel of days gone by. I'm not sure it's historic, but it's old. Fine by us: It's a place to lay our heads and within a short walk of Flagstaff's nightlife, for $40 plus tax.
Needing sustenance, we head for Bigfoot BBQ. If you don't know what you're looking for, it's easy to miss. You can't smell the meat cooking from the outside, because it's in the basement of a small mall with locally owned stores that appear to appeal to hipsters. We have pulled pork and ribs with sides of macaroni salad and fried okra. No frills, and it's tasty.
One of those nicer hotels I was thinking of is the Monte Vista. Its Rendezvouz bar serves up coffee and cocktails and sometimes coffee cocktails. Coasters feature a cartoon likeness of Edgar Allan Poe. As pretentious as that may sound, the staff is friendly and chatty. Jeremy, from Arkansas, makes the drink menu but prefers to be called a bartender, not a mixologist. He shakes me up a Black on Black, with cachaca — Brazil's national distilled liquor, made from sugar cane juice — black pepper bitters and crushed black pepper garnish. It feels like warming up by the fire on a cold night.
After a quick stop by nearby Lumberyard Brewing Co. for a pint and a little country line dancing, it's back to the L.
BEYOND THE BOWL
Flagstaff clearly has enough to do to be considered a destination, but we decide to swing by the Grand Canyon before heading back to Vegas. An 80-mile detour is a small price to pay to view one of the seven natural wonders.
And we even get to see a little snow in the shadows along its steep walls.
Heading toward the canyon, U.S. 180 through Coconino National Forest takes you by other wintertime playgrounds. There's Wing Mountain Snow Play Area for sledding, which isn't allowed at the Snowbowl. Wing Mountain was closed with too little snow during out visit. There's also the Flagstaff Nordic Center. This area offers cross-country skiing and fat tire biking through snow. You can use these methods of transportation to get to your very own (rented) yurt.
Cars in the parking lots here are sparse — again, not a lot of snow.
Another option for the right weather is sleigh rides with Hitchin' Post Stables. If the weather's not quite right, the sleighs convert to wagons.
While we're on the subject of what the weather allows, you should check road conditions before you go. There aren't any nearby closures on this trip, but it happens this time of year. All you need should be on this Arizona Department of Transportation site: http://www.az511.gov/.
Surely winter-long snow in the Great Plains pesters locals there as much as misbehaving tourists can on Fremont Street and the Strip. But the uncommon is what makes vacation fun for all, right?
For all the ribbing 300 sunny days a year bakes into our psyche in this capital of the Mojave, it'd be a shame to never get a taste of real wintertime.
So we call it a good trip — even if we didn't really hit the slopes, and the slopes hit us.
IF YOU GO
Arizona Snowbowl
9300 N. Snowbowl Road
Flagstaff, AZ 86002
(928) 779-1951
www.arizonasnowbowl.com
Lift ticket prices vary based on advance purchase, but some starting points are:
Adult (19-64) day pass holiday/other: $69/$62
Young adult (13-18) day pass holiday/other: $65/$55
Junior (8-12) day pass holiday/other: $45/$35
Senior (65-69) day pass (holiday/other): $45/$35
7 and younger/70 and older: free
Skiable acres: 777 (37 percent beginner, 42 percent intermediate, 21 percent advanced)
Base elevation: 9,200 feet
Top elevation: 11,500 feet
Number of runs: 40
Directions: Take U.S. Highway 93 south toward Boulder City, where you'll bear left to continue toward Kingman. In Kingman, take Interstate 40 east toward Flagstaff and Phoenix. Take exit 191 onto I-40 Business Route/Historic Route 66. Follow this to U.S. 180 and head north. The turnoff to Snowbowl Road is seven miles north of downtown Flagstaff.
MORE OPTIONS
Wing Mountain Snow Play Area, near mile marker 226 on U.S. 180 at Forest Service Road 222B, about three miles north of Snowbowl Road
(602) 923-3555
snowplayaz.com
Flagstaff Nordic Center, 16848 U.S. 180, about 13 miles north of Snowbowl Road on U.S. 180
(928) 220-0550
www.flagstaffnordiccenter.com
Hitchin' Post Stables, 4848 Lake Mary Road
(928) 774-1719
hitchinpoststables.com