Grand Staircase-Escalante National Monument presents picture-perfect views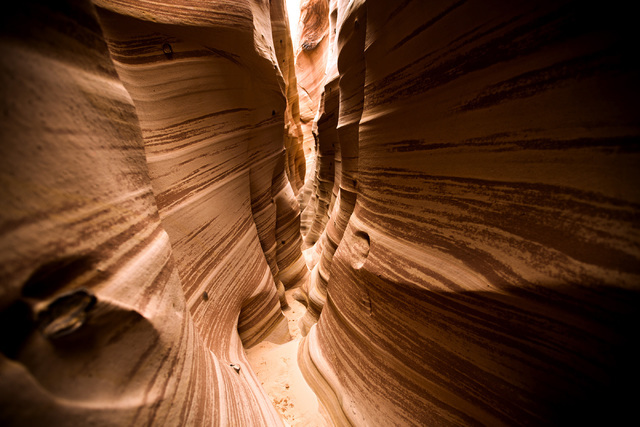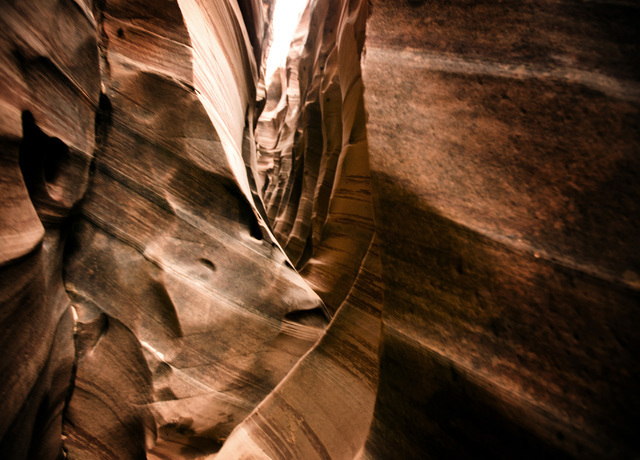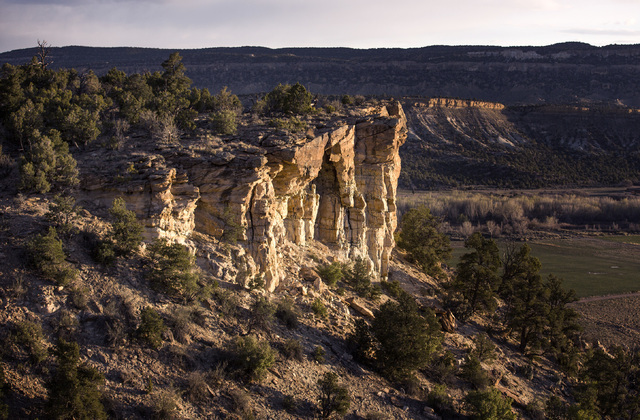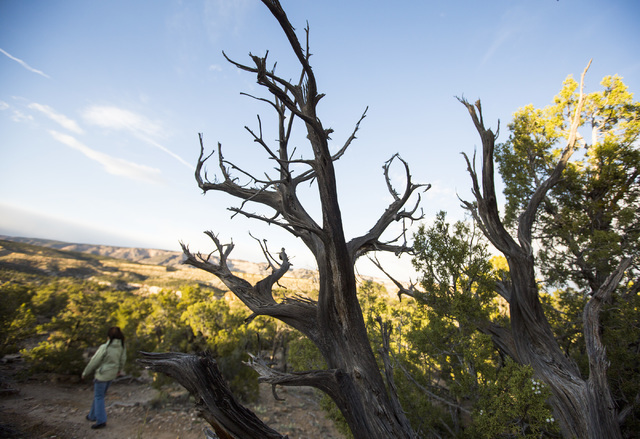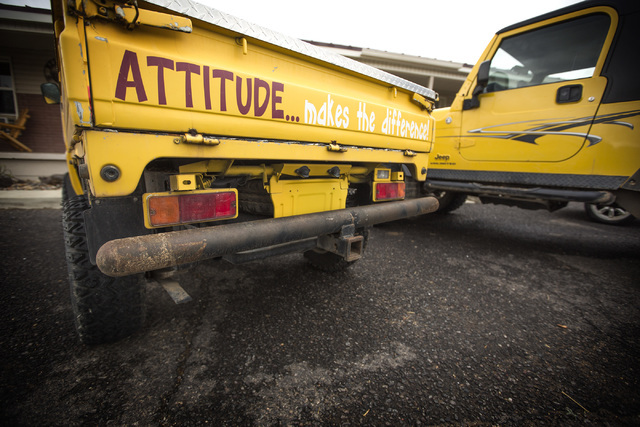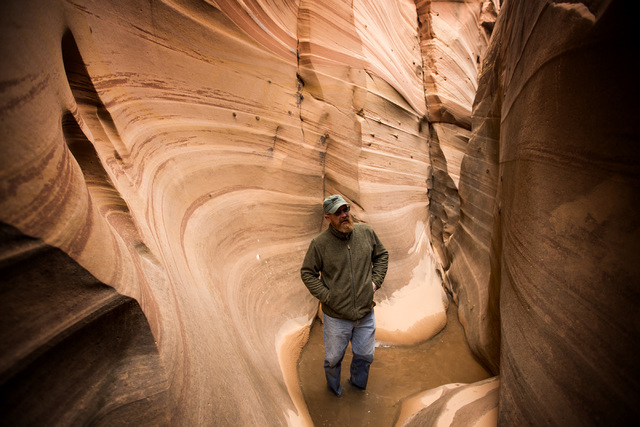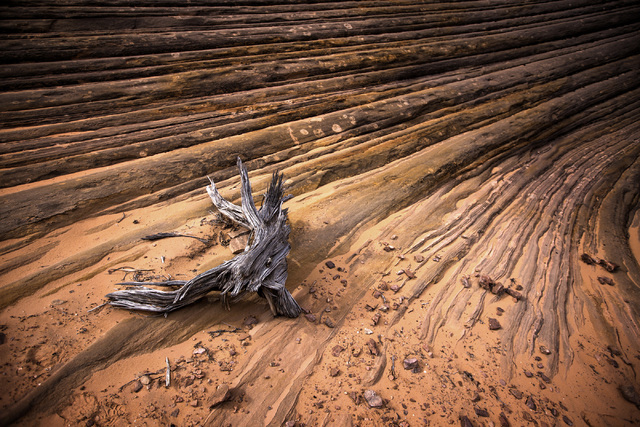 Sometimes you have to take one for the team. That's what I was thinking as I watched my husband, Review-Journal photographer Jeff Scheid, wade through the ice-cold, knee-deep water of Zebra Slot Canyon in Utah's Grand Staircase-Escalante National Monument.
He had been suffering from a nagging cough for a few days, but he gamely trudged through the water to try for that perfect picture of light shining down into the narrow canyon.
Only there was little sunlight that day in mid-April. The trip I planned to Southern Utah's national monument fell on the coldest weekend of the month: highs in the 40s, lows in the 20s, with a gusty wind throughout.
It was our first trip to Grand Staircase-Escalante, and although we traveled through rain and snow, the drive was breathtakingly beautiful — through the red cliffs of Zion National Park, the multicolor hoodoos of Bryce Canyon National Park and tree-covered hills of the Dixie National Forest — as we made our way to the town of Escalante.
The Grand Staircase-Escalante National Monument is huge — 1.9 million acres — and consists of three regions: the Grand Staircase, the Kaiparowits Plateau and the Canyons of the Escalante. There are many sights throughout — arches, waterfalls, slot canyons — and many of the rock layers date to the time of the dinosaurs.
As first-timers, we weren't sure where to start, so we enlisted the aid of Escape Goats, a family-owned outfitter in Escalante. The company offers more than a half-dozen day tours as well as two- and three-day backpacking trips. Escape Goats owner Shawn Miller recommended the 7-mile round-trip hike through the Tunnel and Zebra slot canyons.
"Zebra and Tunnel (hike) does offer more of what we have. You'll see some Indian signs (artifacts) out there. We're going to see moqui marbles that are unique to that one area, and you'll see some slots," he said.
We met Miller at Escalante Outfitters, a store and cafe that quickly became our favorite breakfast and dinner spot. He drove to the start of the trail, which is accessed by a gravel road about five miles out of town. The Hole-in-the Rock road we were traveling on was part of the route taken by Mormon pioneers in 1879, when more than 200 individuals, 83 wagons and more than 1,000 head of livestock heeded the call of church President John Taylor to establish a colony the region.
They traveled 260 miles over a six-month period in the dead of winter before they reached Bluff, Utah. Their grueling journey took them through rugged, unexplored terrain and through a narrow slit in the wall of Glen Canyon, hence the name Hole-in-the-Rock, where they dropped down 1,000 feet to ferry across the Colorado River.
The story of their incredible journey is told at the Hole in the Rock Heritage Center in the town of Escalante.
In contrast, our 7-mile hike was relatively easy as we followed Harris Wash to Tunnel Slot, so named because the short section of slot is almost entirely closed in. When we got there, the entrance was covered by knee-deep water. I asked Miller his estimate of the water depth in the center of the canyon
"Probably chest high," he said.
Well, his chest was my chin height, so we nixed that plan and decided to go up and over the canyon to reach Zebra Canyon. As we hiked, Miller pointed out small, dark, pellet-size balls. I thought they were animal droppings, but they're actually moqui marbles, sandstone balls cemented by a hard shell of iron oxide that are approximately 2 million to 5 million years old. That's fairly young considering the exposed rock and paleontology of the monument date back nearly 270 million years.
In the early period, the area was a marine lowland of streams, flood plains and tidal flats. According to scientists, the groundwater flowed through permeable rock, and chemical reactions triggered minerals to precipitate and start forming a layered, spherical ball. A tectonic shift thrust the spheres to the surface, where they were found by Native American Indians and used in medicine bundles for ceremonies.
The spheres are believed by some to have metaphysical properties, but don't think of taking one as a souvenir. Removing anything from the national monument is strictly forbidden. And although moqui marbles are unique to the area, look-alikes were discovered on Mars by the Opportunity rover.
We soon reached Zebra Slot Canyon, so called because of its colorful striations of white, gray and orange bands. The hike inside the canyon is short and narrows quickly. Hikers should be prepared to squeeze through a couple of tight spots, and there is almost always water in the canyon.
As we walked back to the vehicle, Miller talked about the history of the Grand Staircase-Escalante. President Bill Clinton designated the area a national monument in 1996, creating the largest land area of all national monuments. Unlike nearby national parks, Grand Staircase is not overseen by the National Park Service, but by the Bureau of Land Management.
The designation was considered a political move by many, to appease environmentalists. However, the act was quite controversial for those who lived in the area and were eager to tap into the nation's largest coal reserves. It was also unpopular with ranchers who continue to graze cattle on 94 percent of the land but now must follow strict guidelines.
Yet, it wasn't long before the recreational industry in Escalante began to take off. That's what attracted Miller, who moved with his wife to Escalante 12 years ago.
"I'll never be considered a local," he said. "I know guys that have been in town 25 to 30 years and they're still an outsider. But I can understand that because originally this was founded by Mormons, and I'd say for the first 100 years it was a tight-knit Mormon community.
"And then everyone's moving into the area because of this great landscape and the locals don't want the monument because they wanted jobs for coal mining. They actually wanted to drill for oil out here, too. We do have oil rigs that are on the boundaries of this monument."
That Sunday, I had hoped to do another hike to Lower Calf Creek Falls, which Miller said is "the most heavily visited site on the monument. It's an easy hike just on the canyon bottom about three miles in, three miles back."
However, Jeff's cough had turned into full-on laryngitis and, with the cold and wind, we decided to take the 28-mile scenic drive to Boulder, Utah, on the eastern edge of the monument. We stopped midway at Kiva Koffeehouse, a cafe perched on the rim of a plateau with gorgeous views of the valley through floor-to-ceiling windows.
If you have time, Burr Trail Road out of Boulder is known as one of Utah's most scenic drives.
"That will blow your mind," Miller said. "You're going to be driving in red-wall canyons overlooking the Henry Mountains, Waterpocket Fold (a geologic landform that defines Capitol Reef National Park) and majestic landscapes."
If you go:
Directions: The fastest route is to take Interstate 15 north past Cedar City, Utah, to Panguitch Exit 95. Follow Utah state Route 20 and turn right onto Highway 89 South. Turn onto East Highway 12 to Escalante. Going through Zion National Park is the shorter route, 287 versus 303 miles, but usually take longer depending on the traffic through the park. If you want to take that route, take I-15 past St. George, Utah, and exit at Utah Route 9 toward Hurricane. You'll have to pay the $30 park entrance fee.
Lodging: Most of the lodging in Grand Staircase-Escalante is centered in Escalante, the western gateway, or Boulder, 28 miles to the east. We stayed at the Cowboy Country Inn in Escalante. Priced from $88-95, the motel rooms are clean and each one has a different theme. Our Sierra room had dark wood paneling, a nice little sitting area and a large shower in the bathroom. There are a few other motels, bed and breakfast inns, rustic cabins and campgrounds.
Dining: Escalante Outfitters serves great pizza and sandwiches; its breakfast sandwich was especially filling. We had dinner at Circle D Eatery, known for its steaks and burgers. Kiva Koffeehouse, on Highway 12 between Escalante and Boulder, offers great views of the mountains and valley.
Hiking: There is so much to see in Grand Staircase-Escalante National Monument. In the southwestern section, the Paria River and its tributaries have carved out buttes, mesas and canyons including one of the world's longest slot canyons, Buckskin Gulch. The Canyons of the Escalante, carved out by the Escalante River and its tributaries, offer some popular hikes including Calf Creek Falls, the Peek-A-Boo and Spooky Gulch slot canyons and Coyote Gulch.
If you're staying in Escalante, you should definitely check out the Escalante Petrified Forest State Park. The Petrified Forest Trail is a one-mile loop, winding through lava flows and thousands of pieces of petrified wood. The Sleeping Rainbows trail is an optional .75-mile loop off the Petrified Forest Trail. This section is much steeper and requires scrambling and climbing over rocks.
If you want take a guided tour, the blm.gov website for Grand Staircase-Escalante has a list of approved outfitters. We used Shawn Miller of Escape Goats. Visit the website at www.escalantecanyonguides.com. Contact miller at escapegoattours@gmail.com