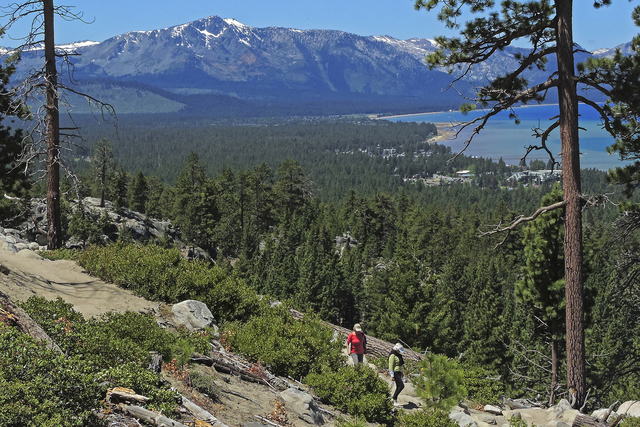 Too many Southern Nevadans know more about Los Angeles, Chicago and Phoenix than they do about Carson City, Elko and Tonopah.
That can be corrected this summer by taking the time to travel the state and discovering its rich history and beautiful geography. Learn that the name Nevada comes from the Spanish meaning "snow-covered" after the snow-covered Sierra Nevada. Know that it is known as the "Silver State" because of silver's importance to the state's history and economy.
And know that Nevada is also known as the "Battle Born State" because it achieved statehood (Oct. 31, 1864) during the Civil War. The words "Battle Born" appear on the state flag.
"The great thing about traveling in Nevada is that every time you do it, you leave the known world behind," said David W. Toll, publisher and editor of the guidebook "The Complete Nevada Traveler."
"Even if you never leave the pavement, you are entering a realm of wide open country the way Mother Nature made it, full of minor mysteries," he said. "Traveling in Nevada is not boring, especially at dawn into early morning and in the late afternoon into evening when the true landscape of the state reveals itself."
Begin in Tonopah this weekend for the 46th annual Jim Butler Days and Nevada State Mining Championships currently underway through Monday.
Who was Jim Butler? Back in 1900, Butler was camping near Tonopah Springs when his burro wandered off. While chasing the burro, he picked up a rock — it was ore. The rest is history. And history demands that you spend several nights at the Mizpah Hotel, a Tonopah landmark since 1907.
Jim Butler Days has arm wrestling and watermelon eating contests, stock car races at the Tonopah Speedway, parades, live music, and food vendors up and down Main Street. The Mining Championships feature single and double jack drilling along with mucking competition among professionals and amateurs.
Another landmark is Lake Tahoe, the jewel of Nevada. It is the nation's largest alpine lake, 22 by 12 miles of sparkling water surrounded by 72 miles of pristine shoreline. During the warm summer months, it's a water-sports paradise; during the winter, it's an Alpine wonderland.
This summer, schedule a trip to Incline Village and enjoy the Lake Tahoe Shakespeare Festival at Sand Harbor State Park. The plays are under the stars, just as Shakespeare intended, and include "The Comedy of Errors," one of Shakespeare's great comedies. The season runs July 1 through Aug. 21.
Down the mountain in Reno, Hot August Nights comes to life Aug. 2-7. It is the 30th anniversary of the internationally known classic car event where the streets vibrate with the sound of rebuilt engines and sunlight reflecting off polished chrome.
Nostalgia is the word to describe the five-night event and entertainment including Peter Noone's Herman's Hermits, America, The Monkees, Kraig Parker as Elvis and Paperback Writer: The Beatles Experience.
In nearby Sparks, the 28th annual Best in the West Nugget Rib Cook-Off is Aug. 31-Sept. 5 at Sparks Victorian Square. Enjoy all-you-can-eat ribs side dishes and desserts. The event transforms the Labor Day holiday into a must-attend culinary, music, craft and family end-of-summer affair where more than 40 bands will play on multiple stages. Event and food booths open daily at 11 a.m.
To the south of Reno and Sparks is Carson Valley, considered Nevada's most scenic valley. It sits at the base of the Sierra Nevada. A great way to discover Carson City, Genoa, Gardner­ville and Minden is to attend the 106th annual Carson Valley Days Celebration, June 9-12. There will be carnival rides, live music, parades, crafts fair, horseshoe tournaments, face painting and food eating contests.
Virginia City was once a vital settlement between Denver and San Francisco and during its boom time, the area's mining amounted to millions of dollars. Today, it is a Victorian-era town with authentic board sidewalks, Old West saloons, shops, museums, historic churches, 19th century homes and quaint cemeteries.
Virginia City's biggest event of the year is the International Camel and Ostrich Races scheduled for Sept. 9-11 at the Virginia City Arena &Fairgrounds.
The International Burning Man festival in Nevada's Black Rock Desert is set for Aug. 28-Sept. 5. Thousands gather to create Black Rock City wherein almost everything that happens is created entirely by its citizens who are active participants in the experience. They build a temporary metropolis dedicated to community, art, self-expression and self-reliance. Understand that Burning Man isn't your usual festival.
Northern Nevada has several large Basque communities. People of Basque heritage (northern Spain and southern France) immigrated to the Western United States around 1850 drawn by the California Gold Rush and slowly moved into the Great Basin region where they became prominent sheepherders and cattlemen.
Winnemucca is one such community. Its Basque Festival, June 11-12, features a parade, Basque luncheon, dancing and traditional contests. Don't forget to have at least one Picon Punch cocktail.
Elko is another large Basque community. For the past 53 years, it has had one of the biggest and best Fourth of July weekends hosted by the Elko Basque Club. It begins July 1 and continues all weekend with picnics, dancing, singing, parades and games such as wood chopping, stone lifting, tug of war, weight carrying and a sheepherder's bread contest.
Among the picnic food items are tri-tip, lamb stew, Basque beans, and paella. The festival concludes with the jota (Basque dance) and irrintzi (Basque war cry) contests.
Don't leave Elko without enjoying the 12-mile drive into Lamoille Canyon Scenic Area within the Ruby Mountains. These mountains have often been called "The Alps" of Nevada. Wildlife includes mountain goat, bighorn sheep, elk, mule deer, mountain lions and coyotes.
Nevada's largest national park is the Great Basin National Park and its main community is Baker, on the Utah border. The park encompasses high-mountain terrain with streams, alpine lakes, 3,000-year-old bristlecone pine trees, a miniature glacier and limestone caverns. One of the best things about Great Basin is the low number of visitors.
The town of Baker hosts the Great Basin Visitor Center, entrance to the park and Lehman Caves. Tours of the caves by park rangers highlight stalactites, stalagmites, and draperies, as well as rare cave formations including helictites (calcite formations that curve and seem to defy gravity) and shields (flat plates).
Something less strenuous nearby is the Snake Valley Festival, June 17-19. Participate in an ice cream social, community yard sale, parade, luau, solar telescope, food booths, pie sale, talent show and evening astrology program.
If trains interest you, head to Ely for the Nevada Northern Railway complex, a registered National Historic Landmark. It is the best-preserved, least altered and most complete main yard complex remaining from the steam railroad era.
It was established in 1905 to support the area's booming copper mining industry. The East Ely yard escaped modernization because of its geographical remoteness and the decline of the mining industry it once served.
Items from the station have been restored and can be seen at the Nevada Northern Railway Museum.
The complex consists of the original railway locomotives, rolling stock, track, passenger station, and buildings that served the historic copper mining region of Central Nevada for over a century.
Enjoy train rides, learn how a diesel train engine works, learn how to drive a train and attend railroad history lectures.
Cave Lake State Park, 8 miles south of Ely, is a year-round park that offers recreational opportunities featuring a 32-acre reservoir that provides excellent trout fishing, boating, hiking, camping and picnicking.
Eighteen miles south of Ely is Ward Charcoal Ovens State Historic Park. The park is known for its six beehive-shaped charcoal ovens.
Silver ore was discovered here in 1872 and the ovens replaced an older system of producing charcoal. They operated during the silver boom years of the Ward mines, 1876-1879.
Closer to home, Laughlin is hosting the biggest barbecue of the year with this weekend's Rock 'n Ribs Riverwalk Festival. It begins each day at noon with delicious barbecue and entertainment.
Mesquite, nestled in the rugged Virgin River Valley, is a popular Southern Nevada getaway. Mesquite sits on the edge of the Nevada/Arizona border and is just a short drive from Utah. The city's Virgin Valley Heritage Museum has historical items such as the first slot machine brought into the valley, photographs, quilts, wedding dresses, a 1945 television, early telephones and a whiskey still.
Once there, get outdoors for hiking, mountain bike riding, guided nature tours and skydiving. Plus, it is a quick day trip to Zion or Bryce National Parks in Utah.
Pioche in Lincoln County became famous for the Potosi mine, the first lode mine in Nevada in 1868. A good time to visit is during the town's Labor Day celebration, Sept. 3-5. Fiddle jam sessions, horseshoe tournaments, a craft show, a car show, adult mining events, lawn mower races, live music, a street dance and fireworks make for a community weekend.
Many Southern Nevadans are familiar with Beatty, which lies 7 miles from Death Valley National Park and just outside the ghost town of Rhyolite. Beatty is known for off-roading, bird watching, ghost town exploration, camping, photography and star gazing.
Rhyolite is at Death Valley's east entrance and offers photographers, explorers and ghost town enthusiasts an enjoyable experience. The town was founded in 1904 after the discovery of quartz and once had a population exceeding 10,000.