Plan ahead for a fun snow day at Mount Charleston
December 25, 2016 - 8:00 am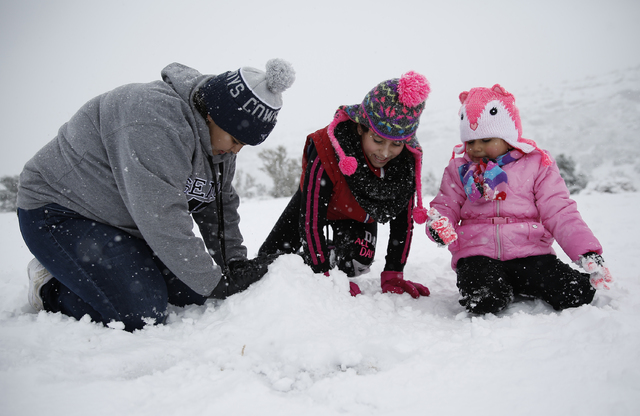 Look west from the Las Vegas Valley these days and you'll see winter has arrived: Mount Charleston has snow.
Desert-dwelling residents are not exempt from the thrill that comes from the promise of new snow on which to ski, snowboard, tube or otherwise try out the warm winter gear you got for Christmas.
The Spring Mountains National Recreation Area has abundant trails, campgrounds, picnic areas, winter recreation areas, restaurants and lodging. Weather can be unpredictable, so the best advice for a safe and fun day in the mountains is to plan ahead.
A great resource is the Snowplay page on www.gomtcharleston.com. Here you'll find advice on everything from the names and lengths of trails to detailed maps of mountain roads and public areas.
Lee Canyon's website (www.leecanyonlv.com) has lots of information about skiing, snowboarding and tubing options, hours and weather conditions.
The Las Vegas Ski and Snowboard Resort in Lee Canyon has a relatively short winter recreation season — typically December through March depending on the weather — so weekends and holidays are extremely busy. Your best bet to avoid crowds is to plan weekday snow-play or morning visits to the mountain if you can't get away on a weekday. The resort is open from 9 a.m. to 4 p.m. every day through the season. From Las Vegas, take state Route 156 west from northbound U.S. Highway 95; the road ends at the Ski and Snowboard Resort. Parking in Lee Canyon is $5 per day or $20 per season.
Another access road to the Spring Mountains from U.S. 95 is state Route 157 (Kyle Canyon Road). Drive west toward the Spring Mountains Visitor Gateway information center, a few open picnic areas and a campground, the Resort on Mount Charleston and the Mount Charleston Lodge near the end of the road.
Remember that your cellphone will probably be useless in the mountains, and begin your day with a full tank of gas, as there is no place to fill up in the recreation area.
Be prepared for requirements for chains and snow tires. Recent road improvements on the mountains include safe turnout areas for chaining and unchaining. With road safety in mind, parking is limited to designated parking areas and prohibited along many sections of roadways.
Sleds, toboggans and tubes can be used on trails that have at least a foot of snow.
Resorts in Lee Canyon and Kyle Canyon have restaurants, but it's a good idea to pack hot beverages and your favorite soup or chili. And finally, bring bags to pack out your trash.