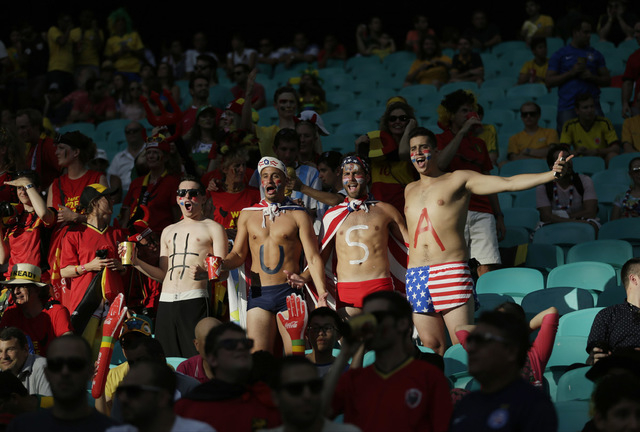 PITTSBURGH — As the World Cup reached unprecedented levels of popularity the past two weeks in the United States, the question has again arisen: Is this the time Americans finally embrace soccer as a mainstream sport?
For thousands of Americans who traveled to Brazil, though, that time came years ago. U.S. citizens purchased nearly 200,000 tickets to this year's World Cup, second only to host country Brazil.
Getting to Brazil, let alone navigating within South America's largest country, is no easy feat, but thousands saved their money and took time off work and school to head down for soccer's biggest quadrennial party.
Some fans set up itineraries to travel with the U.S. team, going from the beaches of Natal to the depths of the Amazon in Manaus. Others took in various group stage games, meeting fans from different countries and continents.
All, though, went for the love of the sport.
———
As soon as Jim Taylor saw the look on Justin Brunken and Korey Donahoo's faces, he knew something was wrong.
Brunken and Donahoo, two founders of the American Outlaws, a supporters' group for the U.S. men's soccer team, were about to ask Taylor, 39, of Robinson and president of Pittsburgh's Outlaws chapter, for a favor. The three were in Houston, about to take off for the group's trip to Brazil for the World Cup.
At least, that was the plan. One of the two planes the Outlaws had chartered to Brazil was 14 seats short, so Brunken and Donahoo had to ask Taylor and others to give up their seats and take another flight.
"The look of terror on their faces was enough," Taylor said. "They're solid guys so I said OK."
Taylor and 13 others ended up flying from Houston to Port of Spain, Trinidad, and then Georgetown, Guyana, before awaiting another chartered flight to take them to Natal, Brazil, site of the U.S.'s first game against Ghana June 16.
While the vast majority of the 500-plus fans who traveled with the Outlaws to Brazil were partying at U.S. soccer's pregame party in Natal, the "AO 14," as they became known on Twitter, arrived in Georgetown about 2 a.m. the night before the game and spent the night in a euphemistically named airport lounge.
"You know how after you wear your shoes for like four days with the same socks and then you go into an old-school Pittsburgh basement with just a Pittsburgh toilet? That's what this airport lounge smelled like," Taylor said.
By 6 a.m., with still no plane to take them to Brazil, Taylor began to seriously doubt that he would make it in time for the game. Shortly after the last World Cup, he signed up to attend and had saved for almost four years.
"They announced this trip shortly after the World Cup in 2010, and I was one of the first people in," Taylor said. "Now we're cutting it close to me not even getting to the first game."
———
For Will Supowitz and Ben Katz, rising juniors at the University of Pittsburgh, their trip into Brazil was considerably less stressful.
The two had been in South America since early May, traveling up and down the continent's east coast and spending time in Patagonia and the Galapagos Islands.
The idea for their trip also started four years ago, when a group of friends returned from the 2010 World Cup in South Africa and deemed it the experience of a lifetime.
Supowitz, 21, and Katz, 20, cousins and roommates, entered FIFA's initial ticket lottery in October before the draw was even announced.
When it was announced in December, they found they had tickets to France vs. Switzerland, Germany vs. Portugal, a to-be-determined round of 16 game and, as fortune would have it, the U.S. vs. Germany in Recife, Brazil.
"We totally lucked out," Supowitz said.
The two traveled from Salvador to Rio to Recife and, as of Monday, were in Brasilia for France's 2-0 win against Algeria in the round of 16. Nothing, though, topped being in the Arena Pernambuco as the Star Spangled Banner played before the USA's 1-0 loss against Germany Thursday.
"We both went to the Super Bowl in Dallas," Supowitz said. "We've been to Final Fours and NBA All-Star Games, but being at a soccer game for your country is just incredible."
———
Kris Knieriem, 49, was also in the stadium in Recife last Thursday, with her husband, Steve Lowry, 56, and son Max Zissu, 16.
For Knieriem, her family's life had always revolved around various soccer practices and games, so why not take a chance to see the game played at its highest level? They entered the first round of the FIFA ticket lottery but were unsuccessful. They tried again in the second round.
"We didn't hear anything for months, then one night I open the Visa bill and see that I've been charged for tickets," Knieriem said.
They planned a weeklong trip centered around the Italy/Uruguay game in Natal and the U.S./Germany game in Recife. For them, part of the experience was meeting fans of other countries, united in their love of soccer.
"(In Natal) our hotel was just completely filled with Uruguayans who were setting off fireworks starting at dawn on game day," Knieriem said. "It was joyful. No matter who you were there supporting, there was this palpable feeling of happiness."
———
Taylor and his travel partners finally arrived in Brazil on June 16 and left the airport two hours before kickoff. They had to walk the last mile and a half but made it to the stadium in time for the national anthems.
"No matter what I went through to get there, it was worth it 100 times," Taylor said. "During the anthem, it's one thing to tear up a little bit. You look around and hope that nobody sees you, but then you look around and everyone's tearing up like you are."
That night in the Guyana "lounge" was a distant memory when American defender John Brooks scored in the 86th minute to give the U.S. a crucial win against Ghana.
"When Brooks scored the goal, I don't even know what happened," Taylor said. "There's a good 20 seconds where I couldn't feel my feet on the ground."
Taylor's travel drama wasn't over. He needed an improvised five-stop return trip from Manaus after the U.S.'s second game against Portugal, but he finally made it back to Pittsburgh Saturday.
Monday, he was at city hall, taking part in a ceremony in which the Pittsburgh City Council deemed today "American Outlaws Pittsburgh Day" in honor of the U.S. round of 16 game against Belgium this afternoon.
For this game, Taylor planned to be at Claddagh Irish Pub on the South Side with the rest of the Pittsburgh American Outlaws. Claddagh had been packed shoulder-to-shoulder for the first three U.S. games.
"I've soaked this in here (in Brazil), but I can't wait just to get back and see that bar full and just hear the chants and the songs," he said.
———
Online:
http://bit.ly/1pSL7uB
———
Information from: Pittsburgh Post-Gazette, http://www.post-gazette.com