Where are the college resources for undocumented students?
September 14, 2015 - 2:21 pm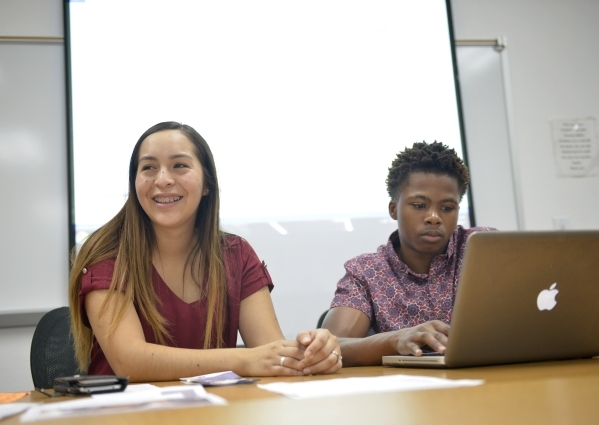 Like many students at the College of Southern Nevada, Brenda Romero goes to class, studies regularly and finds time for extracurricular activities.
Her organization of choice is student government, where she hopes to be an advocate for her fellow students.
But unlike many other students, Romero has faced obstacles when trying to pursue higher education while being undocumented.
With more students open about their status and more focus on comprehensive immigration reform, some believe there are more resources available to help undocumented students than in the past.
There are an estimated 11 million undocumented people living in the United States. Of that, it is estimated 65,000 to 80,000 undocumented students graduate from high school each year.
Jose Melendrez, assistant vice president of the office of diversity initiatives at UNLV, says with that many students leaving high school, it makes sense to provide them with opportunities for higher education if they want it.
He says the Nevada System of Higher Education has been working to open doors.
"Everyone does their part to make sure students know what resources are available to them," Melendrez says. "I think a lot of these resources have been around. It's just making sure the information is available."
Also, Melendrez says there have been efforts to make sure people, from administrators and counselors to undocumented students, aren't perpetuating false information.
Caught in the middle are people such as Romero, who is in her third year at CSN working on an associate's degree in business. She came to Las Vegas when she was 2.
She didn't realize what it meant to be undocumented until high school.
"I think that is really common for most of us," she says. "You go and ask about getting your (driver's) permit at 15, and then you're told you can't."
Another question mark is higher education. Though the desire is often there for many, the resources, whether it is financial or other support, are in question.
"Without a Social Security number, you can't fill out a (free application for student aid)," she notes.
Romero knew she wanted to go to college when she graduated in 2012.
But to make it financially feasible, she knew she would have to take a year off doing side jobs baby-sitting or whatever she could find to save for it.
For years, advocates have tried to push the Development, Relief and Education for Alien Minors Act through Congress, which would allow undocumented students who meet the qualifications have residency.
Many believe a bill like this could alleviate the problem.
"Until we have comprehensive immigration reform, these students are still struggling," Melendrez says.
Though some states, such as California, have passed their version of the bill, no larger component has been passed.
In 2012, President Barack Obama issued an executive order known as Deferred Action for Childhood Arrivals, which gives temporary relief for some people, referred to as DREAMers.
Melendrez says that through the presidential action, students can fill out the free application for student aid. Though they can't get federal funding, it does open the door for them to apply for more scholarships.
Still, Melendrez says there is a lingering fear in the undocumented community that filling out such forms or even applying for college will open undocumented students up to being targets for deportation.
"But once you complete your FAFSA, your information goes directly to them," he says of organizations that offer scholarships. He adds that because of privacy laws, the information is secure.
DREAMers can get the Millennium Scholarship because it is funded through the state. There are also private scholarships that don't require a Social Security number.
It is efforts like these that have opened the doors for Romero to finally be able to start at CSN.
She joined student government and was recently named student body president.
Romero says she hopes to use her influence as a leader with student government to make resources more readily available for undocumented students.
Edith Fernandez, associate vice president of community engagement and diversity initiatives with Nevada State College, says that there is a lack of communication and many students who are undocumented aren't aware they can enroll in college.
"It's hard seeing a valedictorian who has been working hard not know what they are going to do after high school," she says.
Fernandez says Nevada has taken some steps to help.
"Things have gotten better without a doubt," Fernandez says. "I think we need more state dollars to help provide access to higher education. We need to stop putting up hurdles."
Another obstacle occurs after students graduate from college and want to use their degrees.
In the 2015 legislative session, Assembly Bill 27 passed, which allows those with temporary legal status — DACA recipients have this — to obtain teacher's licenses.
But some professions are still unobtainable.
"If an undocumented student gets a nursing degree, she can't take the board test to become a nurse," Fernandez notes.
In addition to rallying the state to help, some DREAMers are helping to share their experience as a guide to newer students.
At Nevada State College, there is a student group forming to help undocumented students with the pains that come along with higher education.
Oscar Varajas, who is in his second semester at Nevada State College, is helping to start that group because he knows firsthand some of the needs of his fellow undocumented students.
"I feel like the group would bring more attention to what it's like to be a DREAMer and strengthen our numbers," he says. "I think we can help get more resources for future students."
Varajas' family always pushed him to seek higher education.
"My family put all their resources in to support me going to school," he says. "My mom wanted me to have more than just another job. She wanted me to have a profession."
Without help from Nevada State College, he says he probably would have been lost when trying to get into school.
Over at UNLV, Rafael Lopez has seen the light at the end of the tunnel. He just finished his degree in psychology this summer.
But getting there wasn't always easy.
"I came to the United States when I was 1," Lopez says. "I grew up like any other American kid. This is all I know."
Even when his parents were sent a deportation order when Lopez was 15 — he says this happened after being scammed by a lawyer — they chose to stay.
"They wanted me to finish high school because they knew I wouldn't be able to if we went back to Mexico," he says.
His family was from rural Mexico and didn't know much about higher education, except that they wanted their son to have better opportunities than they did.
"My mom always pushed me toward higher education," he says. "She would say the reason we stayed here was so I can go to a university and do something with my life."
Despite being a part of a magnet program at Valley High School, the idea of college was scary for Lopez. He feared filling out forms and asking for help could lead to deportation.
Lopez had a Millennium Scholarship, which in 2007 covered most of his tuition. But much of his college expenses came out of pocket, paid from side jobs he picked up and the construction work his father had.
When the economy collapsed a few years ago, his father lost his job.
"We were literally collecting scrap metal to get money to pay bills and my tuition," Lopez says.
Even after the Deferred Action for Childhood Arrivals action, life was complicated. But Lopez persevered.
He now hopes to either get his master's degree in public health or go to law school.
"But I wouldn't be able to become a lawyer," he says.
Lopez says there are only two states, California and New York, he is aware of where undocumented students can practice law.
"And it's because a group of undocumented students filed a lawsuit," he says.
There are no similar efforts in the works in Nevada.
Contact reporter Michael Lyle at mlyle@reviewjournal.com or 702-387-5201. Find him on Twitter: @mjlyle