Ex-UNR star Burleson: 'You can find your optimism again'
October 26, 2023 - 9:13 am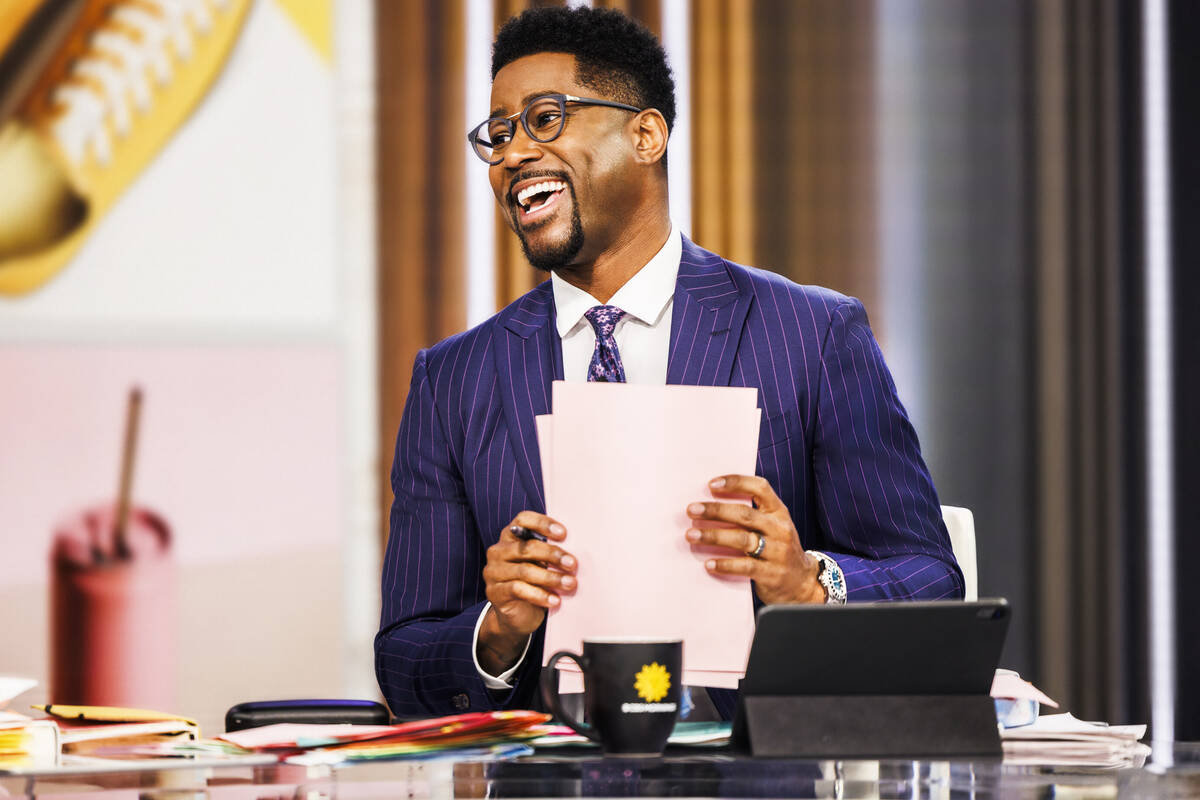 While most of the world is under the covers, Nate Burleson is deep into international politics, war and the Swift-Kelce courtship.
Pass the guy a second cup of coffee because by 4 a.m., he's already at work as a co-anchor of "CBS Mornings."
It begs the question: How does the UNR grad and former NFL wide receiver stay optimistic when waking up to bleak news? And how can the rest of us? Is positivity still a possibility?
"Look, the world can be harsh. It can be tragic. It can be disappointing and wear on you. You wake up and do a story about an earthquake, a flood, a school shooting, it wears on you like a heavy trench coat," the good-natured, 42-year-old former athlete says.
"But I can take that heavy coat off. You can take the coat off. And leave it there whenever you want to feel lighter. You can find your optimism again."
The husband and father of three has one sure way to lighten his mood: frequent weekend trips to Nevada, where he visits son Nate Burleson II, who plays football for his father's alma mater.
"I can't stay away from Reno with my friends and my son out there. I do love the extreme conditions, so I make that trip, the one that makes me really happy," says Burleson, who also serves as a football commentator for CBS and hosts several entertainment shows.
His other good life tips:
You're not an Avenger
"You can't be a superhero for everyone and a superhero for yourself," Burleson says. "I've lived that life where I burned the candle at both ends. I worked, parented, enjoyed other people, had good times and did for others. Doing too much can become exhausting."
His solution? "Now, it's a more intimate group. My immediate family. I spend time with them most of the time, and it gives me the ultimate source of strength. … I look at myself like an electric vehicle. I need to charge by plugging into my family."
Talk about mental health
"In sports, for a long time, mental health was something collectively we swept under the rug," he says. "Maybe it's the bravado of men constantly told we had to be bigger than life, tough as nails. Men in general learn early that you must pick yourself up. And that men don't cry. … All falsehoods. And all of this causes men to ignore our mental health as a group, which isn't healthy.
"One of my missions is to make sure that men, women and kids have honest conversations about mental health. Sadly, this also ties into the Black community. So many African American men and women didn't talk about mental health growing up, but now we're trying to bring it to the dinner table and have more upfront discussions with the entire family. The more we talk about it, the more we normalize it."
Make room for mistakes
Burleson says he's a tough but forgiving dad. "My voice has a deep rasp to it," he says with a laugh. "It echoes when I want to get attention from my kids." But don't believe the gruff act. "I'm a teddy bear," he adds. "I'd rather win them over with love versus fear. The kids can tell me anything. I offer up room for mistakes."
Don't stress — decompress
With one child in college and two in high school, Burleson says his stress has changed with the years and milestones. "When you're young with younger kids, you just want to do a little bit of everything to get rid of stress. Now that I'm older, I want to do a whole bunch of nothing. Or I want to talk to one person to help me get out of my head and decompress."
Shed a few tears
"You work your whole life to get your kid out of the house healthy with the right mindset to take on the world," he says.
"The moment your child leaves, it rocks you. You realize how much that child means to the house."
Burleson says the best advice on how to handle that first college drop-off came from an interview subject: President Barack Obama. "He said, 'Nate, make sure you hold those tears in until you get in the car. And then you cry.' "
Receive the blessings
"I've had moments where anxiety got the best of me or hesitancy," he says. "Now, I'm more fearless than I've ever been. I put the work in. I know I'm deserving. I'm receiving the blessings."
Reno connection
"It's beautiful to watch family history repeating itself," Burleson says of his son attending UNR. "My wife went there and ran track. My little brother went there. My wife's little brother went there. It's turning into a bit of a family legacy. It's why I'm in Nevada as much as I can be."