Exploring the wonders of Red Rock's Calico Basin — PHOTOS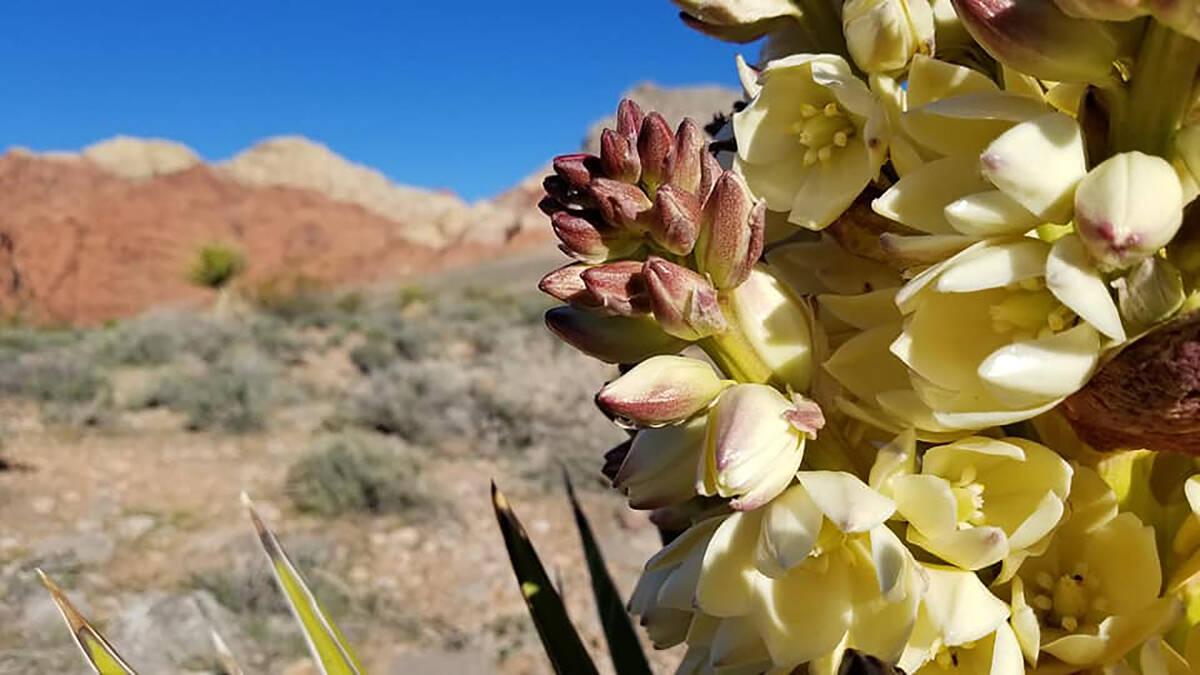 Finding shooting star flowers and orchids in the no-frills Mojave Desert sounds like an impossible task, yet they'll be blooming in April and May at Calico Basin. Located near but outside of Red Rock's popular 13-mile scenic loop, Calico Basin is a year-round geologic stunner and a springtime contributor to Southern Nevada's wildflower bouquet.
Calico Basin, home to three springs feeding ash trees, meadows and other greenery, is also popular among hikers of all skill levels. Red Spring's boardwalk loops around a meadow for an easy half-mile walk. The boardwalk is wheelchair-accessible, and its start is adjacent to the main Calico Basin parking area, which includes restrooms and picnic tables.
From that location, hikers can also catch the Calico Basin Trail, an easy 1½-mile out-and-back hike that skirts parts of Calico Spring. A third easy trail is the 1-mile out-and-back Ash Spring Trail, which starts from a gravel parking lot near the Kraft Mountain Loop trailhead. Kraft Mountain Loop is among Southern Nevada's most scenic hikes, but it's considered strenuous because of its rock scrambling, hill climbing and hiking distance of 3½ miles.
Calico Basin gets plenty of visitors, especially on weekends, so getting there early for a parking spot is advisable. For now, visitors can enter the Calico Basin area without paying a fee, but there's potential on the horizon for fees, required reservations and entry gates. All of those controversial ideas are under review by the Bureau of Land Management.
Calico Basin, which includes a small residential community, is part of Red Rock Canyon National Conservation Area but has a separate entrance off state Route 159. If arriving from Charleston Boulevard, motorists on state Route 159 take a right at Calico Basin Road. A highway sign for the Calico Basin/Red Spring area precedes the turnoff for Red Rock's more popular 13-mile scenic loop.
Here are additional particulars on the wonders of Calico Basin:
Red Spring
A half-mile boardwalk starts in the shade of ash trees and allows visitors to enjoy the saltgrass meadow, trees and wildlife of Red Spring without causing harm to the sensitive environment. Several educational panels with colorful images point out interesting features that otherwise might be missed. Shared facts help visitors understand the significance of the water source and natural resources of the area. Along the boardwalk, there are benches for sitting and enjoying the spring songs of birds, including black-throated sparrows, crissal thrashers and white-crowned sparrows heard there in late March.
For thousands of years, animals have come to this desert oasis to drink and find food. Reliant upon Red Spring are western pipistrelle bats, coyotes, desert cottontails, tree frogs, gopher snakes, wrens and great horned owls.
In addition to admiring petroglyphs and multi-hued hills from the boardwalk, visitors can learn details about Native American settlements in the area and about the colorful sandstone and gray limestone geology that makes Calico Basin stand out. They can also look out at lush greenery as it benefits directly from Red Spring, which is fed by snow runoff and rainfall.
Calico Spring
Calico Basin Trail begins at the Red Spring boardwalk parking lot. This path is dusty at the start and traverses expanses of sandstone. Rock climbers may be seen tackling enormous boulders, and kids might be spotted scaling smaller boulders under the watchful eyes of nervous parents. There's plenty of sandstone to go around for anyone wishing to sit and stare up at the sky or rest under the shade of a nearby oak. Taking this path is a bit like walking straight into a mural with bold stripes of red and tan sandstone contrasting with the gray of Turtlehead Peak and other limestone giants.
A second Calico Basin water source near this trail is Calico Spring, where elegant shooting star flowers in fuchsia may be found in early spring. In late March, strawberry hedgehog cactus in the area had buds and should bloom brilliantly later this month. Phainopeplas, crested black and gray birds that have a symbiotic relationship with desert mistletoe, were also seen gathering nesting material.
Ash Spring
Ash Spring Trail is another easy path that yields plenty of stunning sandstone scenery and glimpses of stylish stream orchids in May. In years past, juvenile phainopeplas were seen learning to fly, and a chuckwalla was sunning itself on terracotta-colored boulders found beyond tree-shaded areas. Uncommon alkali mariposa flowers were blooming in the meadow.
The start of Ash Spring Trail and Kraft Mountain Loop (if taking the clockwise approach) are at the far end of a second Calico Basin parking lot at the end of Sandstone Drive.
Kraft Mountain Loop
Hiking Kraft Mountain Loop is worth the investment, but this trail does demand a nimble, focused and sure-footed approach from anyone climbing its hills and scrambling down its rock falls. The payoff arrives on Kraft Mountain's backside, as the trail winds through Gateway Canyon's collection of vibrant sandstone formations and past wildflowers, including thousands of spring blossoms on redbud trees.
Heading in a clockwise direction from the end of the parking lot, Kraft Mountain Loop hikers start out on a flat path through Mojave yucca and creosote bushes. Then they will begin a grueling climb past Indian paintbrush and Mojave aster flowers on the way up to the saddle of Kraft Mountain. When looking back, hikers have spectacular views of Calico Basin and its surrounding hills.
The path's next steps are to the right and down to a wide wash, where explorers trudge through gravel before canyon walls begin narrowing. Over the years, water has sculpted fantastic sandstone formations. Colorations and patterns in the rocks vary dramatically. Iron-red dots cover some surfaces while thin stripes of raspberry and orange color swirl into white rock like patterns in saltwater taffy.
Wildflowers continue in bursts along the path. As hikers make their way through the canyon, they encounter boulders that at times are tricky to maneuver through and over. Soon the canyon widens again and opens to the wash. That's the time when hikers should look for the next segment of the trail that circles Kraft Mountain.
A dirt path hugs the mountain and then heads south, past boulders often crowded with rock climbers and their safety equipment. Also right off the trail are protected rock panels etched with mysterious symbols that tell part of Southern Nevada's Native American story.
The path's final and easy steps lead through more Calico Basin desert shrubbery and back to the parking lot.