Performing keeps Donny Osmond feeling youthful
February 16, 2023 - 9:51 am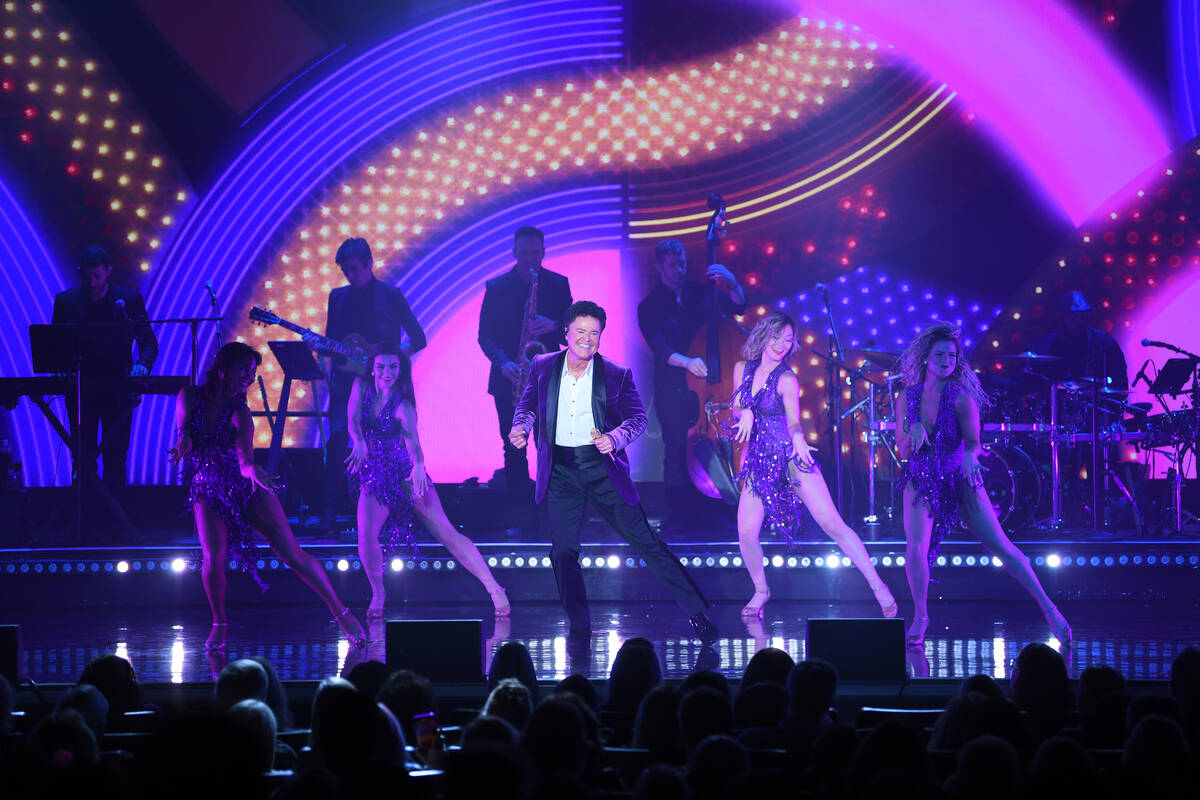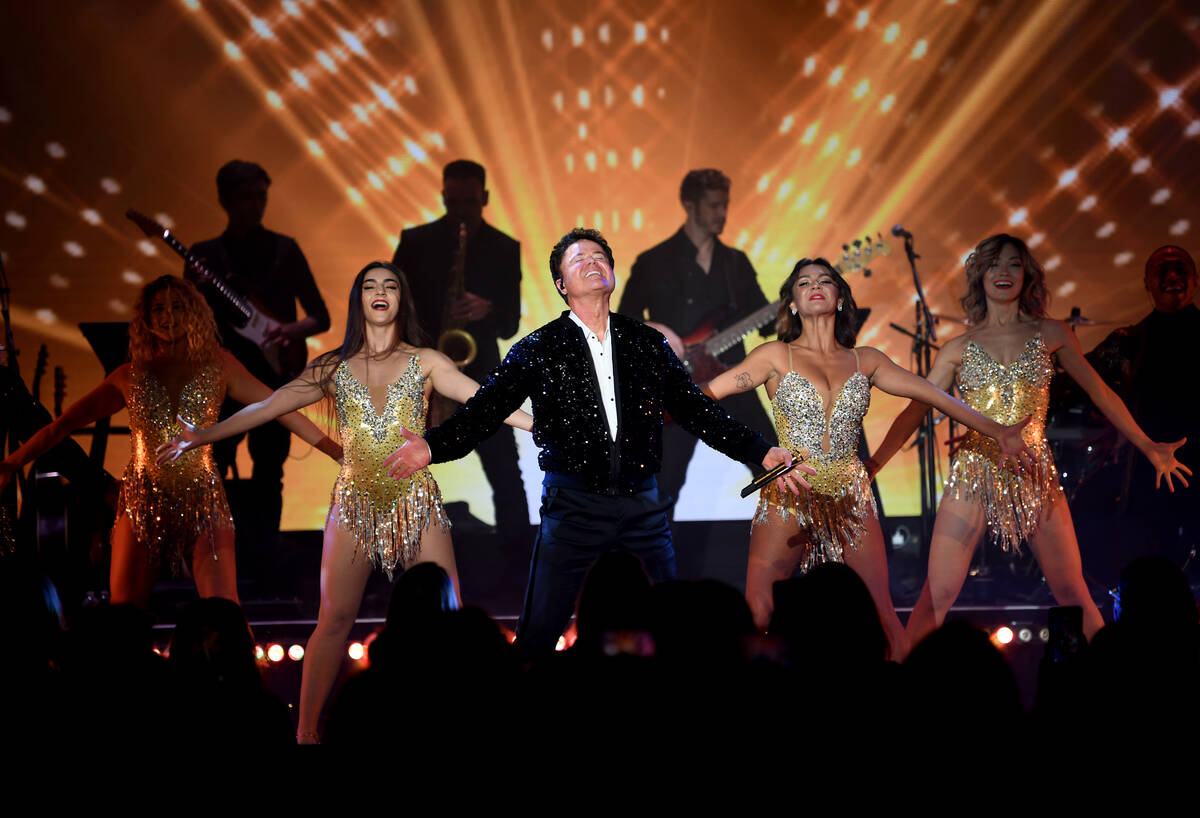 He's part of the one-name club: Adele. Cher. Celine. Donny.
"This guy once told me that you're pretty fortunate if everybody knows your name," Donny Osmond says with a laugh. " 'If you just put Donny on the billboard, it would work, which is such a cool thing.' "
Backstage at Harrah's on a Friday night, after a slew of standing ovations for the man who has sold over 100 million albums, the 65-year-old Osmond watches as his grandkids run around playing with the confetti. The ever-energetic entertainer looks like he could get on stage and do the show all over again.
"I'm trying to keep up with 20-year-old dancers on stage, and that's a 40-year difference," he says. "The truth is, when I'm on stage, I feel like I'm in my 30s."
The proof is in his showstopping "Auto-rap-ography," a rap song set to milestone photos and videos from Osmond's six-decade career.
His show at Harrah's — a mix of hits, nostalgia and even a few tear-worthy moments — is going strong in 2023, having just announced an extension through the end of the year.
"My goal is to take people on a journey," he says.
Away from showbiz, Osmond resides with wife Debbie in Summerlin, where he says the real work — household chores — begins once he gets off stage. "I wouldn't have it any other way," he says.
His tips on living the good life:
Age gratefully
The Utah kid who made his singing debut in 1963 singing "You Are My Sunshine" is now in his 60s. "I'm very cool with it," he says. "I never enjoyed a decade more than my 60s, and I'm loving my time in Vegas."
Vegan … in moderation
Osmond's wellness plan focuses on cardio and weights in the gym and healthy eating. He calls himself a chea-gan. "I cheat on being a vegan," he says with a laugh. "I decided to try the vegan thing again, so I am pretty much vegan in moderation, but I'll have a nice steak every now and then." His kryptonite: "It's hard to go the vegan route loving cheese."
Overcoming setbacks
"I lost my voice twice when I did 'Joseph and the Amazing Technicolor Dreamcoat' and hemorrhaged my vocal cords. And then I had that shoulder injury more recently," Osmond says, admitting that he went to a bad place psychologically. "You go through those moments when you think, 'Am I ever going to be on stage again?' But you have to push through them and appreciate that healing is a process. … I even tore my gluteus minimus muscle when I was on stage at the Flamingo. Show business can be hazardous to your health! It's either going to make me live longer or kill me!"
Choose positivity
"There is a lot of negativity in this world," he says. "I'm not immune to depression or rejection or feeling down. There are days I get that way, but I know I can wallow in it or get out of it." Reach for the wins, Osmond stresses. "Success has the strangest ways of erasing the bad stuff. It makes you forget the low times."
Remember your roots
He first played Vegas at age 7. "I didn't know what I was doing in Vegas, except I was standing backstage at the Folies Bergere show. I'm this little kid standing backstage waiting for my turn and I'm in front of the mirror. One of the showgirls needed to check her costume before going on stage and walked up to the mirror to adjust herself! … It was my first encounter with a showgirl and my first moments in Vegas."
A present from Sinatra
Osmond recalls opening for Nancy Sinatra at Caesars Palace when he was 10, and his father giving Frank Sinatra an earful over what the youngster heard. "During rehearsal, the stagehands and choreographer were dropping the F-bomb like crazy," Osmond says. "My dad blew a gasket and ripped Frank apart for not doing anything about it. His guards were going to beat my dad up." Cut to the next day. "This big guy comes up and says, 'Are you George Osmond? Frank has a little present for you.' He pulled out an envelope with 1,000 dollars in cash. There was a handwritten note from Frank saying, 'I'm sorry, Mr. Osmond, for not taking care of the problem.' So, my dad puts the money in his wallet and throws the letter away! It's in a landfill somewhere!"
Lessons from Elvis
"I learned a lot when I met Elvis at the International for the first time. We opened the following night after his closing night where he was on fire. The next night, he sent us flowers of good luck in the shape of a guitar." It didn't end there. "I'm 14 on our opening night and I hear a knock on our dressing room door. He's standing there and says, 'Hi everybody, I'm Elvis.' I remember thinking, 'He's the king of rock 'n' roll and he's introducing himself? … I watched this humble guy and it really affected me, knowing I would wear two hats in my life. On stage, you walk out there and … give them the goods. You put on a show. When the curtain comes down, you're a husband again, a father and grandfather. I learned that from the King."
'She's always right'
The Osmonds have been married 45 years. "If we ever have an argument, she's always right," Donny Osmond says. "Happy wife, happy life." Living in Summerlin means "family dinners, talking to neighbors and just hanging out at our home, which is what we love to do. We're cooking. The kids are in the pool." Yes, she makes him do chores. "Every Thursday night, you will find me taking out the garbage. I have to clean the pool, too. It keeps my feet on the ground. I get off stage and then really go to work."