Tenacity, confidence keys for Keira Knightley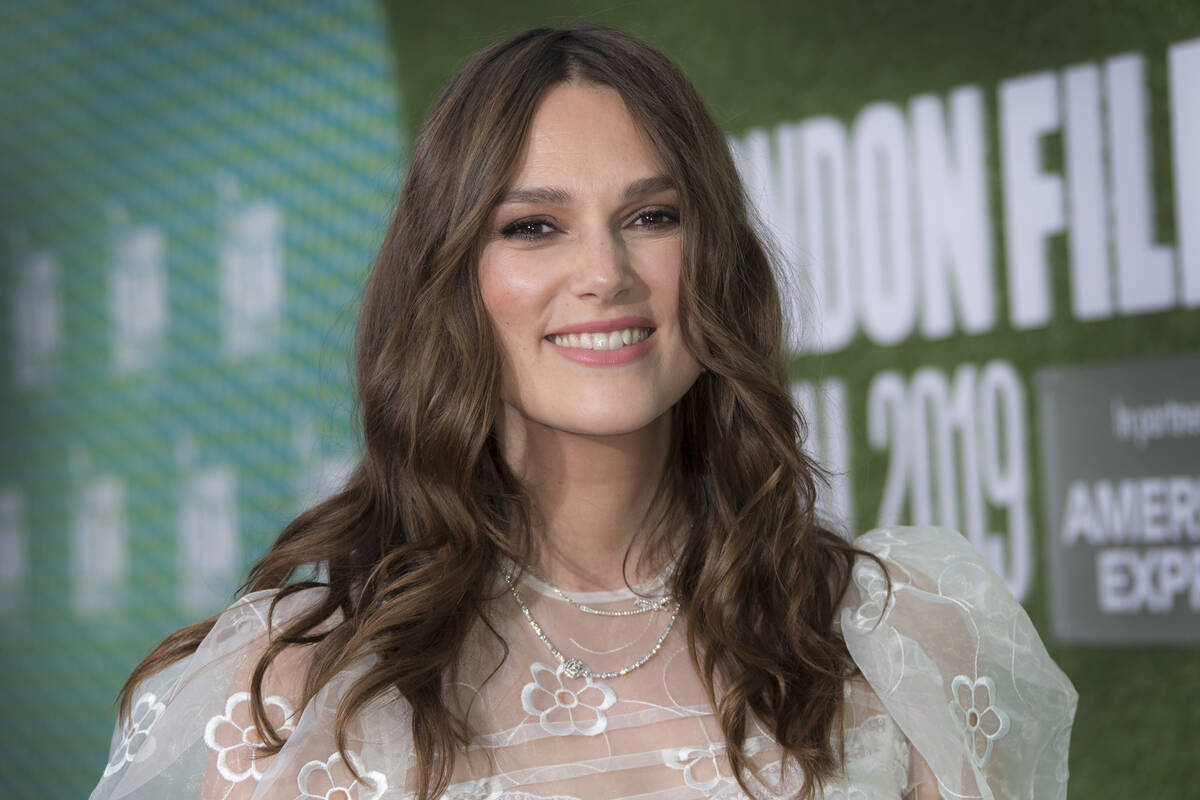 Her mum used to tell a story … of how Keira Knightley was almost not born.
"Money was tight and my parents didn't know if they could have another child," Knightley recalled as she sipped her tea. "So, Mum wrote a play called 'When I Was a Girl, I Used to Scream and Shout.'"
The money? It rolled in for English playwright Sharman Macdonald and actor Will Knightley, and little Keira was born.
"Mum spent her life saying to me, 'Keira, scream and shout until people hear you,'" she said. "I live by that motto. And I will continue to scream and shout that I have ideas. That I want to work. That I want to get better."
So far, so good.
The 37-year-old British actress not only mixes up blockbuster films like "The Pirates of the Caribbean" franchise but also award winners such as "Atonement," "Pride & Prejudice" and "The Imitation Game." Add to the list indie films and now television movies such as "Boston Strangler," streaming Friday on Hulu.
The film recalls the notorious serial killer in early 1960s Boston who terrorized the city by strangling 13 single women. The new film revolves around the two newspaper reporters who helped to crack the case. Knightley plays Loretta McLaughlin, juggling motherhood and a career, who first realized all the murders happened because of one man. She teams with reporter Jean Cole (Carrie Coon) as the two investigate the case while battling cops, city officials and family needs of the time period.
At home in London, Knightley has a far calmer (good) life with musician husband James Righton and kids, Edie, 7, and Delilah, 2. Her tips:
Revisit the past
"Breathing life back into what is done is like resurrecting the dead. I find my imagination just going wild. I'm thinking, 'God, let's bring them back and learn from them,'" she said. Her new project provided an education. "I had heard of the Boston Strangler, but I didn't really know anything about it," Knightly admitted. This is a revisiting, an interesting way of telling the story of a serial killer from the point of view of these two women who really broke the story. These two women coined the phrase Boston Strangler, yet they have been completely erased from the historical narrative. Highlighting Loretta and Jean is placing them back in the center of their story. That felt very important to acknowledge since their story had been largely ignored."
Tenacity, tenacity, tenacity
It's a key word for Knightley. "I've been speaking to quite a few women and this word keeps coming up, which I find fascinating," said the actress, wife and mother of two. "All of us come up against things in life, in the workplace and at home trying to raise children. I think tenacity is very inspiring. You just can't lose your determination."
Embrace the sisterhood
Knightley said that working with women like her co-star Carrie Coon is a relief. "In this case, we're both mothers of two small children, so there is something very, very nice about coming onto a set and just looking into another woman's eyes and finding total understanding. That is just a joy. We could both look at each other through our completely sleepless eyes and be like, 'It's all right, mate. I've got your back.' You can also explain anything by saying, 'That's because you have two small children.'"
Take your shot
Knightley grew up with an actor father and playwright mother. "At 3, I was already asking for an agent," she said with a laugh. At 12, she showed up in Hollywood for various auditions. "I was convinced no one would ever hire me. I was also worried. I kept thinking, 'Why aren't you at school during exams?' I was so pissed off about missing school that when I showed up, the producers thought I had real attitude. Turns out that's what they wanted to cast."
Be a team player
"I've always said that any performance that has worked has been the result of a collaboration of many people," she said. "Movies are a conversation."
Embrace the contradictions
"Oh, I was such a tomboy as a girl. Mum had to tell me to take off my dungarees. I also think that being a tomboy made me quite interested in heightened femininity. I embrace the contradiction there," Knightley said. "I'd sit in my dungarees watching 'Gone With the Wind.' I really loved Scarlett O'Hara because she was the ultimate contradiction — sweet, but a little bit mean. The ultimate survivor."
Celebrate your body
Knightley admits that she's like any other woman who can pick apart parts of her body. "As a woman, you hate certain parts of your body. You go through those periods where you look in the mirror thinking, 'Oh, if only I had different legs or whatever.' Then you realize it's amazing to be a woman. My body is amazing. I had two small people and that's extraordinary."
Find your inner confidence
"I think you find more confidence as you get older," she said. "I'm not sure why it happens except maybe you've experienced more in life. You know the highs and the lows. You have a better sense of yourself. Above all, you realize that you don't really need to please everyone and that's not even possible. You need to say, 'This is me. Some of you will like it. Some of you might not like it. And it's all fine.'"