1 critically burned, another injured in east Las Vegas fire
Updated May 3, 2017 - 12:55 pm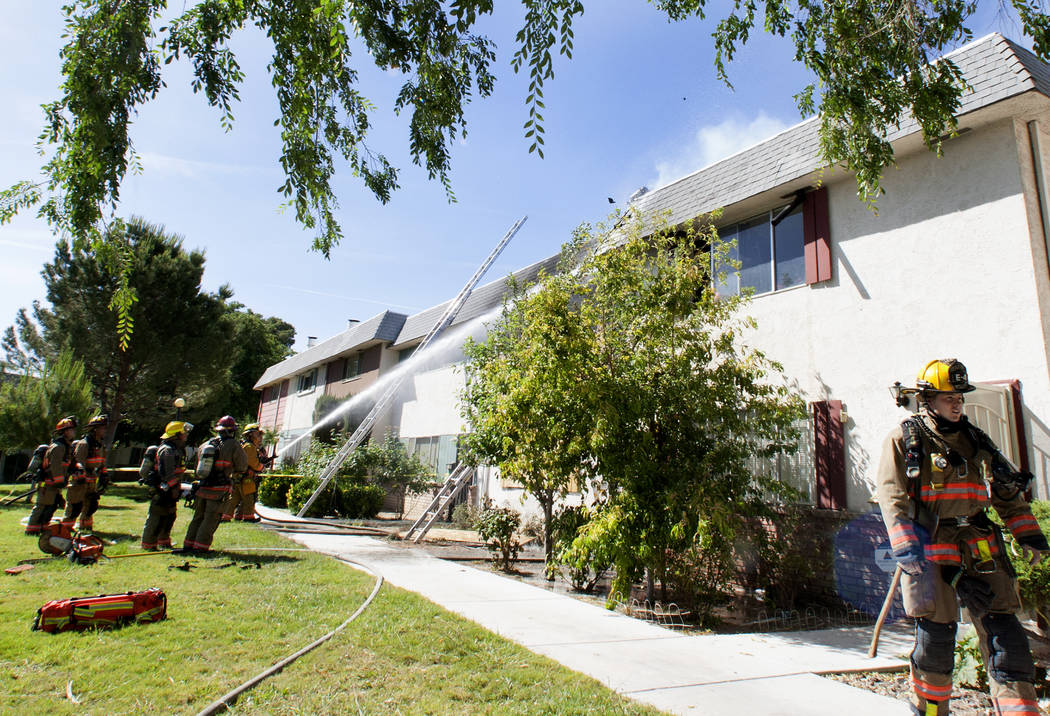 One person was hospitalized and another was injured in a fire Wednesday morning in the east Las Vegas Valley.
The Clark County Fire Department was called about 1:50 a.m. to 743 Greenbriar Townhouse Way, near Desert Inn Road and Boulder Highway.
One person was taken to University Medical Center with burns over 70 percent of their body, Battalion Chief Chris Blackburn said. The person was in critical condition, according to Deputy Fire Chief Jeff Buchanan.
"With burn victims it's always difficult to tell. Only time will tell," Blackburn said.
The person's age and gender also were not known.
A second person was treated for smoke inhalation at the scene and did not require further treatment.
A dog was found dead at the scene, Buchanan said.
Metropolitan Police Department Lt. Chris Holmes said Metro's helicopter spotted the fire from above.
The two-story townhouse was a loss and an adjacent unit had damages of about $30,000, Buchanan said.
Multiple oxygen tanks exploded inside the townhouse, Blackburn said. He said oxygen is "extremely" flammable and the tanks can prove dangerous in fires.
"We're always aware of those type of concerns or hazards," he said.
Holmes said Metro assisted with evacuations for nearby units.
The Fire Department returned to the townhouses about 9:15 a.m. for a secondary fire.
"Early indications are that deep seated embers from the previous incident at the address developed slowly in the (overhang of the roof) and contributed to the cause of the fire," Buchanan said in a news release.
The cause of the original fire remains under investigation.
The American Red Cross will assist at least three adults who were displaced.
This is the second time in six weeks that Clark County firefighters have been called to the neighborhood to put out a fire. On March 23, a fire at 250 Greenbriar Townhouse Way left one person hospitalized.
Reporter Lawren Linehan contributed to this report. Contact Mike Shoro at mshoro@reviewjournal.com. Follow @mike_shoro on Twitter.