Artists tackle mortality in 'Skull' exhibit at Sahara West Library in Las Vegas
November 10, 2016 - 5:00 am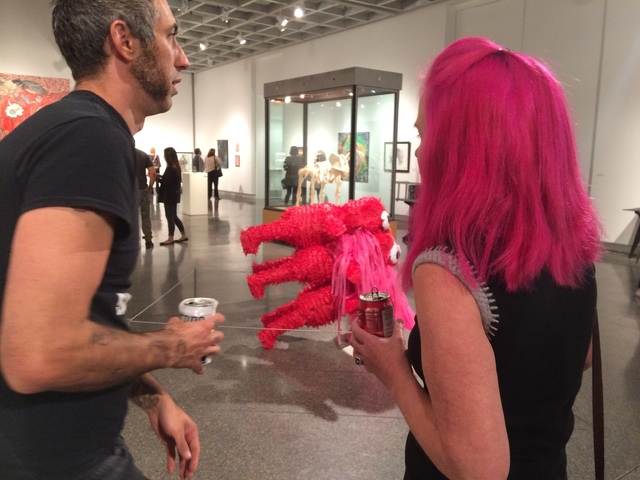 When an art exhibit is called "Skull," who knows what you'll find? The fourth biennial exhibition of that solitary name is now on display at The Studio, inside Sahara West Library, 9600 W. Sahara Ave.
Jerry Schefcik, director of the Donna Beam Fine Arts Gallery at UNLV and board member of the Nevada Arts Council, recalled when the previous installation was at his facility two years ago.
Schefcik noted that this was a much larger space, so there was "a little bit more freedom."
The topic for the exhibit revolves around death and the object of the skull. So, the artists were encouraged to come up with a concept revolving around the object of the skull in some way.
An observer at the show, Linda Kinsky, a College of Southern Nevada student studying finance, said she liked that the pieces were different. She especially was drawn to a small print, a close-up of a woman shedding tears, titled "More Than You'll Ever Know," by Lance Smith. The oil-on-canvas piece had a skull hidden in the iris of the eye.
What was she expecting from a show named "Skull?"
"Halloween," Kinsky said, no doubt influenced by the holiday, which was days away. "But I found a lot more creative ideas."
"Skull" was curated by Chris Bauder, a graduate of UNLV. The majority of the 41 artists have a connection to UNLV or UNR.
"I (came up with the name), just because," Bauder said. "It's about an artist thinking about themselves as death. Thinking about how they would cease to exist and their artwork living on forever."
The show, however, is not up forever. It runs through Dec. 9.
Bauder's own entry was folie a' deux and featured a light box. He used a TV lamp, a concept from the 1950s in the early days of television when people thought the sets would cause blindness if there was not another light source. They are now collectors' items. Folie a' deux loosely translates to "a madness shared by two."
"It represents a psychosis, shared by two people merely by close proximity," he said.
That psychosis included Barbie doll legs painted for a black stocking effect and the two skulls surrounded by imagery such as bow ties. It was created from his current series on night lights.
Holding court over the display area was "Not So Koi" by Gig Depio, a piece so massive, it was painted in two sections for ease of transportation. An oil-on-canvas painting, it included a demon lifting weights, men in flower costumes and riot police trying to contain a crowd with the help of Big Bird.
"Sesame Street" got a bigger play with Justin Favela's untitled piece, referred to as cascading Elmos. Located in the center of the room, the three Elmo pinatas were stacked atop one another with pink streamers emanating from the highest one's mouth.
Michael Sarich's untitled piece had Raku-fired skulls. The ceramic pieces included misplaced eyes and hands atop skulls. One had a Mickey Mouse hat for a humorous take.
Bryan Pranther's "Numbskull Fall Out of Their Skin," an acrylic on canvas, seemed to have been influenced by "Game of Thrones." The male figure's face was sliding off the skull, a syringe stuck like a dart into the exposed brain.
One of the entries was by Joey Tipton, titled "The Sound in my Head When I Am Dead." It featured a table painted black with a set of headphones atop it. A card invited attendees to listen. Through the headphones were heard random electronic snippets and white noise.
Rachel Sparrow's piece had four tires stacked atop one another with a cross sitting above them. Displayed inside the cross were rabbit skulls. The piece was titled "95."
The first show was in 2011 at the since-closed Blackbird Gallery and featured 21 works of art. In 2013, it was at the Cheyenne campus of CSN and grew to 34 works of art. For 2014, the UNLV venue saw 42 works of art. This latest installment had 62 works of art by 41 artists. Each show features entirely new pieces.
For a show that originated in Las Vegas, one might think the iconic Strip might sneak into the works.
Only Aaron Sheppard took that route, but he took it in a big way. His piece, "LLUKS" — skull spelled backward — was an old-fashioned slot machine adorned with wood cuts, including a pull handle shaped like a thigh bone.
Speaking of the Strip, what does an exhibit like this out in the suburbs say about art in Las Vegas?
"It tells me a couple of things: that art can be in suburbs," Schefcik said. "That there are venues for it. And that it needs to be in the suburbs. It has to find a home. There needs to be a place for it, for the residents, for the people who live here for them to come and see it."
Visit theskullshow.com.
To reach Summerlin Area View reporter Jan Hogan, email jhogan@viewnews.com or call 702-387-2949.
"Skull"
Where: Inside The Studio art gallery at Sahara West Library, 9600 W. Sahara Ave.
When: During regular library hours through Dec. 9
Information: Visit theskullshow.com.