Case of ex-police officer shows authorities reluctant to take action
November 27, 2011 - 12:00 am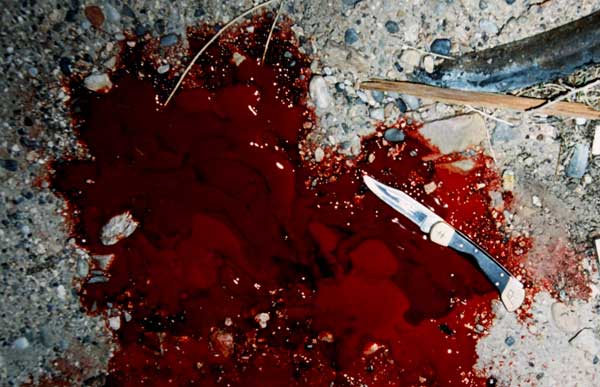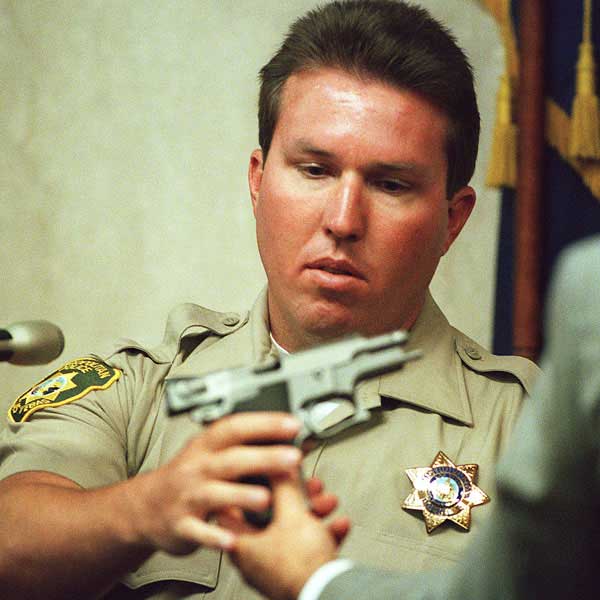 In June 1996, Andre Rowe sat in a packed hearing room listening to testimony about the night his father was killed by Las Vegas police officer George "Gregg" Pease, who was in the position of having to explain his third fatal shooting in five years.
As in both prior incidents, the officer was alone and said he was acting in self-defense when he killed a homeless man.
Pease told the coroner's inquest he encountered Henry Rowe, 50, a month earlier at his encampment in a desert area near Dean Martin Drive and Tropicana Avenue. The officer, who was investigating a possible burglary in the area, said he slit Rowe's throat and shot him in the head after the man attacked him.
There were no witnesses.
As at Pease's previous inquests, seven jurors unanimously ruled Pease's use of deadly force was justified.
Andre Rowe returned home to North Carolina hoping one day to learn more about his father's death.
"There are only three beings with knowledge of what happened that night: George Pease, my father, and the good Lord," Rowe said in a recent interview. "And I thought the good Lord would handle it in his own time."
The facts that emerged at inquest remain the final word on the shooting of Henry Rowe. What's changed over time, however, is the Metropolitan Police Department's view of Pease, who resigned under a cloud of suspicion in 2005.
Based on interviews with the troubled officer's former colleagues, the deputy district attorney who presented the Rowe shooting at inquest and a former sheriff, it appears Pease got a pass from a system that is reluctant to consider possible criminal behavior or question the cop's judgment in officer-involved shootings.
Because of that reluctance, problem cops are allowed to remain on the street, sometimes with deadly consequences.
Approached twice at a Las Vegas restaurant where he now tends bar on the graveyard shift, Pease said his career was sabotaged by other officers who were out to get him. That's all he would say.
TROUBLE SIGNS CAME EARLY
George "Gregg" Pease was just 22 when he became a Las Vegas police officer in 1987.
In 1991 he graduated from patrol to the plainclothes vice squad. It didn't take long for trouble to find him.
On a Sunday night — Feb. 17, 1991 — Pease's assignment was to cruise downtown in a red Chevy Camaro, posing as a john in search of men or women willing to trade sex for money.
When Daniel Bryan Schiess approached the car near Fremont Street, Pease beckoned him in. Schiess, 19 and a drifter, was new to Las Vegas, but had prostitution busts in California. As four fellow detectives tailed the Camaro at a distance, Pease drove the man a few blocks to a dark and secluded area on Lewis Street.
Pease later said Schiess offered oral sex for $30, then put a Buck knife to the officer's throat and demanded his wallet. Pease said he fought off the knife attack with one hand while drawing his 9 mm semiautomatic pistol from under the car seat with the other. He shot Schiess three times, killing him.
Schiess was later found to have been under the influence of cocaine and methamphetamine.
Pease was treated for cuts on the right side of his neck and on his right palm. Homicide detectives inter­viewed 11 people who lived near the scene, but none saw anything. His backup team was also too far away.
Inquest jurors took mere minutes to rule deadly force was justified.
Bill Young, who later became Clark County sheriff, was the vice unit lieutenant at the time. In a recent interview he said he had no reason to doubt the inquest ruling but began to have concerns about Pease about six months later.
"I attempted to fire him then," Young said. "He had gotten sex from a woman that was an active prostitute while he was off-duty. He threatened her, tried to cover it up, and got caught."
Instead, Pease was punished with a 20-hour suspension and a transfer back to patrol for "neglect of duty," according to an Internal Affairs Bureau complaint.
Pease was patrolling the south Strip on Dec. 10, 1992, when he killed again.
That night, he confronted but did not arrest David Cecil Riddle, 35, a mentally ill homeless man he suspected of prowling parked cars.
The officer told a coroner's jury that he later saw Riddle attempting to open car doors in a parking lot near the old Fez motel on Las Vegas Boulevard South. When Pease tried to arrest him, Riddle started swinging a Buck knife similar to the one Schiess had used.
Pease said he backed away, but stumbled. Riddle kept coming, so he fired twice at close range, hitting him in the head and chest.
"I had no intention of shooting this man," Pease testified at inquest. "I wouldn't have cared if he had ran off. … The main thing is I just wanted him to get away from me with the weapon. … The last thing on my mind was shooting this man. I honestly thought he was going to kill me."
Again, there were no witnesses.
After a three-hour hearing and less than 20 minutes' deliberation, Pease's actions were again unanimously ruled justified.
Tina Piper, Riddle's sister, said recently that she had no reason to doubt Pease's account. After the inquest she told Pease that her brother's schizophrenia made him unpredictable. She never knew him to be violent — his criminal history consisted of shoplifting — but he suffered from hallucinations and extreme paranoia.
"I felt so horrible for (Pease), because he was so young, and when I talked to him, he was so shaken and he was crying," she said. "I didn't want to file a lawsuit. I just wanted to get home."
Years later she would have second thoughts about Pease.
'THE GUY GAVE ME THE CREEPS'
Though cleared at inquest, questions about Pease lingered. Most officers go through their careers without shooting at anyone. But in less than two years, Pease had shot and killed two men under similar circumstances: Neither had a history of violence, but each had tried to kill him with a knife. Moreover, there were no witnesses either time.
His supervisor on the graveyard shift in 1995 knew Pease's record, and he didn't care much for the cop.
"Pease was way senior to all the kids on graveyard," said the former sergeant, who spoke on condition of anonymity. "He used to sit in the back of the briefing room with a Spyderco knife, which is a big, nasty looking folding knife. He used to sit back there and open it and close it, open it and close it. The guy gave me the creeps."
The sergeant said he investigated allegations Pease solicited sexual favors from women during traffic stops. Once he tracked Pease, who was still on duty, to the home of a woman he had pulled over a short time earlier. Pease, who Clark County records show has been married at least three times, called the woman an old friend. She denied it. Pease took another 20-hour suspension, according to the sergeant.
Then came the killing of Henry Rowe, which remains among the department's most controversial.
Pease said he went to Rowe's campsite at about midnight to question him about a possible theft of metal from a warehouse, even though no such crime had been reported. Pease said that the night before he saw a shadowy figure jumping the fence of a nearby equipment storage yard but didn't have time to check it out then.
Pease said he went to see Rowe because they had met months earlier near the storage yard, and "I knew his means of support was collecting cans and metals — which is copper, aluminum — and taking it to the recycling place and turning it in. I thought he might have been involved, taking some of the metal. I thought if he didn't, he might have known who was."
Pease already had Rowe's name, date of birth and Social Security number in his notebook. He had done a background check after their first encounter, and he ran another right before the shooting.
Asked by inquest hearing master Frank Cremen why he was investigating a crime without an actual theft complaint, Pease replied: "The whole part of being a police officer is being proactive. You would rather stop crime before it happens than wait until it happens and deal with it afterwards."
AN UNEASY INQUEST
Rowe was eccentric but had no violent criminal history. He had been a Caesars Palace pit boss before he was fired for refusing to shave his long goatee. He immediately became homeless, living in the wash where he would chat late into the night with an elderly woman who helped him feed several pet cats.
James Utley, a security guard who worked on Dean Martin Drive and who heard the shots that night, testified that Rowe was protective of his camp, but was a "very nice guy" whose favorite expression was "Be easy" — slang for keeping calm. He said he never knew Rowe to steal.
"If you talked to him, you find out he was very, very sharp, very articulate," Utley said. "(He) just wanted to be left alone."
Pease testified that as he was looking for Rowe, someone approached from behind, grabbed his flashlight and knocked him unconscious with it. When he woke up, Rowe was standing over him, holding his service pistol. Rowe fired the pistol several times but missed, he said. The two men grappled in silence. Pease then pulled out his knife, cut Rowe's throat and took back his gun. He shot Rowe once in the head, killing him.
"I knew he was going to kill me," he testified at inquest. "There was nothing I could do. He was bigger, he was stronger."
Deputy district attorney Dan Bowman questioned how Pease could go through such an intense struggle yet come away with no blood, dirt or grass stains on his uniform.
Pease could not explain the absence of blood, but said during the fight he had fallen only on Rowe's bedding and cardboard shelter.
A juror asked why Pease chose to confront Rowe at night, rather than after sunrise. Pease said he went when he knew he had free time.
Once again, there were no witnesses to the shooting.
And once again, the jury, led by an 18-year-old foreman fresh from high school graduation, was un­animous: Justified.
But this time jurors added a note to the verdict, recommending Pease be assigned to a desk job.
"That, I think, was the only time that a coroner's jury actually asked to see the sheriff to tell him that an officer was a dangerous man and shouldn't carry a gun," Bowman recalled.
Bowman said Rowe's death should have been presented to a grand jury for consideration of a criminal indictment, though it would have been difficult to prove the shooting was a crime.
" I don't think he said, 'OK, I'm going to go down in this gully with these homeless people and off somebody,' " Bowman said. "I think he just used poor judgment."
Dave Hatch, a former Las Vegas homicide detective who investigated the Schiess killing, said he believes Pease acted recklessly but without sinister intent.
"He was a bull in a china shop," Hatch said.
Cremen, the inquest hearing master, agreed that Pease's history and the circumstances of the Rowe shooting probably warranted more attention than an inquest could provide.
"I don't know that (Pease) did anything criminally wrong," he said in a recent interview, "but there was an example where it might have been more appropriate to go to a grand jury."
'HE HAD A LOT OF FLAWS'
Pease didn't get a desk job, but the department sent him to a much quieter beat: Laughlin. Even there, he found trouble.
He was again accused of mis­conduct with a woman, though nothing was proven and he was not disciplined.
But Pease's conduct over the years continued to bother someone who eventually would be in a position to take decisive action against him.
Bill Young, his lieutenant back in vice, talked openly about wanting to fire Pease while running for sheriff in 2002.
"I think I ended up firing him for the first thing I could," Young said. "He wasn't hard to catch. He had a lot of flaws."
In 2004 Pease was accused of theft: alleged misuse of his department gas card and official vehicles. The grand jury declined to indict, but Pease was through. He resigned in 2005.
Nearly two decades after she forgave Pease for killing her brother, Tina Piper now isn't so sure that he deserves the benefit of the doubt.
"There were things about (him) that I didn't know about back then," she said. "I don't know if my opinion of what happened has changed, but I guess I have a lot more questions now."
---
Review-Journal reporter Lawrence Mower contributed to this report. Alan Maimon is a Review-Journal special correspondent.