Doctors say use of potentially life-saving drug to reverse opioid overdose not without risks
November 3, 2016 - 5:01 am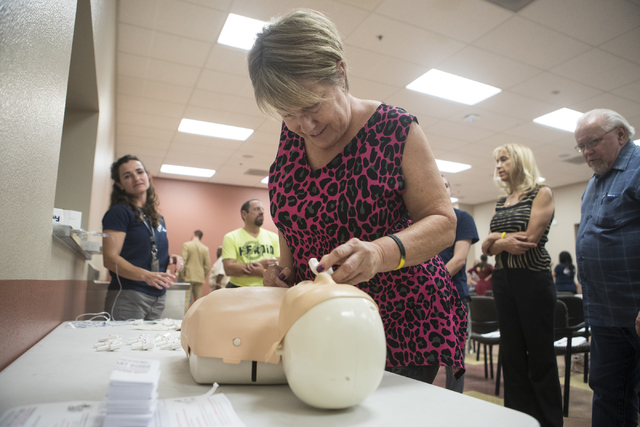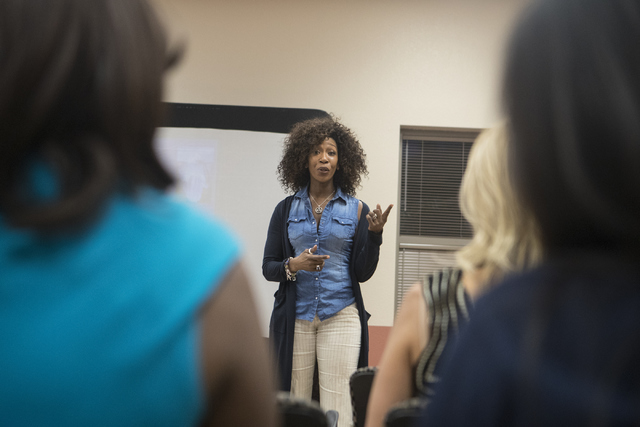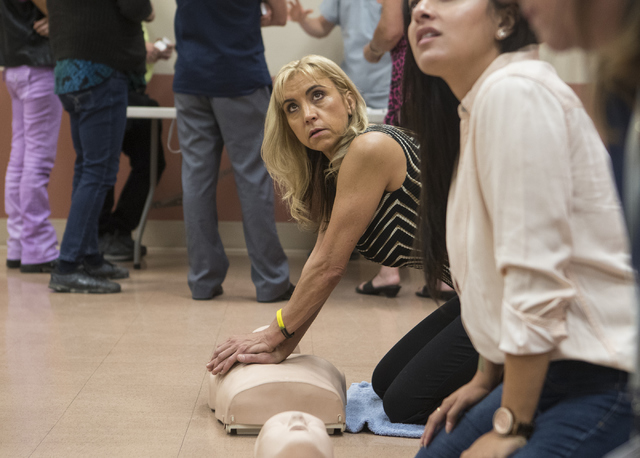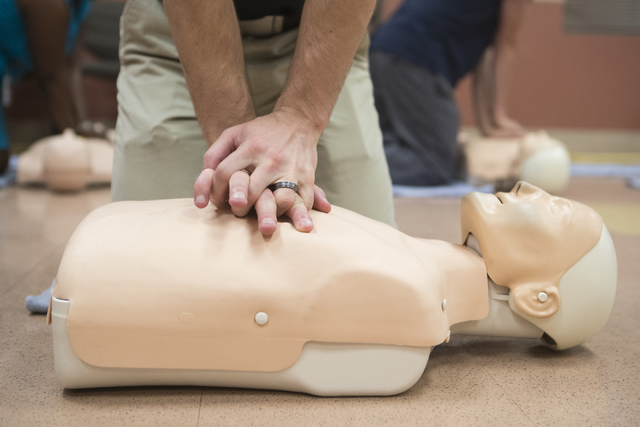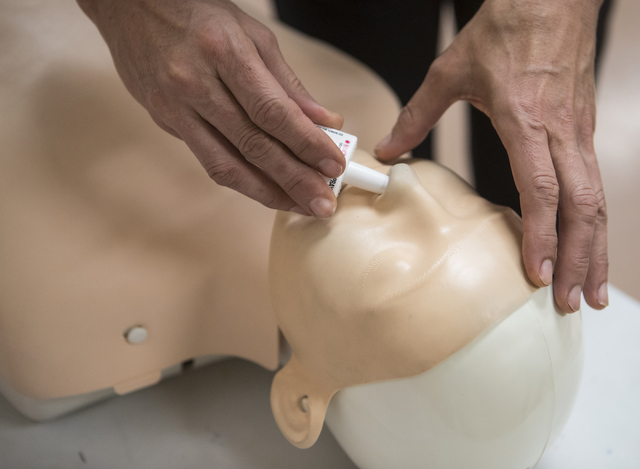 In order to to prevent overdose deaths, some community members are training to use prescription drugs such as naloxone to block the effects of opioids.
Opioids are substances meant to relieve pain. They include drugs typically used to relieve pain, such as hydrocodone (Vicodin), oxycodone (OxyContin, Percocet) and morphine.
Naloxone — sold under the brand name Narcan and administerable as either a nasal spray or via intramuscular injection — is an opiate antidote. According to Joe Engle, founder of the Las Vegas-based nonprofit There is No Hero in Heroin, it's also saving people's lives.
Engle, whose son died from a drug overdose, speaks publicly about opioids and the growing epidemic of heroin use in the U.S. This year, his nonprofit worked with emergency service workers and doctors to talk about Narcan, the only FDA-approved nasal form of naloxone.
In the 2015 Nevada Legislative session, Senate Bill 459 made it possible for people to apply for naloxone prescriptions, and the bill also set up Good Samaritan laws to enable people to use naloxone in an overdose situation without fear of prosecution.
"I'm not sure if having (naloxone) would've helped in my case since my son overdosed while I was at work," Engle said. "This might benefit other families."
Engle has hosted two community training sessions this year — including an Oct. 13 session at the East Las Vegas Community Center — to talk about the drug and how to properly administer it. He said the sessions have drawn people who have been impacted by drug addiction and could potentially benefit from the training.
In addition to learning about naloxone, people attending the sessions are also trained in CPR.
"If you find someone unconscious, the best thing to do is call 911 and start CPR," said Dr. David Slattery, deputy chief and medical director for Las Vegas Fire & Rescue.
Naloxone has been used as treatment in the medical field for years. According to Dr. Bryan Bledsoe, an attending physician at University Medical Center, drug overdose is common to see at the hospital, most likely from opioids or methamphetamine.
He said the UMC medical staff has a few options but might not use Narcan right away.
"We might put them in the ICU and wait for the drug to wear off," he said.
If it is a drug overdose and the patient stops breathing, Bledsoe said someone can always grab the Narcan to administer it.
"The goal is to use Narcan just enough to restore the breathing," he said.
Bledsoe said the use of heroin has gone up, particularly in Nevada, as prescriptions to opioids have become harder to get.
Over time, the availability of naloxone has increased. Slattery said emergency service workers also have access to it for suspected overdoses.
"Narcan has been available in our arsenal for years," he said.
If an emergency worker arrives to a scene and notices overdose symptoms, including pinpoint pupils, he can administer the drug.
However, the efficiency of injecting an overdose case has increased.
"Before, you would have to have advance life support training," Slattery said, adding that the use of Narcan is up about 30 percent compared to last year.
According to Slattery, drug overdose is an issue that affects every race and socioeconomic status.
"This affects all neighborhoods," he said.
Some family members know that calling 911 or getting a loved one to the hospital often results in help arriving too late, which is why Engle thinks it's important to get Narcan into the hands of laymen.
Bledsoe thinks the wider availability of Narcan and naloxone is a mixed blessing.
"It does save lives," he said. "It may do the opposite. It also might promote more risky behaviors. People might be willing to use (opioids) if they know they have this option if things go awry."
Bledsoe added that research shows there are more benefits than risks to the use of naloxone to reverse overdose.
"But the risks are still real," he said.
Slattery disagreed.
"There is no evidence of the risks," he said. "The most important thing is to put this in as many hands as possible to save lives."
Visit tinhihlasvegas.info.
To reach Henderson View reporter Michael Lyle, email mlyle@viewnews.com or call 702-387-5201. Find him on Twitter: @mjlyle.
Signs of opioid overdose
Trouble breathing or no breathing.
Extreme drowsiness.
Pale and clammy skin.
Slow or no heartbeat.
Passing out.
Unable to be woken up.
Pinpoint pupils.
Source: tinyurl.com/jaq7waj