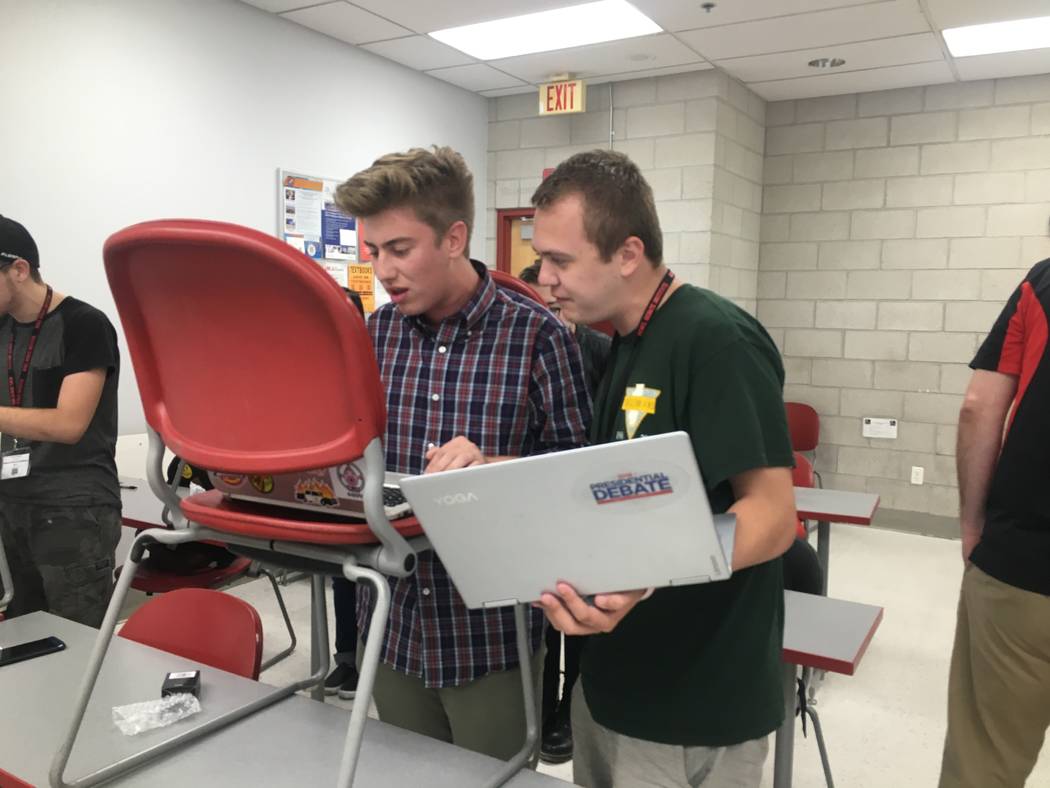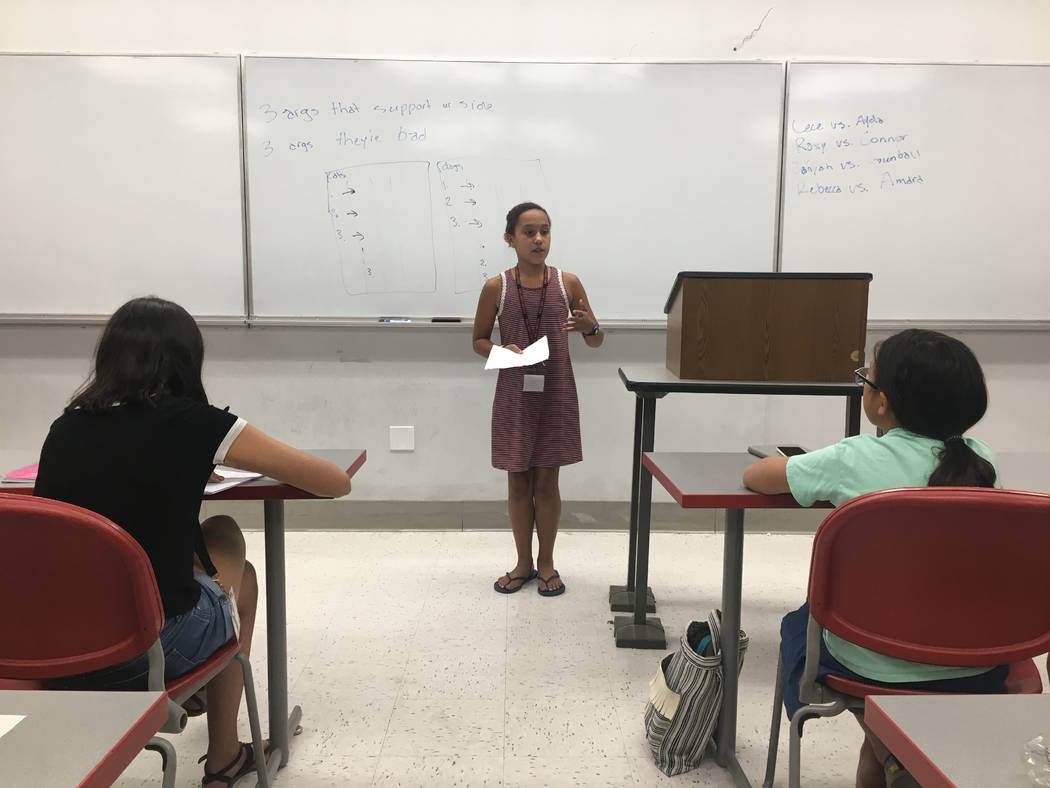 Twelve high school students stood inside a classroom at UNLV, each facing a laptop and timer on a chair. Matt Gomez, the debate lab leader, instructed the students to set the timer for five minutes and pull up the lengthy evidence files on their screens.
"Go," Gomez told them after counting down until the moment they could start. The timers beeped simultaneously, and the students were off, speed reading — or "spreading" — the material at a breakneck pace, filling the room in the Carol C. Harter Classroom Building Complex with unintelligible chatter.
Speed reading is just one of the skills taught at UNLV's Rebel Debate Institute, an annual camp for middle and high school students.
Sessions
The camp, which offers four sessions, kicked off July 10. A one-week session taught the basics of policy debate to middle-schoolers, while high-schoolers could choose between a two- or three-week policy debate session on campus and a 10-day Lincoln-Douglas session that focused on a different division of debate tournaments.
This year was the camp's biggest yet, with about 65 students participating, said Jacob Thompson, the director of UNLV's Sanford I. Berman Debate Forum and co-director of the Rebel Debate Institute. This year's camp was the first to offer a session to middle-schoolers.
"If you get kids interested in debate and speech in middle school, they're much more likely to continue throughout their academic careers in terms of participation," Thompson said. "It's something they just fall in love with young."
Competition preparation
For high-schoolers, the camp offers a place to start preparing for this year's competition topic: education reform. The students will compete in policy debate tournaments this spring and fall semester.
Camp workers, many of whom are on the UNLV debate team, led the lectures and lab time. The leaders helped students research the topic, practice speeches and improve their speed reading, a technique used at most high school-level policy debate tournaments.
Alex Shelton, 17, is on the Coronado High School debate team and attended the camp for the first time to learn more about policy debate. He said the camp's lectures and labs were helpful.
"I'm becoming more understanding of this year's topic," Shelton said.
Introducing middle-schoolers
The camp took a more basic approach with the middle school students.
"We have a lot of beginners who haven't done it before or whose school hasn't started a team yet," Thompson said. "So a lot of the middle school stuff is basic public-speaking skills and basic critical-thinking skills."
Phenix Urcioli, a 12-year-old seventh-grader, said he joined debate to help prepare him for his dream job.
"I want to be president, and I hear all presidents have gone into debate class," he said. "Also, I want to get a lot better because last time I was in debate club, I wasn't as good as I had hoped …"
Gabrielle Macababbad, a 10-year-old sixth-grader at Del Webb Middle School, joined for different reasons.
"Sometimes I argue with my family members, and I want to put my arguing skills to good use," she said.
The skills taught at camp are good for more than just family arguments, Thompson said.
"Debate helps you to find your voice. It gives you confidence, especially in a public-speaking forum," he said. "I always tell people debate is responsible for everything great that's ever happened in my life."
One of the main draws to UNLV's camp, Thompson said, is its affordability.
Session prices range between $300 for a one-week commuter with no meal plan and $2,450 for a three-week session including a residence hall stay and meal plan. Other seven-week debate camps can hit $7,000, Thompson said.
UNLV's camp also has offered $5,000 in financial assistance to about 20 students each year for the past five years, he said.
"Debate shouldn't be a pay-to-play game; it should be available to any student who wants to do it regardless of their socioeconomic status," Thompson said.
Contact Bailey Schulz at bschulz@reviewjournal.com or 702-383-0256. Follow @bailey_schulz on Twitter.
Rebel Debate Institute
When: Four sessions are offered between July 10 and July 30
Where: UNLV, 4505 S. Maryland Parkway
4505 S Maryland Pkwy, Las Vegas, NV 89154