Different paths, same role for 2 east valley principals
August 28, 2017 - 2:44 pm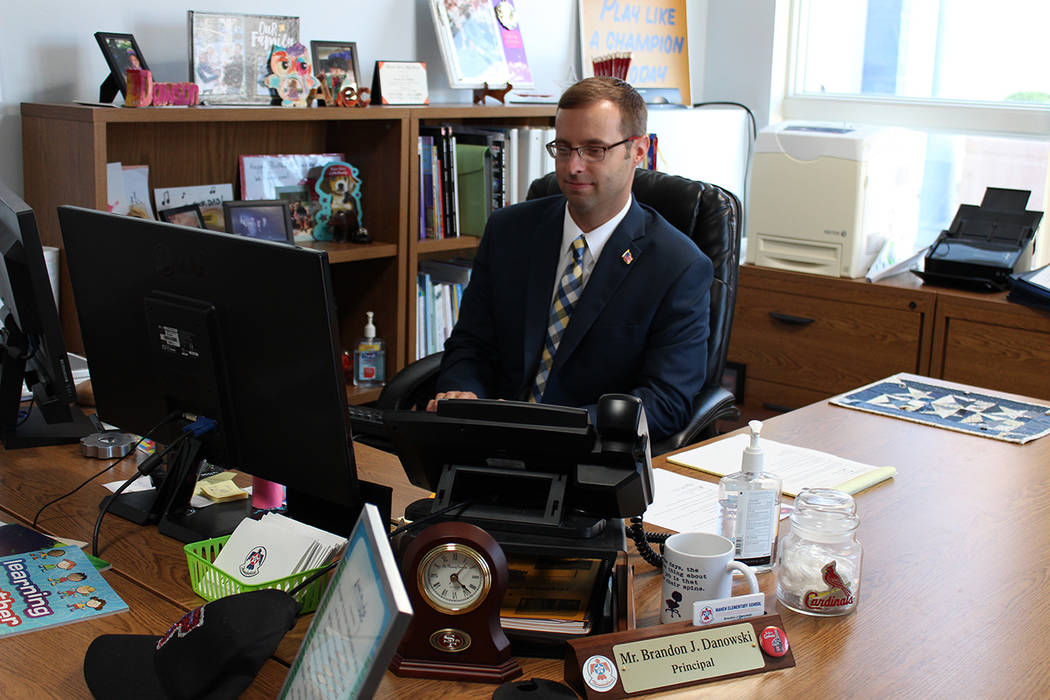 As east valley students picked out their first-day-of school outfits, many adults made similar preparations.
Among those newcomers were Brandon Danowski, principal at Jacob E. Manch Elementary, and Lakeisha Young, principal at C.W. Woodbury Middle. During the second week of school, the principals recounted what inspired them to get into education, as well as their goals.
When Danowski was in second grade, his mother read to him. He knew the stories but couldn't read the words, and she knew something was wrong. His teacher told him he might never be able to read.
"That wasn't very encouraging," he said. "I never wanted another student to feel the way I felt in that moment."
That's what motivated Danowski to work with students and inspire them to work harder — even if they believe they can't.
"I'll never blame a kid for anything," he said. "It's not their fault."
After attending Western Illinois University, Danowski worked as an instructional coach for four schools in the Las Vegas Valley, including Elaine Wynn Elementary, and has taught second and fourth grades at Vail Pittman Elementary and Vegas Verdes Elementary. He spent three years as assistant principal at Manch before applying to become principal.
This year, he aims to rotate students through STEAM (science, technology, engineering, arts and mathematics) programs so every student can be exposed to those areas of discipline. He also has brought in a music teacher who will start a step team and a rap and singing club, and hold a talent show at the end of the year. The school will also have a basketball, soccer, cheer, football and dance teams.
Former Principal Anthony Nuñez said that when he interviewed Danowski to be assistant principal, he knew he was the right candidate.
"He was a highly effective coach," Nuñez said.
Danowski enrolled teachers and got staffers moving in the same direction, Nuñez said. Nuñez, now principal at William E. Orr Middle, said Danowski helped to retain staff.
Lakeisha Young, principal at C.W. Woodbury Middle, took a child-development class and realized, "this is my calling." She started her career as a teacher's aide in 1999.
She has taught kindergarten through sixth grade, with the exception of first grade, and has worked in Nevada, California and Texas. She served as a learning strategist, a central office administrator for the Clark County School District and assistant principal at Desert Pines High School. There, she helped kids catch up and graduate on time by offering to let them make up credits and take classes during a "late bird" period.
"To see kids graduate, it was really heartwarming," she said.
Young studied at University of California, Riverside, and got her master's degree at California State University, Los Angeles, and her adminstrator's endorsements at Sierra Nevada College.
Isaac Stein, principal at Desert Pines High School, said that when Young became assistant principal, "her direction was totally aligned with the direction I had."
The pair focused on increasing the high school graduation rate, which had not exceeded 60 percent, he said. In the first year, it went up to 63.5 percent. Last year, it was 72.41 percent.
"She was an integral part of that," he said. "Everything we've set our mind to do to improve, she's done to move the school forward."
Young hopes to give Woodbury students the skills needed to be successful in high school. As part of that, she aims to bring a program that enables English-language learners to engage in subjects such as math and reading.
"I wanted them to feel comfortable taking risks in learning," she said. "I want the climate at school to be teachers championing for students."
Contact Briana Erickson at berickson@reviewjournal.com or 702-387-5244. Follow @brianarerick on Twitter.