Youths of Latin descent learn of UNLV's offerings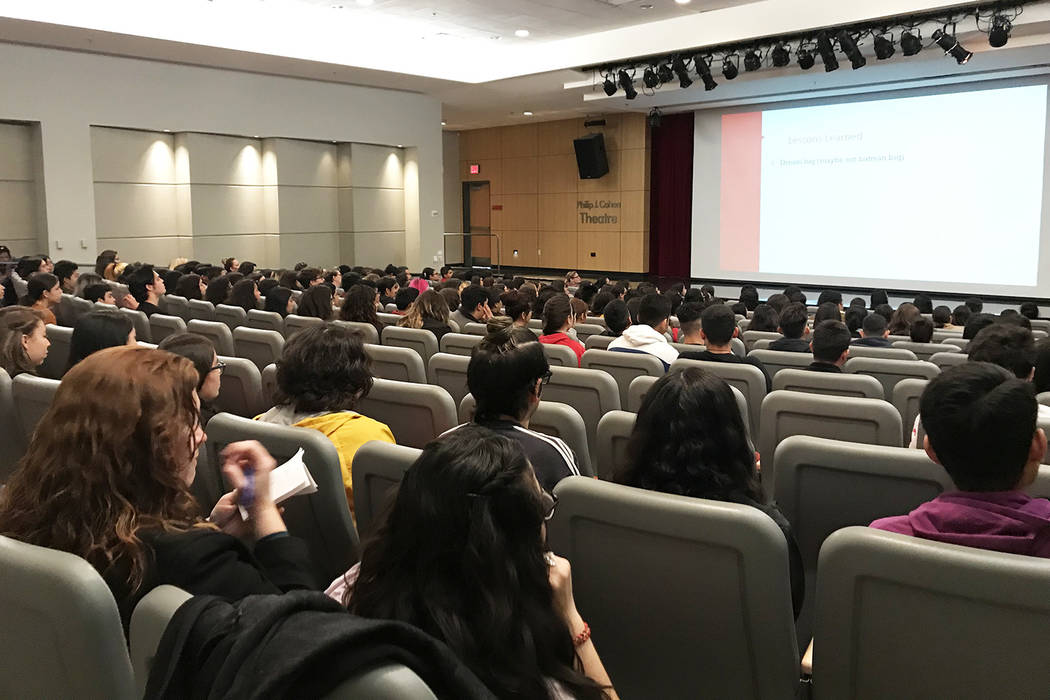 About 240 Latinx — a gender-neutral term for people of Latin American descent — juniors in Clark County schools stood when Dr. Mario Gaspar de Alba asked how many planned to go to college.
About half stayed standing when he asked how many would be first-generation college students, and only a few sat down when Gaspar de Alba asked how many had siblings who had gone to college. He applauded them, calling them "trailblazers."
Gaspar de Alba, associate dean for diversity and inclusion at the UNLV School of Medicine, told the students about his path to become the doctor and associate dean he is today.
His talk was part of UNLV's annual Latinx Scholars Day on March 8. The day started with Gaspar de Alba's speech at the UNLV student union theater, after which the students — visiting from Clark, Canyon Springs and Las Vegas high schools and Equipo Academy — toured the campus.
"It was a longer road to get (through school)," Gaspar de Alba said. "I didn't ask the right questions. I didn't let people help me."
Gaspar de Alba told the students to do the opposite. His first lesson was, "dream big."
"I say that because I had no business thinking I could become a doctor," Gaspar de Alba said. "It was just something I thought would be cool and it worked out."
Gaspar de Alba, born and raised in El Paso, Texas, told his parents he wanted to go to college. After graduating from Brigham Young University and waiting a year, Gaspar de Alba attended Universidad Autonoma de Guadalajara in Mexico.
Gaspar de Alba found his true passion while completing a developmental behavioral fellowship at the University of North Carolina.
As part of the UNLV School of Medicine's diversity mission, Gaspar de Alba said, it is looking for Hispanic students. He said that of the 120 students in the program, 23 percent are Hispanic.
About 30 students stood when Gaspar de Alba asked how many wanted to go to medical school. Jazlyn Salvador, 15, was one of those students.
Salvador, a Canyon Springs student, said she wanted to become a nurse.
"(Latinx students) don't have a lot of advantages, but if we try hard enough we can do whatever we want to do," she said.
Salvador said she was especially excited to hear UNLV's medical school was dedicated to accepting more Hispanic students.
"It is promising," she said. "We have more of a chance now."
Gaspar de Alba asked the students how many often had to translate for their parents and grandparents during doctor visits; several raised their hands.
"If we can pull students who speak Spanish, that helps the patient, improves patient care and makes people more comfortable," he said.
Contact Rachel Spacek at 702-387-2921 or rspacek@reviewjournal.com. Follow @RachelSpacek on Twitter.