18-year-old arrested after threat against Las Vegas school
Updated August 21, 2019 - 5:17 pm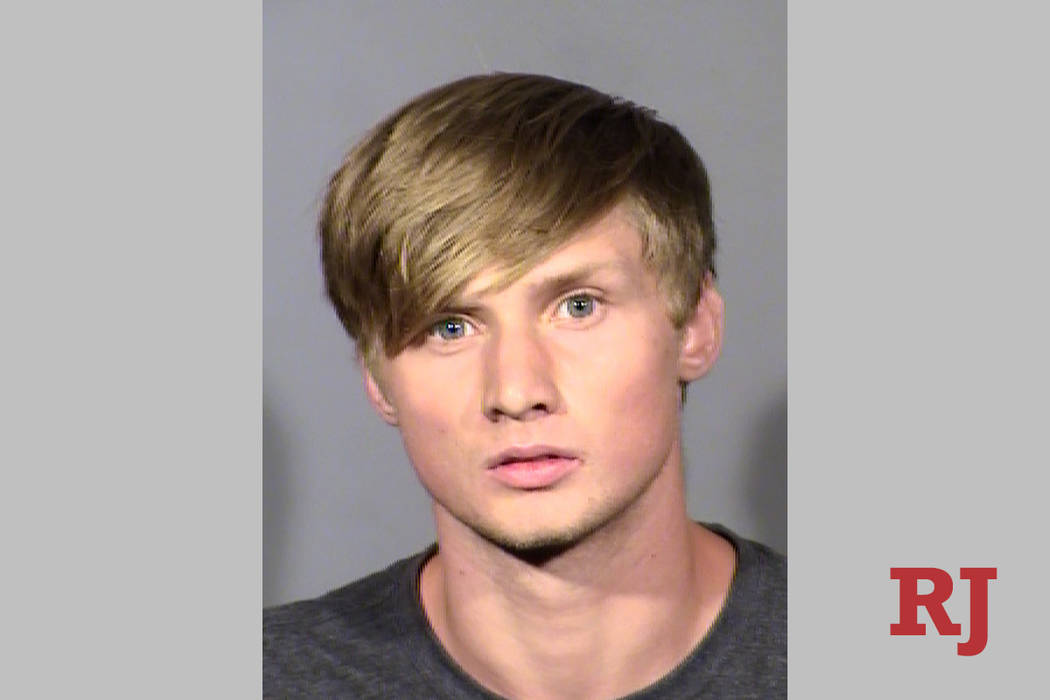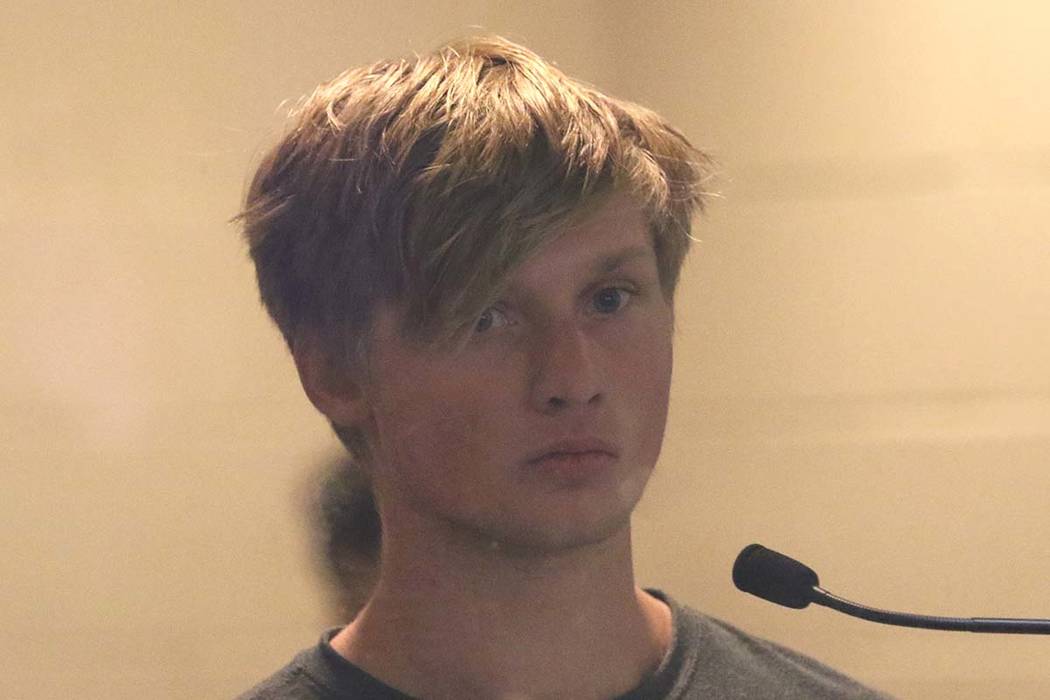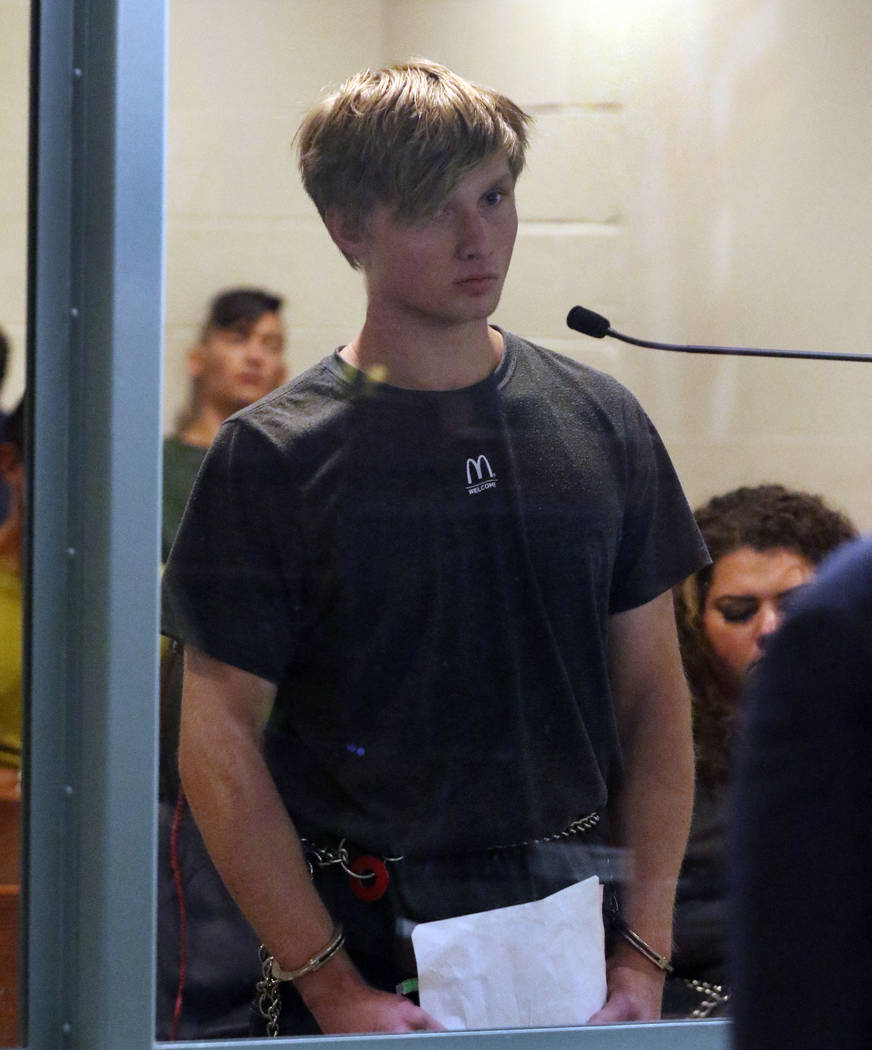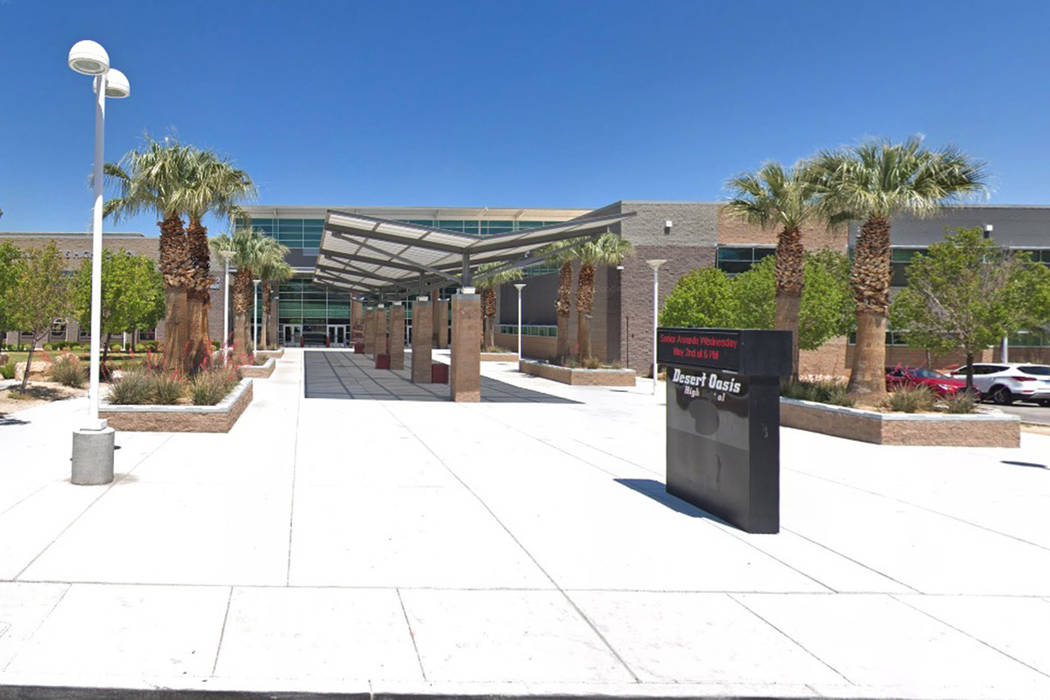 While investigating a "very specific" planned attack against Desert Oasis High School, Las Vegas detectives found a homemade explosive device, letters and journals at the 18-year-old suspect's home, a prosecutor said Wednesday.
The new details in the case against former student Cody Pomeroy surfaced Wednesday afternoon during his initial appearance in Las Vegas Justice Court. He last attended Desert Oasis High School during the 2018-19 school year, according to the Clark County School District.
Pomeroy was arrested Tuesday on one felony count of making a terrorist threat after a person walked into a Las Vegas police substation to report threats — most of which were shared with another person, although some had been made on social media, according to prosecutor Christopher Pandelis.
In light of the Metropolitan Police Department's discoveries at Pomeroy's home "not too long ago," Pandelis said at the court hearing, one count of possession of an explosive device will be tacked onto his criminal complaint, expected to be filed later this week.
"He had a very, very specific plan in mind about what he was going to do — down to the clothing that he was going to wear when he went to Desert Oasis to carry out this plan," Pandelis said in arguing for a higher bail amount.
Justice of the Peace Ann Zimmerman set his cash bail at $100,000. Should he post bond, he will be confined to his uncle's home, where he had been living, and prohibited from having any internet access.
"Sir, you know all your words have consequences in the world we live in now," Zimmerman said to Pomeroy. "How many mass shootings at schools have there been? You say those things, and people are going to believe you."
Pomeroy looked down as Zimmerman spoke.
"How can our community not take that seriously considering everything this community has been through and every other community in the country?" she asked.
Questioning Pomeroy's "psychological well-being," Pandelis also called the material in his journals and letters "concerning," although the teen's attorney argued that the letters were "nothing about harming anybody."
In response to the threats, both Las Vegas and Clark County School District police on Wednesday bolstered security on and around the campus at 6600 W. Erie Ave., near South Rainbow Boulevard and Cactus Avenue.
But this week's threats were not the first directed at the high school. In March, during the 2018-19 school year — when Pomeroy was a student — school police arrested a 15-year-old student at the campus after at least one other student overheard comments about "causing violence to the staff and students," school police Sgt. Bryan Zink said at the time.
In 2016, another 15-year-old student was arrested after school police uncovered plans for a mass shooting at the campus. Police received that tip from students and a parent in Arizona who overheard a child video-chatting with students in Las Vegas.
Desert Oasis staff addressed the most recent threats in a letter sent Wednesday to parents:
"We want to emphasize to our community how seriously we take threats made to our schools. People who make threats to schools can be charged with making a terrorist threat, among other serious crimes. Please have discussions with your child so that he or she understands the severe consequences that result from making threatening statements."
Pomeroy is expected in court Friday morning for his arraignment.
Contact Rio Lacanlale at rlacanlale@reviewjournal.com or 702-383-0381. Follow @riolacanlale on Twitter.