'A great first day' as Clark County students return to school
August 12, 2019 - 5:55 am
Updated August 12, 2019 - 3:56 pm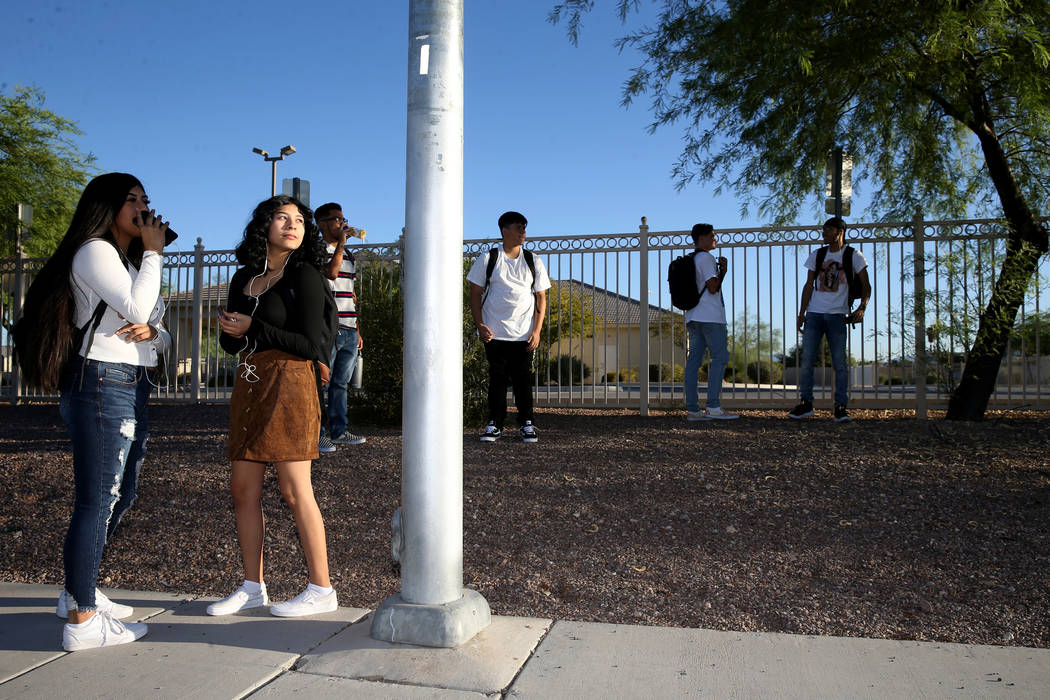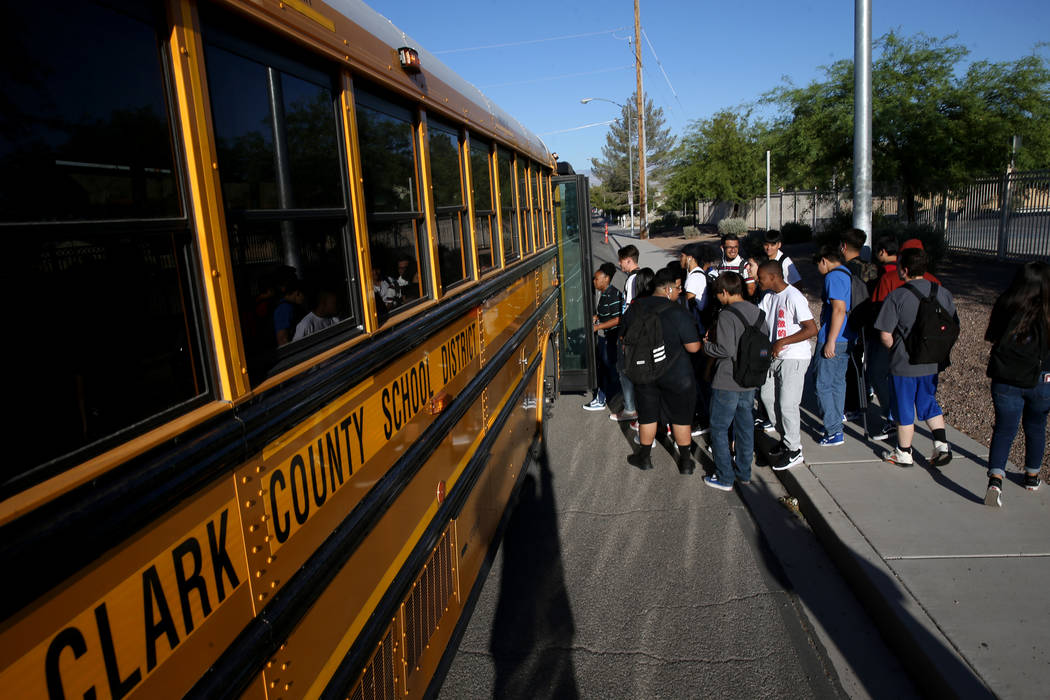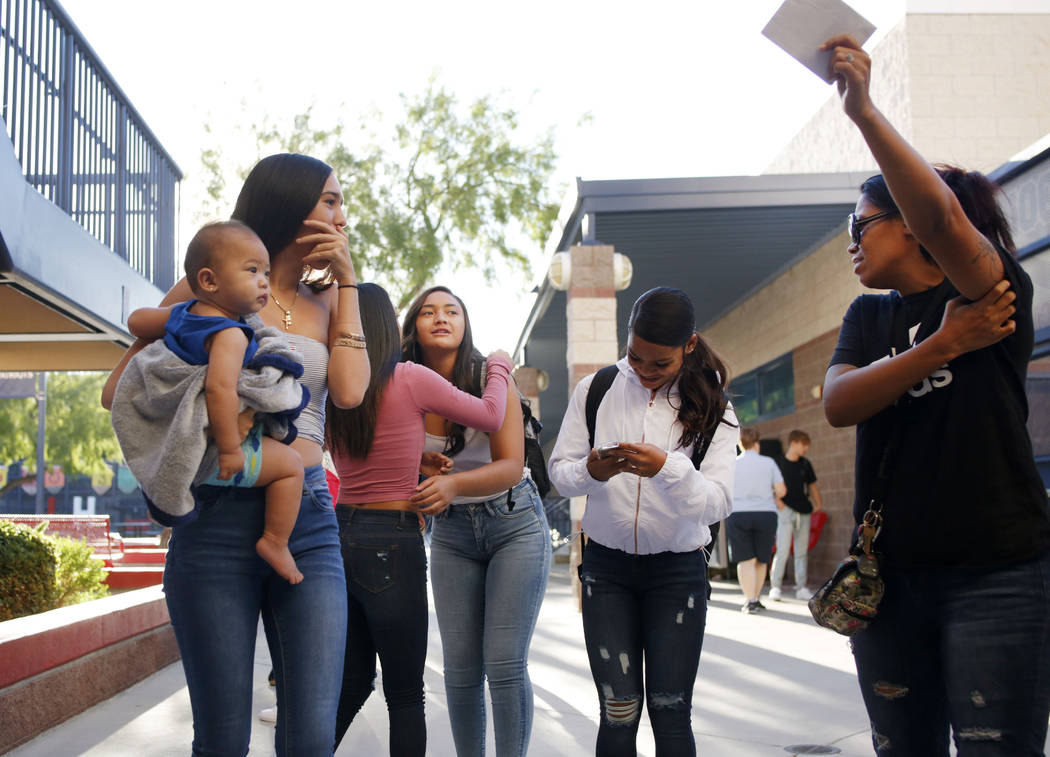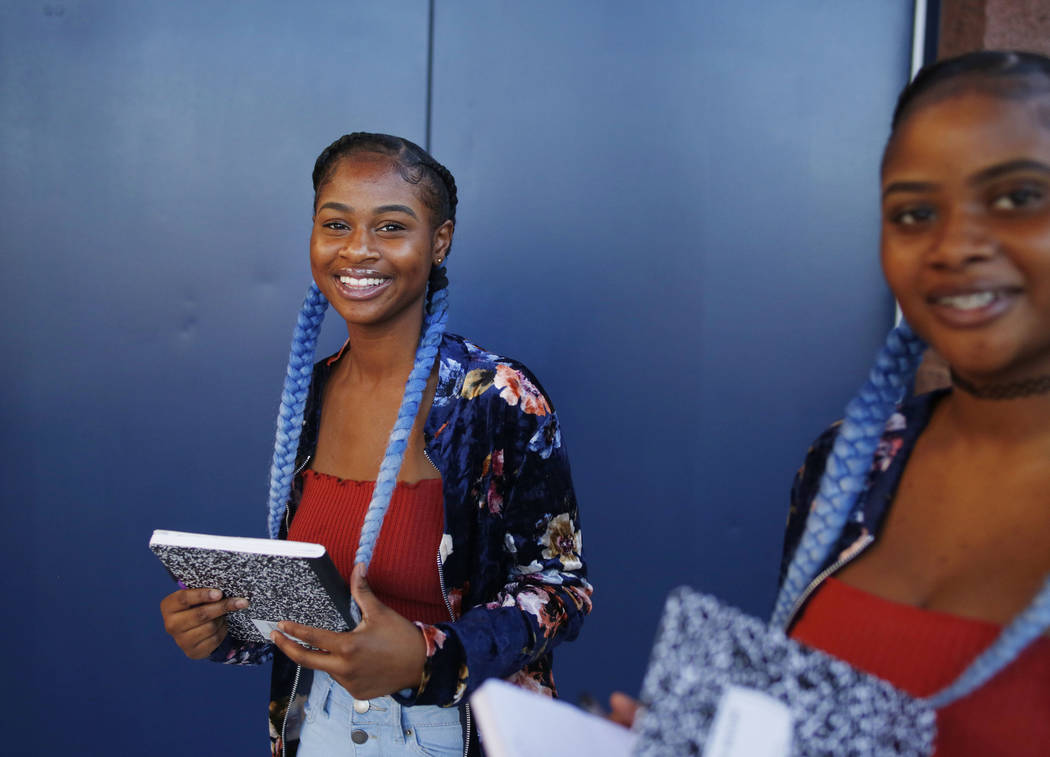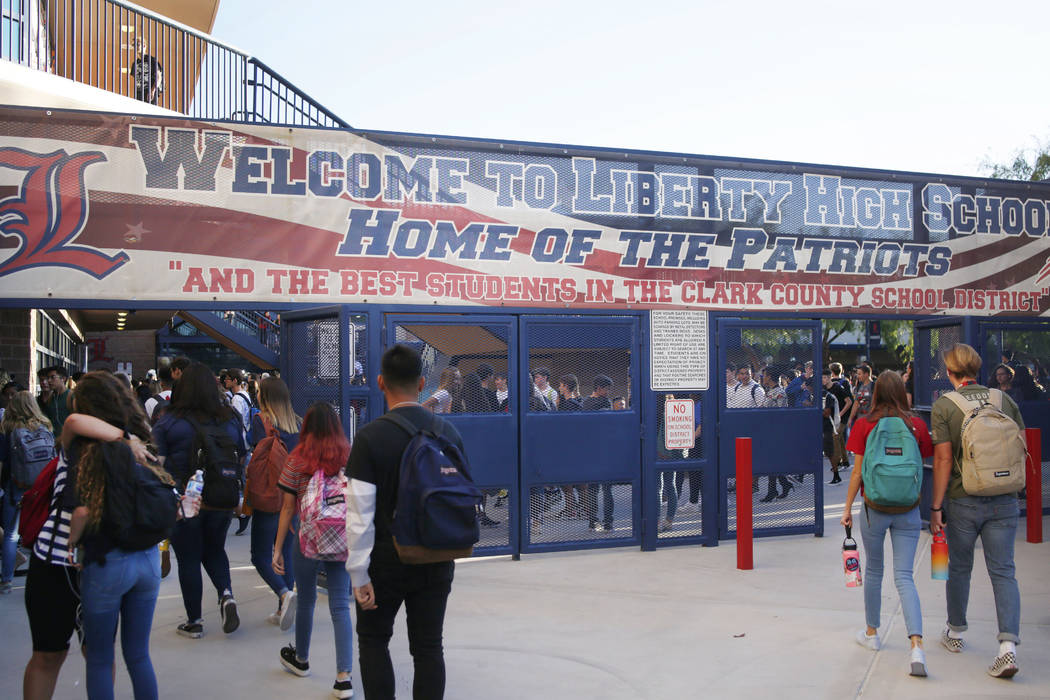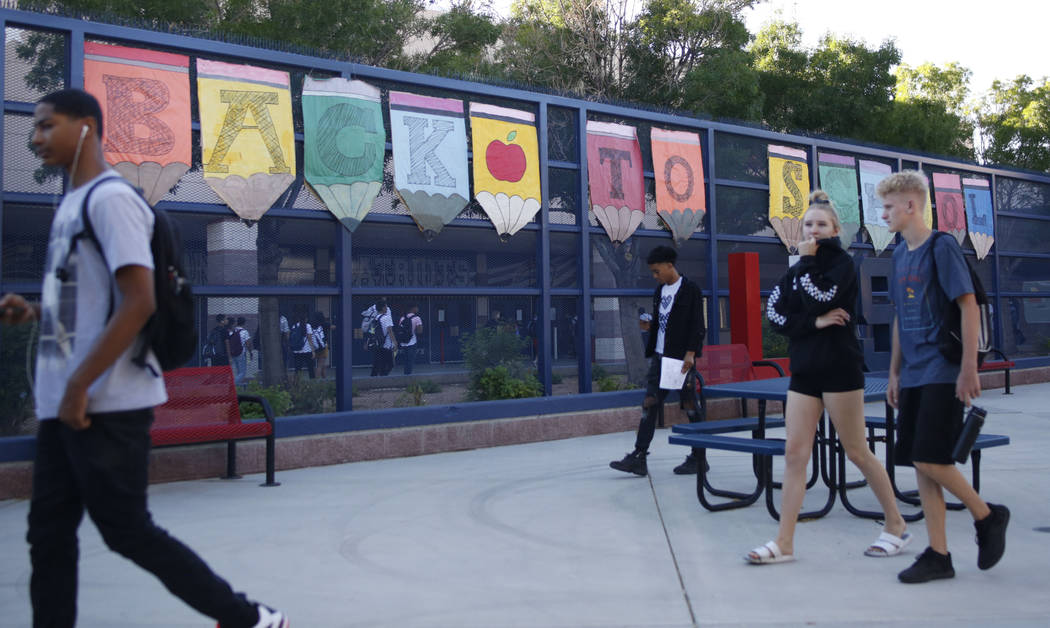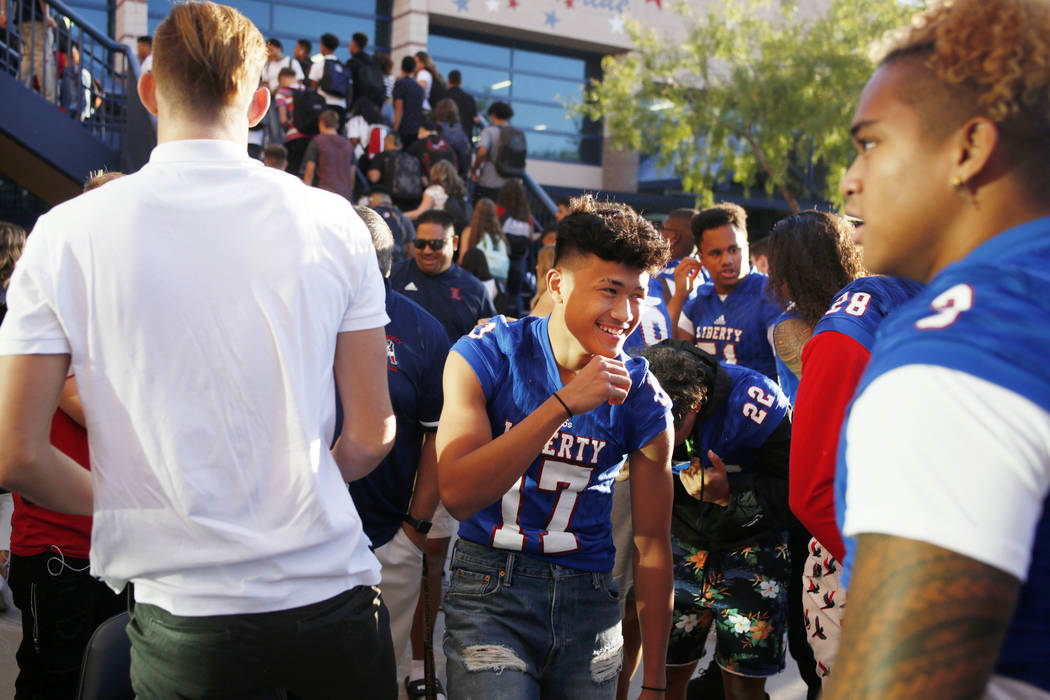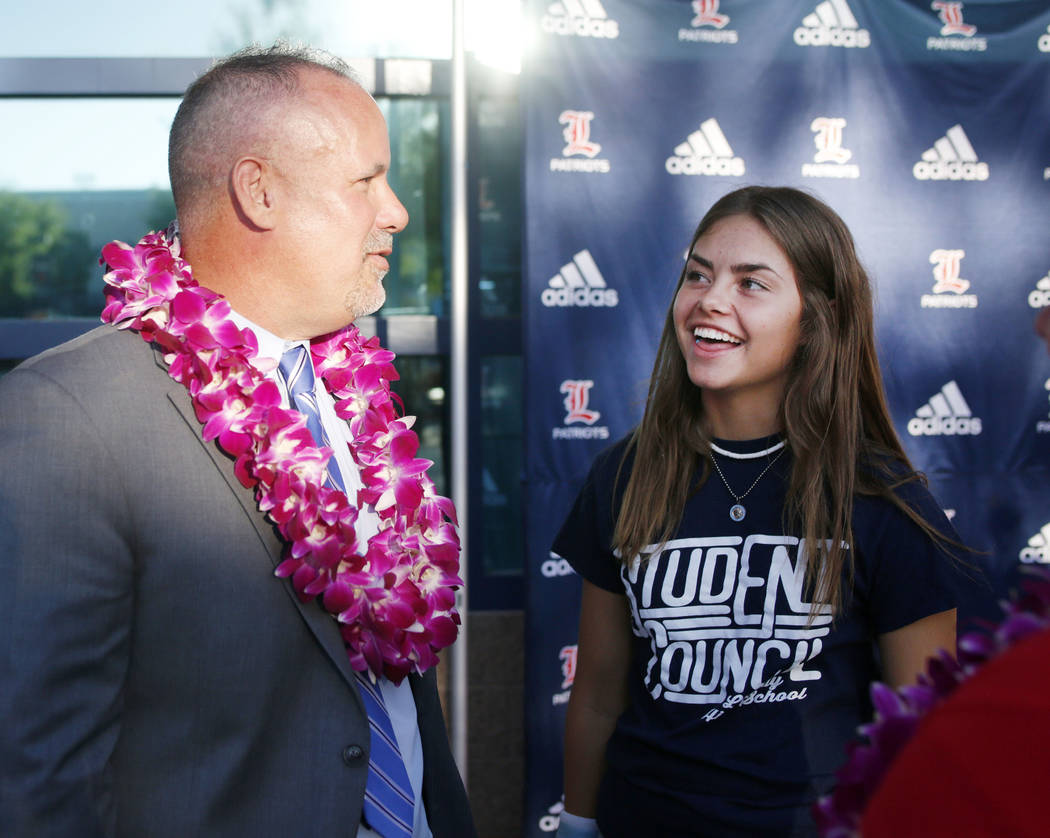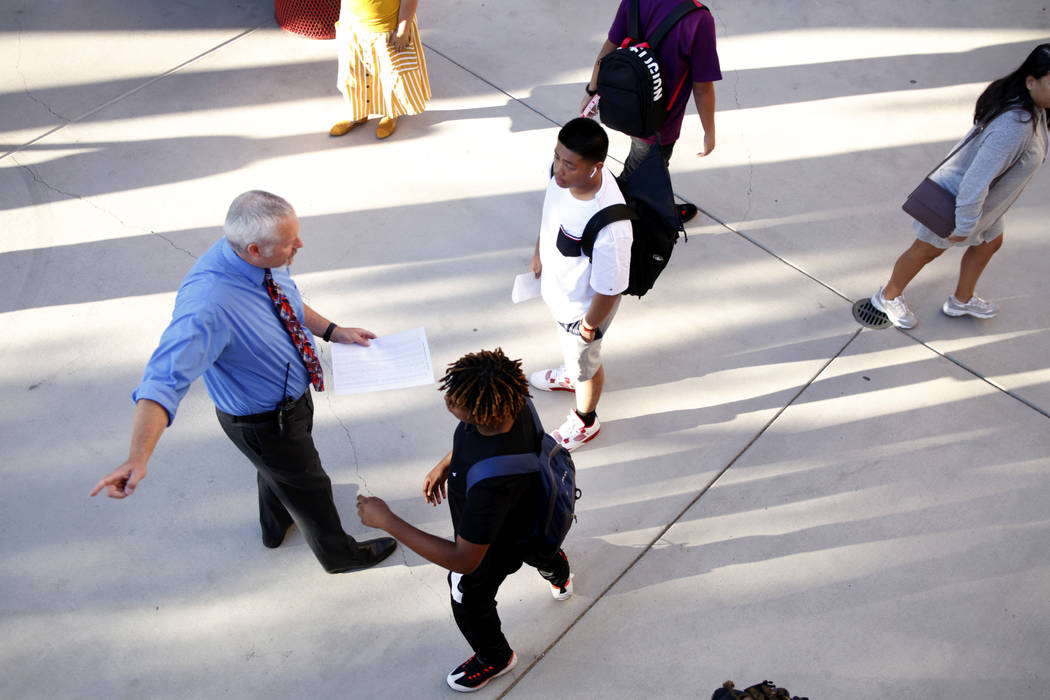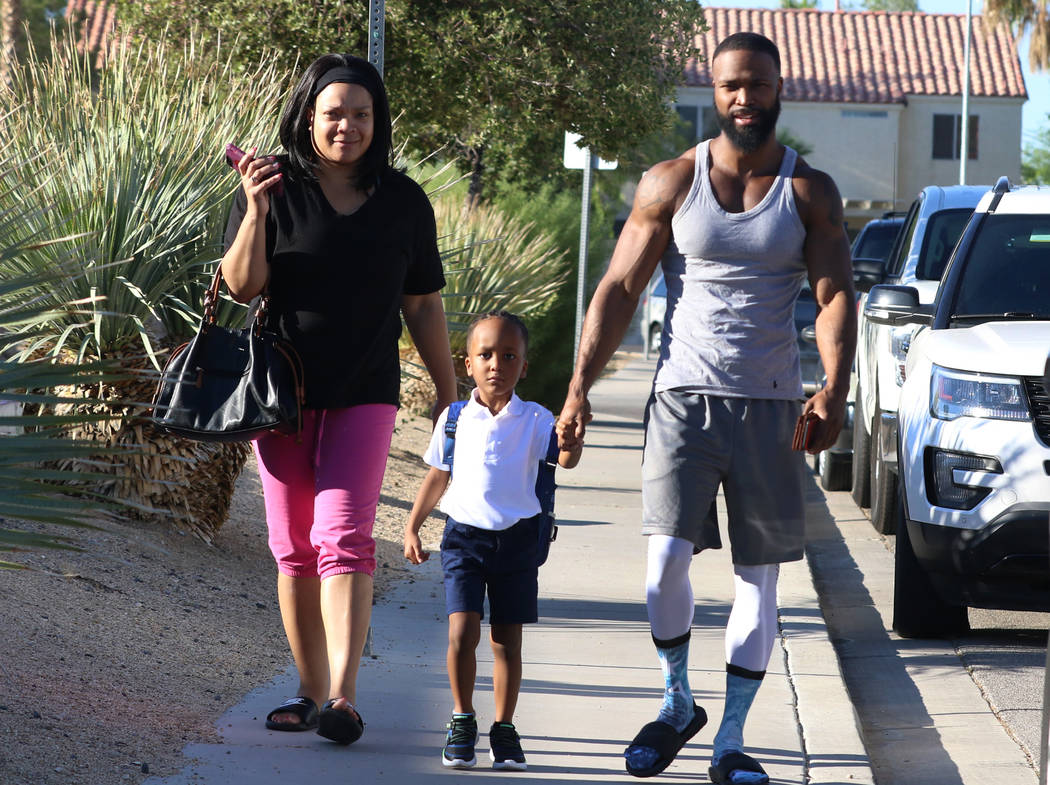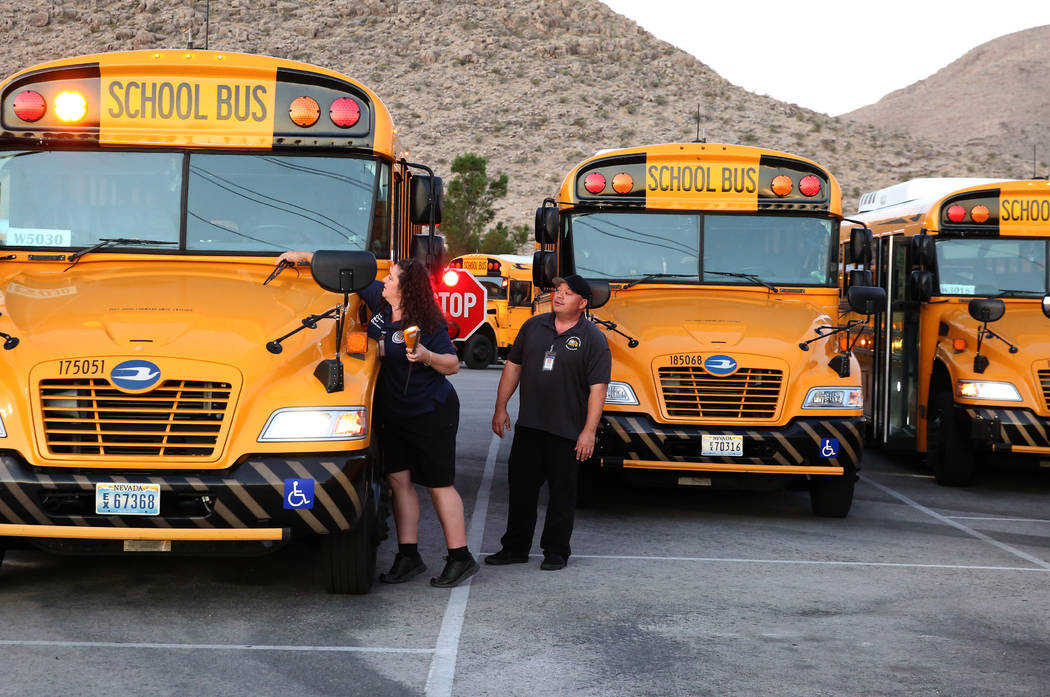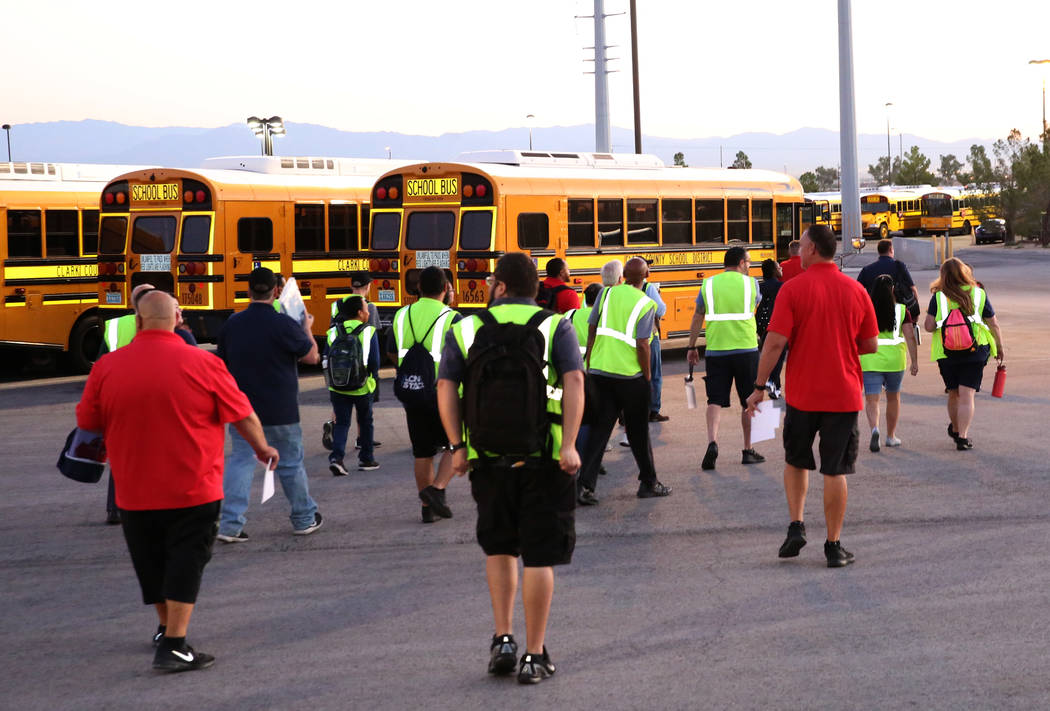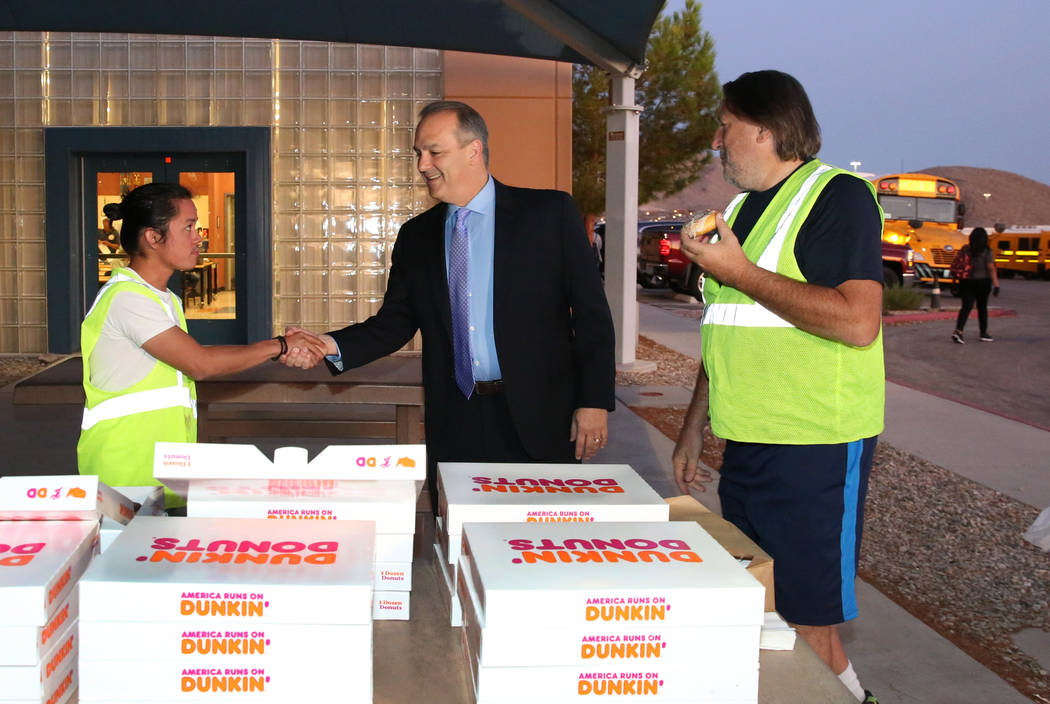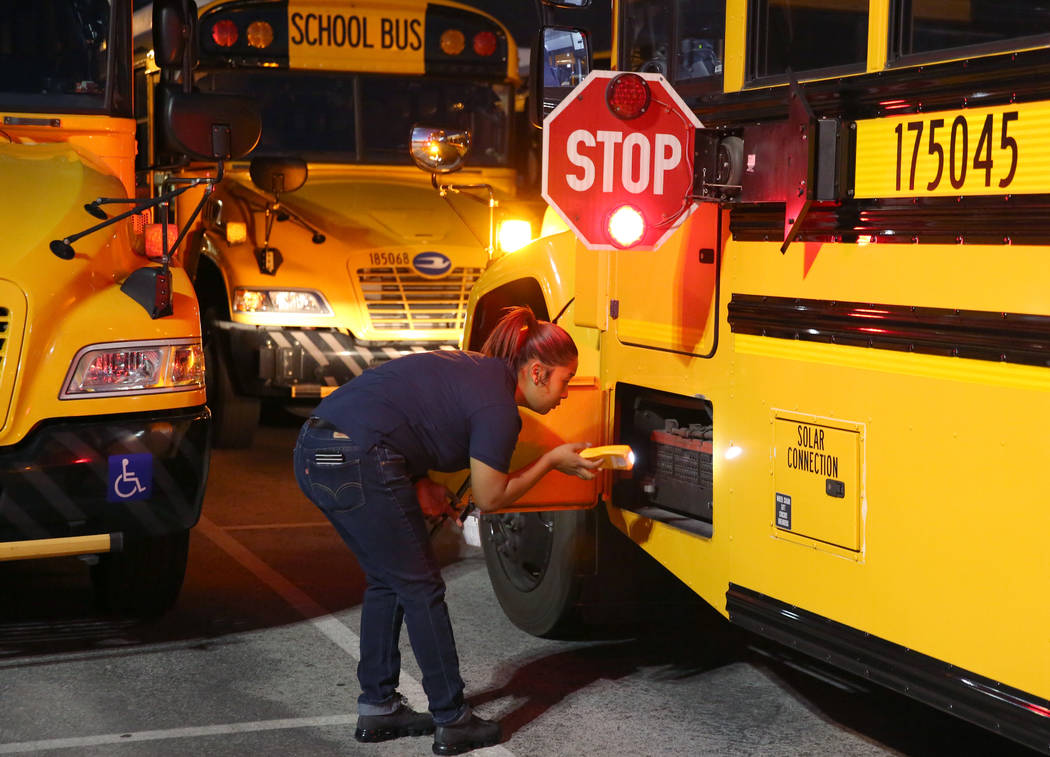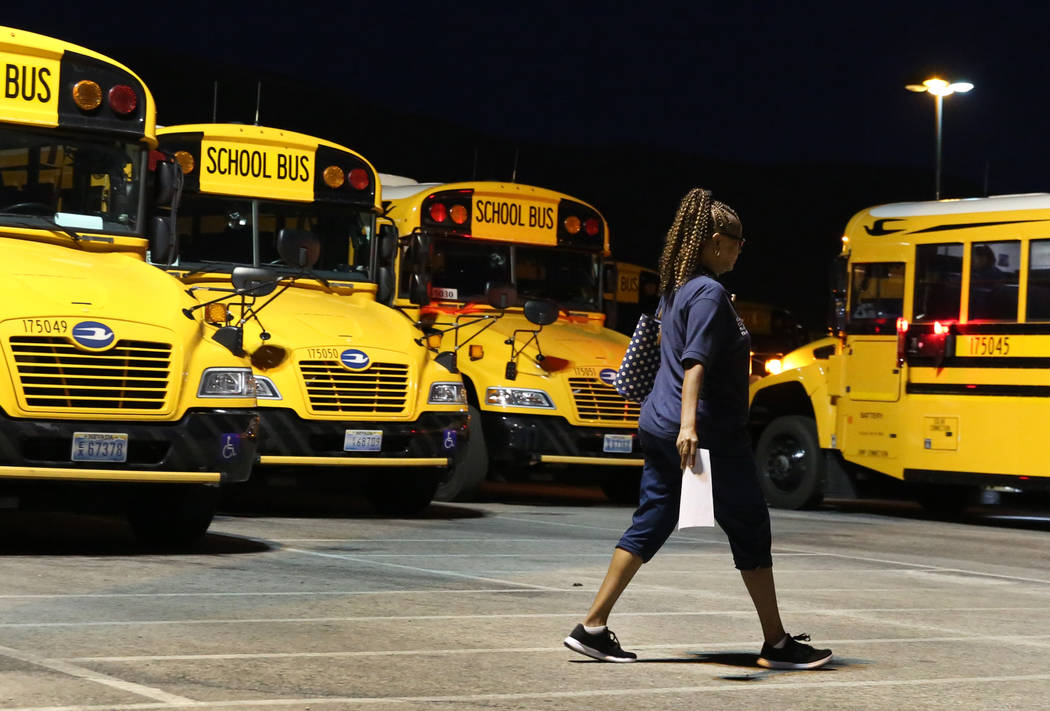 Adriana Purcell sat and drew a self portrait on her first day of kindergarten on Monday in a brand new classroom.
As thousands of students headed back to school in Clark County, Purcell was one of a lucky few to begin school in a new building at Bonner Elementary in Las Vegas.
The building — which replaces 15 portables on campus and is one of five new additions at schools in the Clark County School District — was one of several highlights showcased by district officials on the first day of the new school year.
Students returned to schools without any major hiccups.
"I feel that we've had a great first day," Superintendent Jesus Jara told reporters after a busy morning of activities.
Many students began the day at bus stops throughout the valley.
On the east side of town at Owens Avenue and Beesley Drive, a crowd of Sunrise Mountain High School students waited patiently for a bus they said was consistently late last year. They finally all piled onto the bus by 7:31 a.m., just 14 minutes before school was scheduled to begin.
But overall, transportation fared pretty well. Only 3 percent of buses were delayed in the morning due to traffic, the district reported by midday. One bus broke down, and another bus hit a stationary object in a minor accident.
Later in the day, students at Bonner Elementary enjoyed their new playground and the 22 new classrooms that are a big relief to teachers like Katie Rios, who will no longer have to share a room with another class divided only by a temporary wall.
At Southeast Career and Technical High School, students in the construction program heard enticing pitches from those in the construction industry as district officials celebrated the launch of a new apprenticeship website that will connect graduates with paid career opportunities.
The new website, apprenticeship.ccsd.net, lists different opportunities across various trades, including in the medical field and cybersecurity.
The initiative shares with students that they can "earn while they learn," noting that many apprenticeships will allow them to earn college credits.
"It's the other option," said Lou DeSalvio of the Laborers Local 872 union. "You don't have to walk away with debt, you can actually walk away with college credits and use them down the line as you so choose."
That sounded like a good deal to Thelma Zapata, a junior who wants to be a construction manager after graduation.
"I like building things," she said. "I like thinking of something and then bringing it to life."
The first day began without a teacher's strike, although the union is not discounting the potential for one if the district does not work out its next two-year contract soon.
The district also is continuing school safety measures introduced last year, including a K-9 team to sniff out guns on campus and random searches with metal detector wands.
Contact Amelia Pak-Harvey at apak-harvey@reviewjournal.com or 702-383-4630. Follow @AmeliaPakHarvey on Twitter.
Now at Bonner Elementary, one of five schools this year that are getting new additions — meaning more classrooms, and less portables. The new Bonner addition adds 22 classrooms, replacing 15 portables. They also got a new playground! #NVed pic.twitter.com/Ix4th8hosC

— Amelia Pak-Harvey (@AmeliaPakHarvey) August 12, 2019
Great morning at Liberty High School. Great students, great staff and phenomenal leadership. You can feel the energy focused on students . https://t.co/uoTmy7Y46V

— Dr. Jesus F. Jara (@SuptJaraCCSD) August 12, 2019
All the kids are on board as of 7:31! Bus is about 15 minutes late depending on who you ask. School starts in 14 minutes #NVed pic.twitter.com/sWkmhuQZ9U

— Amelia Pak-Harvey (@AmeliaPakHarvey) August 12, 2019
I'm at a Sunrise Mountain High School bus stop this morning with the first two students waiting for the bus. #school #FirstDayOfSchool pic.twitter.com/pB5Qx9uL0x

— Kevin M. Cannon (@kmcannonphoto) August 12, 2019
Buses roll out of the Wallace Transportation Yard to begin the first day of the #ClarkCountySchool District's 2019-20 school year. @reviewjournal pic.twitter.com/azZ9VNQP2H

— Bizuayehu Tesfaye (@bizutesfaye) August 12, 2019
Bus tracker
The district launched a new bus tracking app this year to help students and families locate their school bus. The app, called CCSD On board, provides real-time tracking of buses.
It's one way the transportation department is hoping to increase transparency amid annual frustration over late school buses, a common problem in the district. The application requires a student identification number and the student's date of birth to access the tracking information.