CCSD ordered to pay salary increases, benefits for administrators
Updated May 31, 2017 - 8:57 pm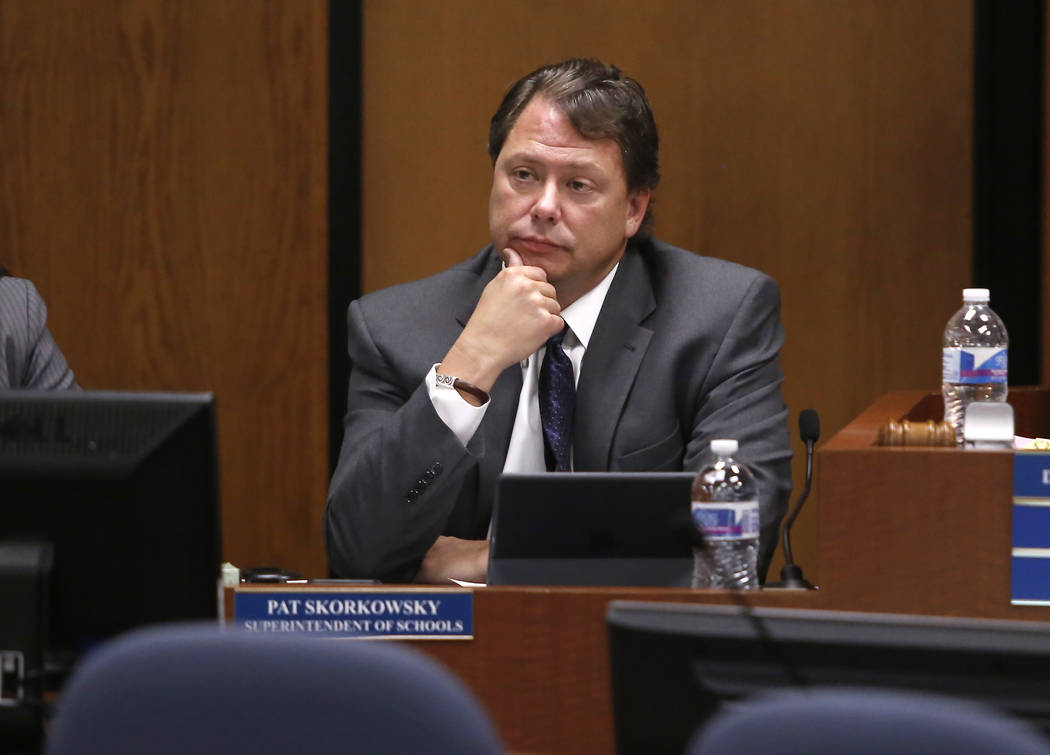 An arbitrator ordered the Clark County School District to pay $19.5 million in salary increases and benefits for the district's 1,300 administrators, resolving a dispute over the 2015-2017 contract for the Clark County Association of School Administrators and Professional-Technical Employees.
The amount is $13.3 million more than what the district was willing to offer and includes a 2 percent raise for 2015-16 and 3 percent for 2016-17. The district had offered a 1.125 percent salary increase for January 2017 and another 1.125 in April.
Arbitrator Eric Lindaeur sided with the association in his ruling last week, noting the association's argument that if the district could afford to pay $135.5 million to settle the teachers' contract and $18 million for support staff, it could pay the administrators' requested amount.
"The District offered no documented evidence or witnesses, or other direct evidence, that it lacked the financial ability to pay the Association's requested monetary proposal," the arbitrator wrote.
Lindaeur also argued that administrators are paid less in the Clark County School District compared with other large school districts. He also concluded that administrators' work has increased since their last raise.
In a joint statement released by the district, Superintendent Pat Skorkowsky said it's unfortunate that the district has been working with a very limited budget, leading to disagreements over compensation.
"However, the Board of Trustees and I very much value the hard work of our site-based and central office administrators, who are critical to the oversight of the day-to-day implementation of the programs we have in place to improve education for every student in every classroom," Skorkowsky said.
The district set aside only $6.2 million in its final 2017-18 budget for the arbitration.
The 2015-2017 contract is part of a complaint the association filed against the district with the Employee Management Relations Board.
The complaint, filed in October, argues that the district retaliated against the association for its support of the district's reorganization. It claims the district did not bargain the contract in good faith, stalling negotiations until the district is decentralized.
It's unclear whether this arbitration award means the association will withdraw its complaint, although the Employee Management Relations Board confirmed Wednesday morning that hearings for the matter were still scheduled for June.
Both parties are negotiating a contract for 2017-18.
Contact Amelia Pak-Harvey at apak-harvey@reviewjournal.com or 702-383-4630. Follow @AmeliaPakHarvey on Twitter.
Details of award For 2015-2016
— Reinstate the 1.125 percent Public Employees' Retirement System salary reduction effective July 1, 2015, for 12-month administrators and August 1, 2015, for 11- and 10-month administrators. Total cost: $1,328,749
— Continuation of steps and longevity increases as set forth in the 2014-2015 collectively bargained agreement. Total cost: $1,888,735
— 2 percent salary increase effective July 1, 2015, for 12-month administrators and August 1, 2015, for 11- and 10-month administrators. Total cost: $3,101,594
— Increase stipend by $1,000 for principals and $2,500 for assistant principals at schools on a year-round schedule. Total cost: $68,355
— Increase the contract for Las Vegas Academy and the Southeast Career and Technical Academy principals from 11 to 12 months. Total cost: $20,000
For 2016-2017 (including all increases from 15-16)
— Continuation of steps and longevity increases as set forth in the 2013-2015 collectively bargained agreement. Total cost: $2,100,000
— 3% salary increase effective July 1, 2016, for 12-month administrators and August 1, 2016, for 11- and 10-month administrators. Total cost: $4,589,439
— Increase health contributions by $40/Life insurance and long-term care by $9.60
Source: Joint Statement distributed by Clark County School District