CCSD superintendent clarifies reason for ban against Kevin Child
November 2, 2017 - 3:14 pm
Updated November 2, 2017 - 8:39 pm
Clark County schools Superintendent Pat Skorkowsky has clarified his decision to ban Trustee Kevin Child from district property, saying that an outside government agency has received a complaint on Child's behavior.
Word of the complaint was included in a memo that Skorkowsky sent to Clark County School District administrators on Thursday. Skorkowsky did not identify the agency that allegedly received the complaint.
Skorkowsky's ban, issued last week, directed administrators to contact police if Child showed up on school property and refused to leave.
"Part of my decision last week was made because the district has been notified by an outside government agency that it has received a complaint regarding Trustee Child's behavior," Skorkowsky wrote in the memo. "The agency is investigating the complaint, and its investigative process is confidential by law."
The memo comes after unions expressed concern over the directive. The Police Officers Association questioned the legality of the ban, while the administrators' union argued that the directive "inappropriately" involved administrators in an ongoing personal dispute between the superintendent and one of his bosses.
Child said Wednesday that he has been on district property without any issues since the ban, which he says is retaliation against him for asking tough questions about the transparency of the district.
'There's got to be due process'
"There's got to be due process. I was never allowed due process," Child said in an interview in the Review-Journal's "Nevada Politics Today" show. "All it was was somebody sent a memo out, and to me I think that creates a hostile work environment."
Child said he hasn't received any notification from an outside agency regarding a complaint against him.
Skorkowsky noted that some administrators might feel uncomfortable issuing a trespass to Child. He instead urged them to notify Joe Caruso, special assistant to the superintendent, if Child arrives on their campus.
"I understand that there will be staff who may wish to speak to Trustee Child, and each of you can do so if you choose," Skorkowsky said in the memo. "If you choose to communicate with him while at work, do so electronically or by phone — not by inviting him to your campus."
The Equal Employment Opportunity Commission, which investigates claims of workplace discrimination, does not confirm or deny the existence or investigation of a complaint until the complaint is made public.
That typically occurs only if the commission files a lawsuit over the matter.
Dispute dates to last year
Child originally was told not to enter schools without a specific invitation late last year, after an internal investigation concluded that his behavior created an intimidating work environment.
Skorkowsky since issued more restrictions and clarifications on when and where Child could venture on to district property. He later required Child to be escorted around administrative offices and forbade him from calling or texting employees, with a few exceptions.
But he said Child has ignored such instructions.
"A few weeks ago, an unannounced visit to a school by Trustee Child included him taking over classroom instruction and making comments that embarrassed a student," Skorkowsky wrote in an updated version of the memo sent Thursday.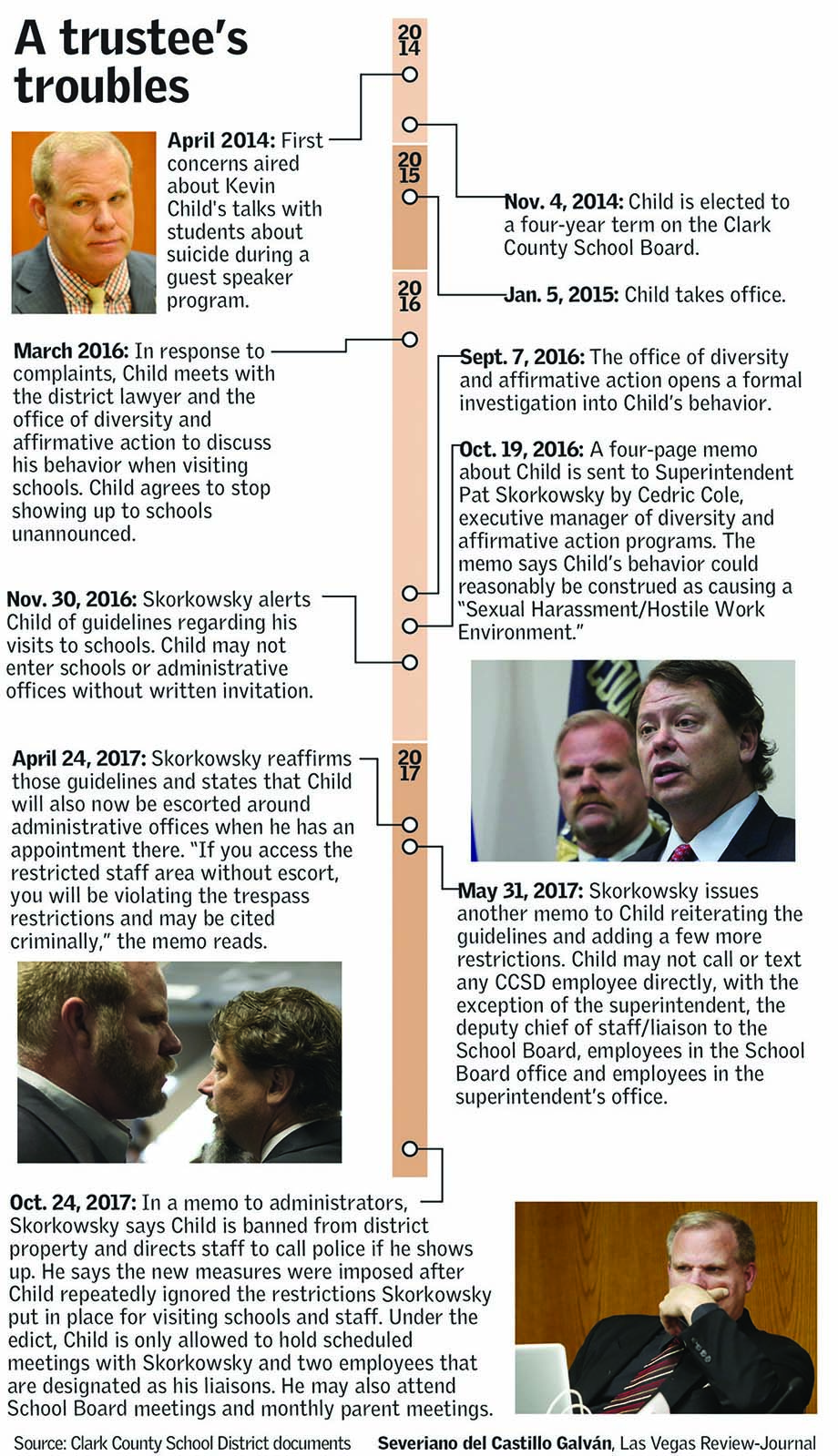 Contact Amelia Pak-Harvey at apak-harvey@reviewjournal.com or 702-383-4630. Follow @AmeliaPakHarvey on Twitter. Reporter Meghin Delaney contributed to this report.
CCSD memo by Las Vegas Review-Journal on Scribd