CCSD Trustee Child claims rival changed name for election advantage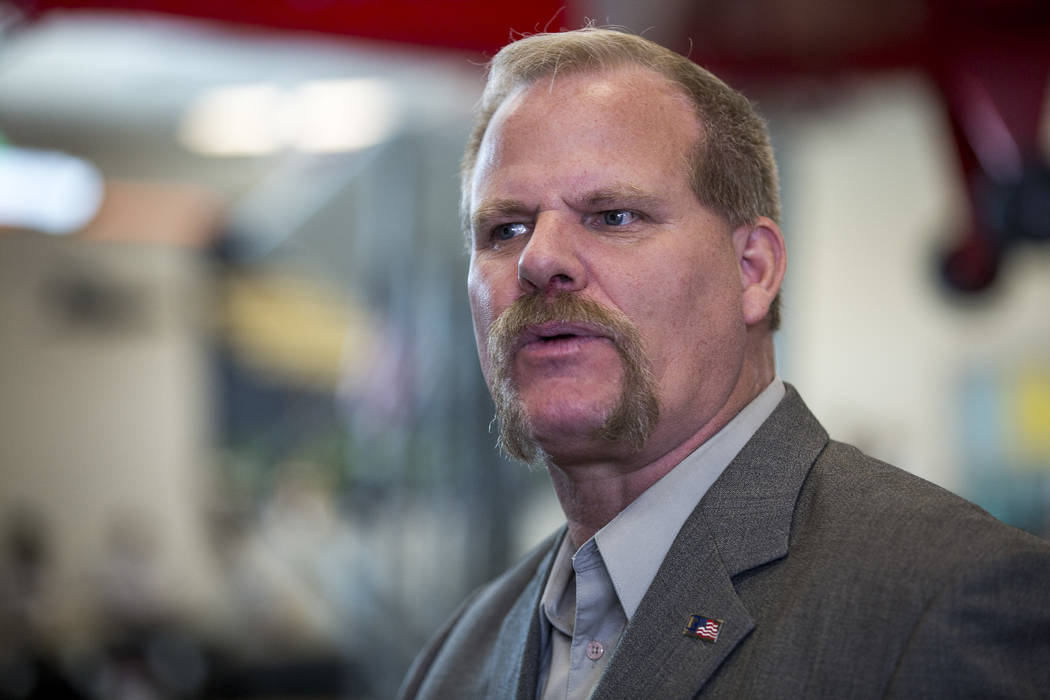 Clark County School Trustee Kevin Child claims an opponent in the District D race changed her name to get an advantage on the ballot.
In February, Irene Zepeda changed her last name to Cepeda. She filed paperwork for the District D seat less than a month later.
Because ballots list candidates alphabetically, Cepeda's name appears before Child's.
In multiple social media posts this week, Child claims that's why she made the change.
"Voters are more likely to vote for a candidate listed first on the ballot. Changing her name to Cepeda placed her first on the ballot. Deceitful? I think so. Would a deceitful person be a good choice for School Board trustee?" he said in a Facebook post.
Eli Thompson and Leobardo Martinez Jr. also are seeking the seat. The race is nonpartisan and if one candidate earns more than 50 percent of the vote in the June 12 primary, the race will not go to the general election. Otherwise, the top two candidates will face off in November.
A family matter
In the paperwork required to legally change her name, Cepeda said the change was made to honor her family heritage — specifically her mother, who died from breast cancer five years ago. After her mother's death, Cepeda said she turned to her family ancestry as a way to cope.
In her research, she learned the last name was originally spelled with a "C" but changed to a "Z" when her ancestors moved from Spain to Nicaragua. Both variations of the name have been used by family members since the late 1800s, and she said in an interview Friday that she got her family's blessing before making the change.
Cepeda said she is not surprised Child is making an issue of her name change as early voting in begins Saturday.
"I think he's just trying to deflect from his own misdeeds," Cepeda said.
Child told the Review-Journal on Friday that he did not read her application to change her name, but said he was told that she had changed her name so she would be first on the ballot.
.@IreneCepedaNV Irene "Cepeda" a.k.a. Zepeda deceitfully changed her last name. Why? She wanted her fake name at the top of the ballot. Sad! #FakeName KEEP KEVIN L. CHILD #CCSD District D@8NewsNow @KTNV @News3LV @FOX5Vegas @LVRJ @RalstonReports @LasVegasSun pic.twitter.com/BGnGrGU4WU

— Kevin L. Child (@Kevinchild) May 25, 2018
"Certain people told me that she changed it to be the top of the ballot," he said. "Why'd she change it just before the election?"
Trustee Chris Garvey, a frequent ally of Child's on the politically divided board, also questioned the move on social media.
"I have never seen this in a school board election! What reasonable explanation could there be given the timing? #FakeName" she said on Twitter.
I have never seen this in a school Board election! What reasonable explanation could there be given the timing? Why would anyone running for TRUSTEE want to deceive the voting public? #FakeName https://t.co/OXqT1q6vIv

— Christine Garvey (@ChrisAGarvey) May 25, 2018
Child controversies
Child's first term on the board has been marked with a number of controversies, including concerns over his posts on social media. In May 2013, Child blamed parents with limited English proficiency for the poor academic performance of their children. In July 2016, he asked his Twitter followers if they would run over protesters blocking the road, referencing an incident from a Bastille Day event in France.
Child also has been accused in internal district reports of creating a hostile or intimidating work environment when he visits schools and holding impromptu "suicide counseling sessions" with students. A district investigation found Child made female employees uncomfortable during the school visits and school officials said they had to call in a special team of crisis counselors to console the children after his impromptu talks.
Superintendent Pat Skorkowsky banned Child from visiting schools without being invited in December 2016, an edict the superintendent reiterated in October 2017 after an external complaint was lodged against Child.
In March, the school board voted to settle the complaint, filed by Deputy Superintendent Kim Wooden, with the Nevada Equal Rights Commission and the U.S. Equal Employment Opportunity Commission. The complaint referred to multiple issues Wooden had with Child.
The board also adjusted Wooden's contract, stating that she no longer has to work in the office or with trustees if she doesn't wish to. Wooden received no settlement from the district.
Child has maintained the allegations are false, saying it's retribution because he asks tough financial questions of district officials. He also said district officials have declined to provide him with copies of the "alleged complaints."
After the settlement with Wooden, Child vowed to sue the school district for defamation. No lawsuit has been filed.
Contact Meghin Delaney at 702-383-0281 or mdelaney@reviewjournal.com. Follow @MeghinDelaney on Twitter.
Advantage of incumbency
Despite the controversies during Child's term on the Clark County School Board, he may hold an edge in the primary election.
Research by Ballotpedia, a nonprofit that studies elections nationwide, shows that 82 percent of incumbents who sought additional terms of some of the nation's largest school districts won re-election in 2016, the most recent data available.
"With help from name recognition, experience in office, and the ability to tout any accomplishments they achieved while serving, school board incumbents held advantages over their non-incumbent candidate counterparts," the group reported.