Community releases balloons to remember Desert Oasis student who died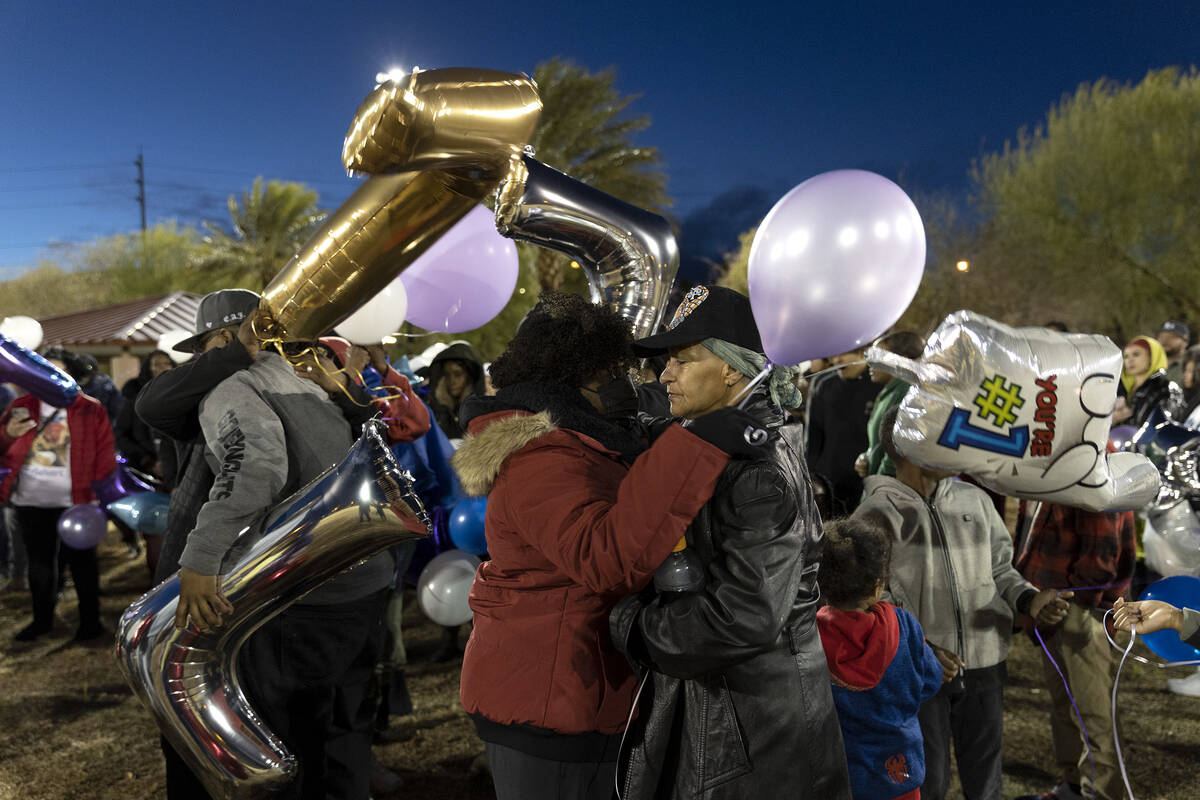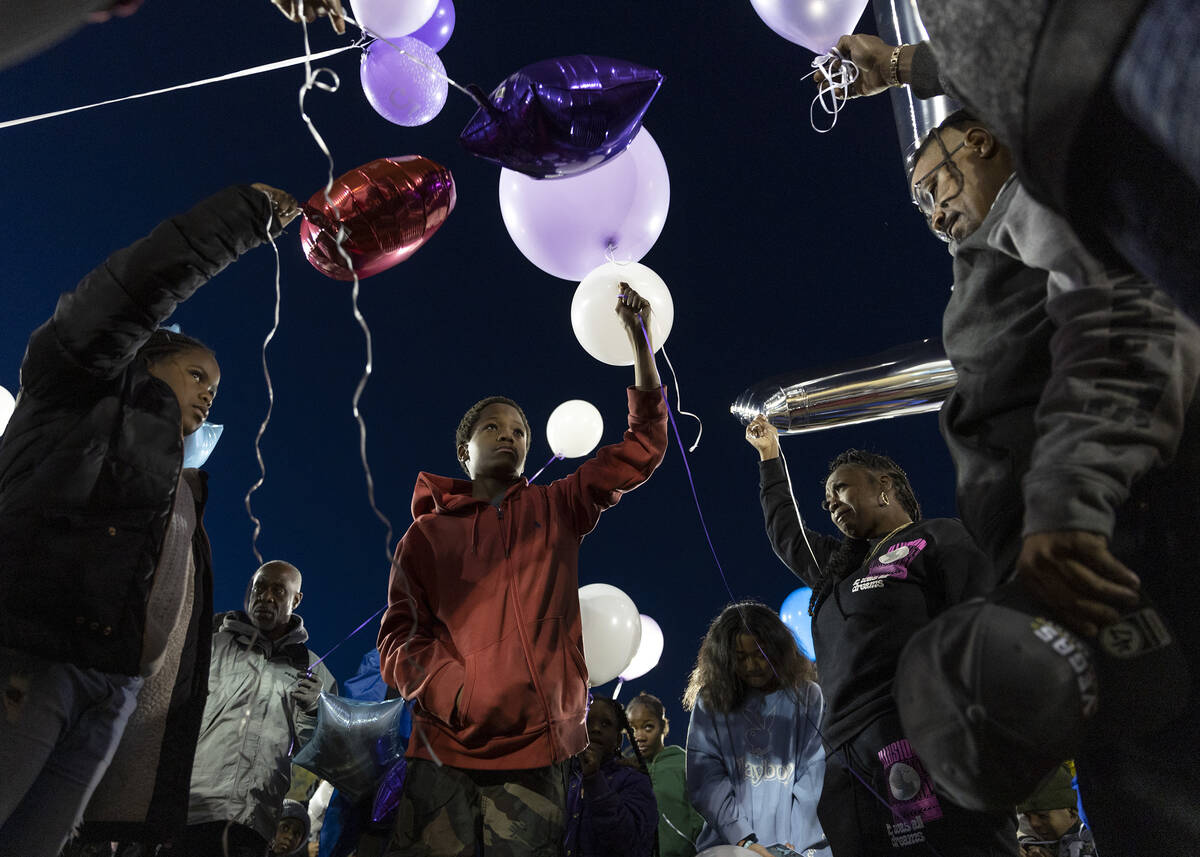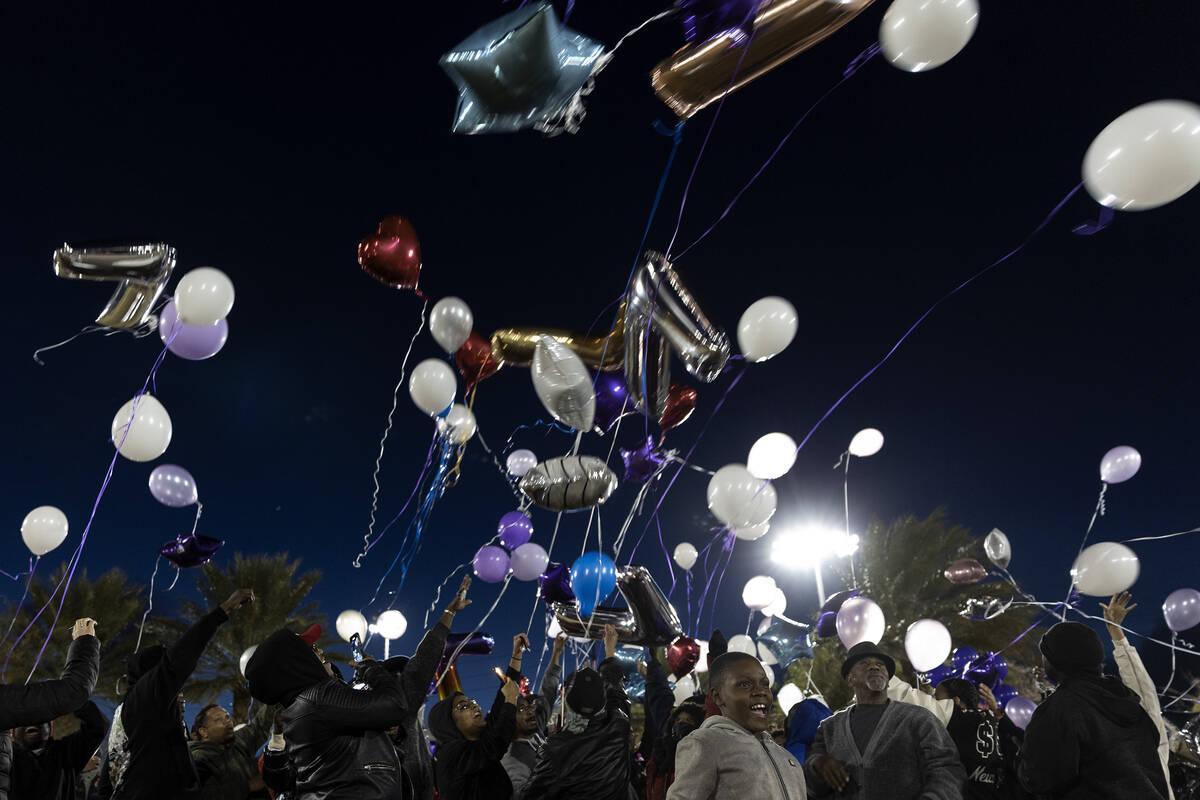 Enttroda Hughes held up a silver balloon in the shape of his daughter's flag football jersey number — No. 7 — along with about 50 other people Tuesday night who held balloons aloft to honor the memory of 16-year-old Ashari Hughes.
Family and friends gathered at Kianga Isoke Palacio Park next to Doolittle Community Center in West Las Vegas around 5 p.m.
"I wanted our closest family members and our closest friends to share a moment outside of the big public gatherings," Enttroda Hughes said.
Desert Oasis High School sophomore Ashari Hughes collapsed Thursday around 7:30 p.m. after a flag football game against Valley High School. She was taken to the hospital where she later died.
The Clark County coroner's office Monday released that Hughes died from a congenital heart condition, officially called anomalous origin of right coronary artery from left coronary sinus of Valsalva. Hughes' manner of death was ruled natural.
Hughes' family said that although she had a medical issue she had been cleared by doctors to play flag football.
Born and raised in Las Vegas, her father said he spent a lot of time in the community near Doolittle playing sports, going to the library and the art studio.
"I can hold my head proud here to say that Las Vegas' name will forever be attached with Ashari," he said.
While the rain had subsided by Tuesday evening, strong gusts of wind forced those gathered to hold on tightly to their balloons. Some balloons did escape due to the wind. Purple, blue, white and pink balloons whipped in the wind while folks without a balloon were each handed one.
At around 5:20 p.m., the group walked onto the large field at the park and huddled together. Ashari Hughes' grandfather Sammie Toles asked everyone to remove their hats and pray. Enttroda Hughes then led the group in a count to three and all the balloons were released into the night sky.
Ashari Hughes' stepmom Leilani Kroll called the balloon release beautiful and said the support her family has received in the last week has meant a lot.
"They would have loved her," Kroll said of those who never had a chance to meet her. "Shari brought light up in the room when she walked in. She was always happy."
Enttroda Hughes said he'll miss his daughter's reaction when he would embarrass her and all the conversations they'd share coming back from football games or going out to eat.
"Ashari was a good person. Everyone knows it," he said. "You can see how far this is touching everyone that's around us."
Tuesday's gathering came the day after a vigil was held Monday night at Centennial High School. Hughes played for Centennial during her freshman year before moving to Desert Oasis.
An online fundraiser had raised more than $58,000 as of Tuesday night.
Hughes' jersey number will be retired by Desert Oasis High School following the varsity team's game on Wednesday. The ceremony is expected to begin around 7 p.m.
Contact David Wilson at dwilson@reviewjournal.com. Follow @davidwilson_RJ on Twitter.