Democracy Prep in Las Vegas charts new course at Agassi campus
February 11, 2018 - 11:53 pm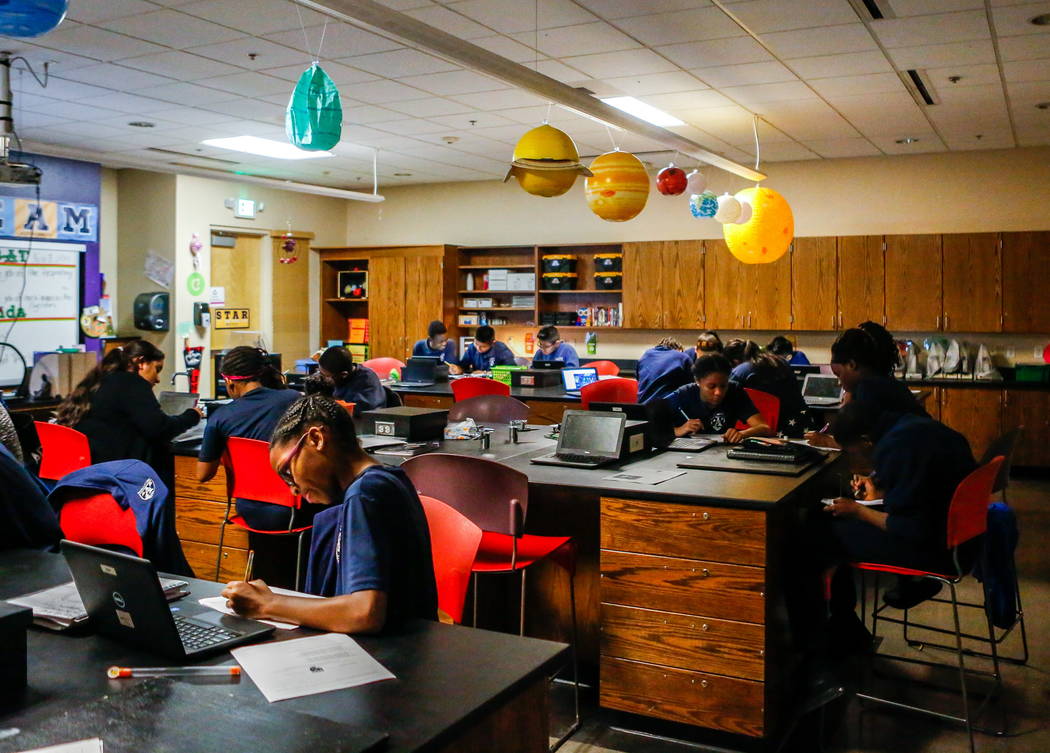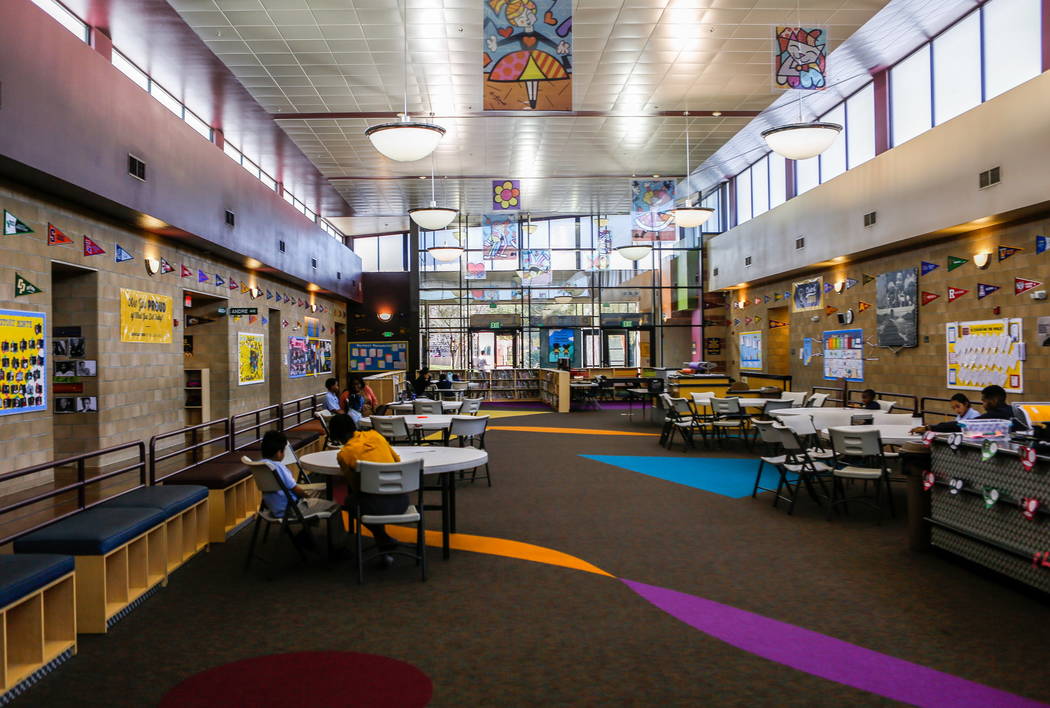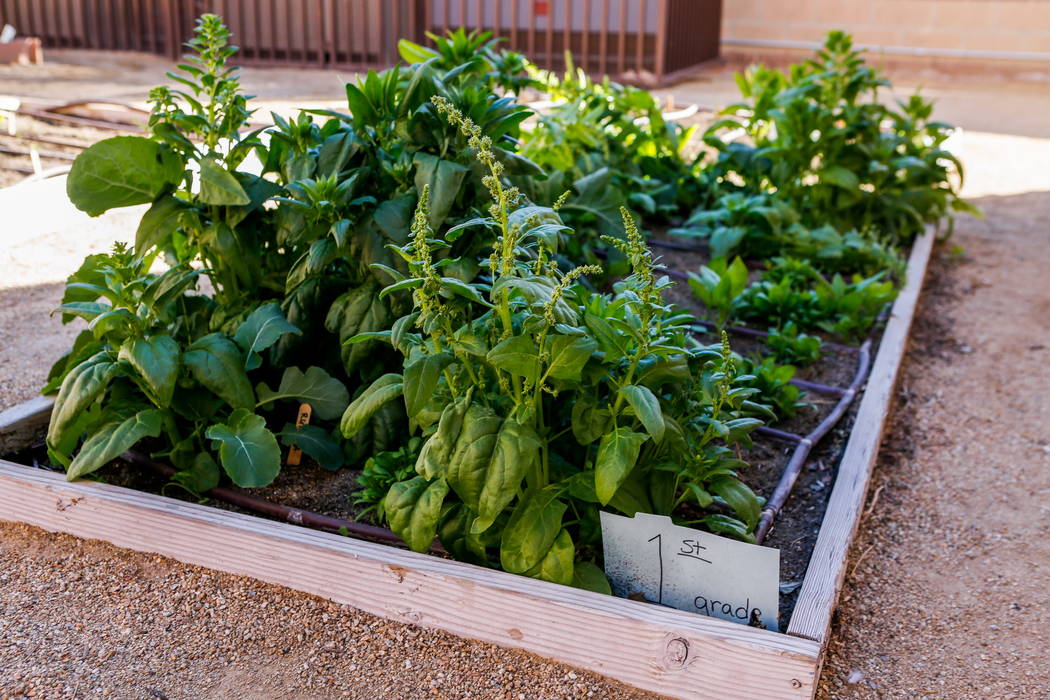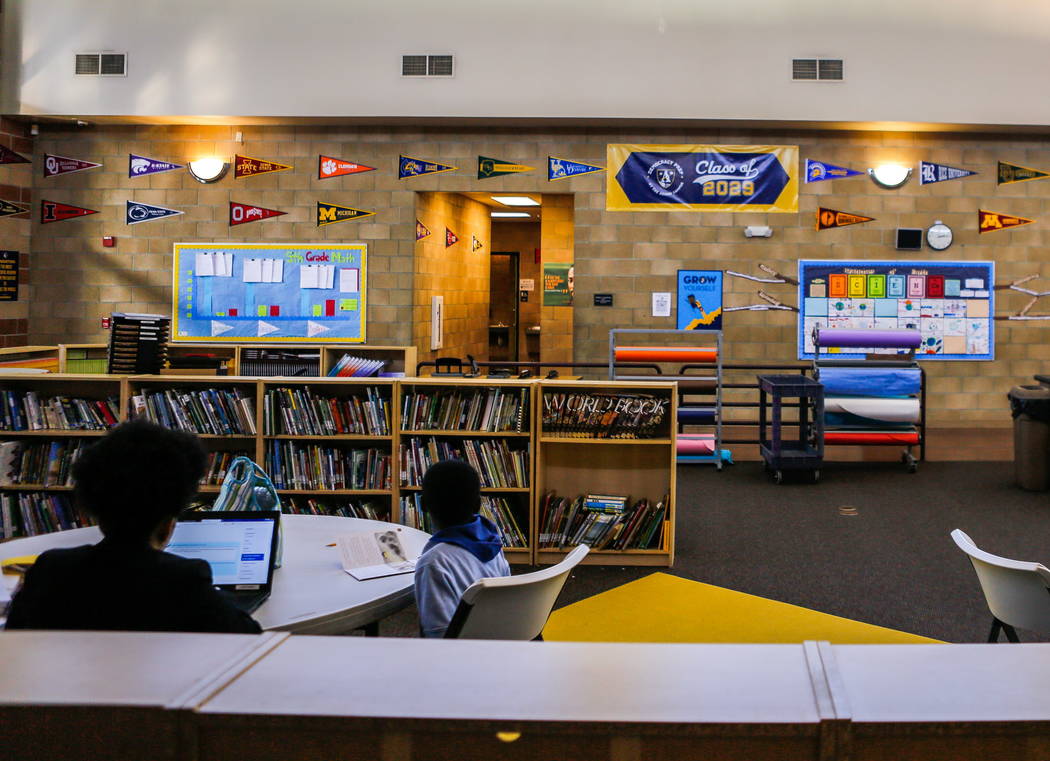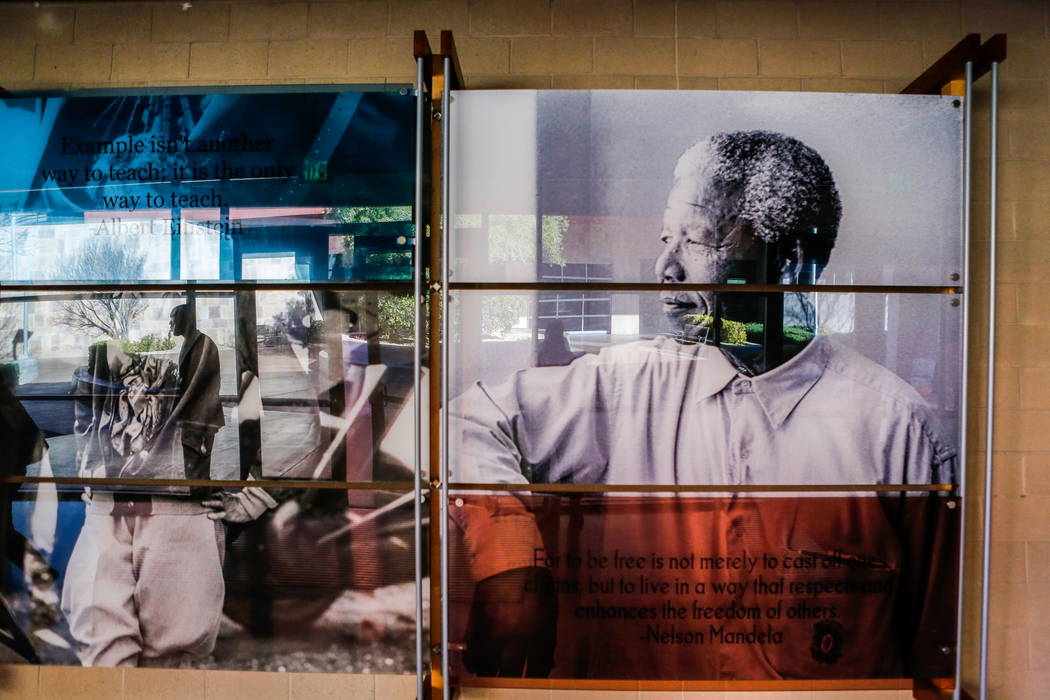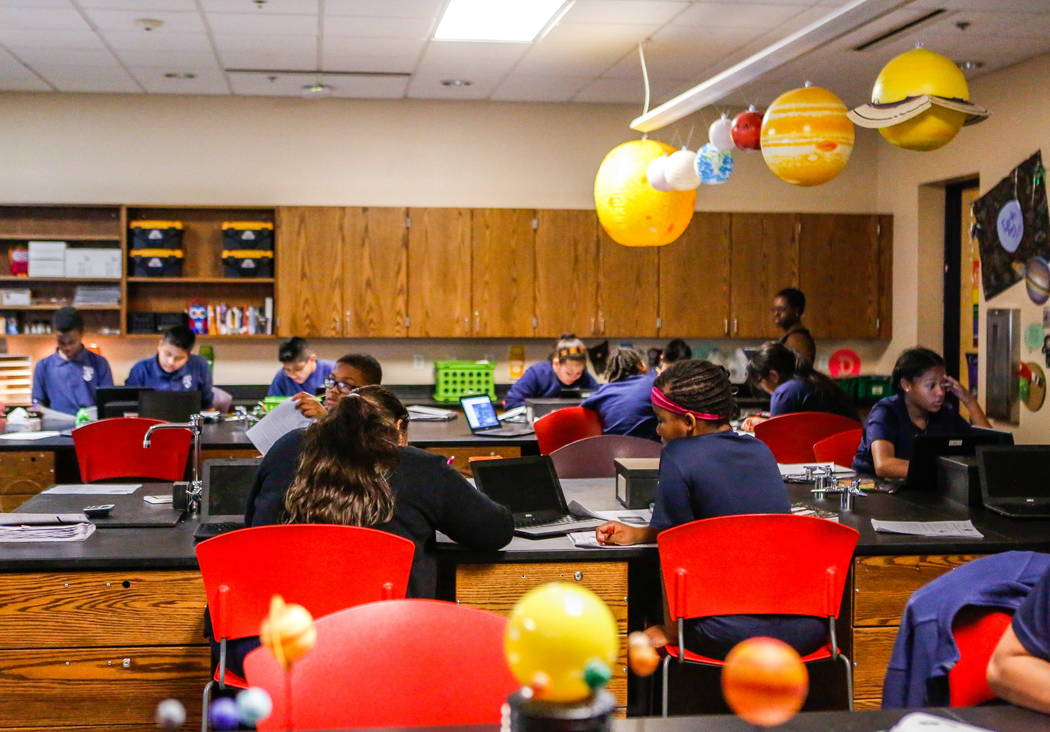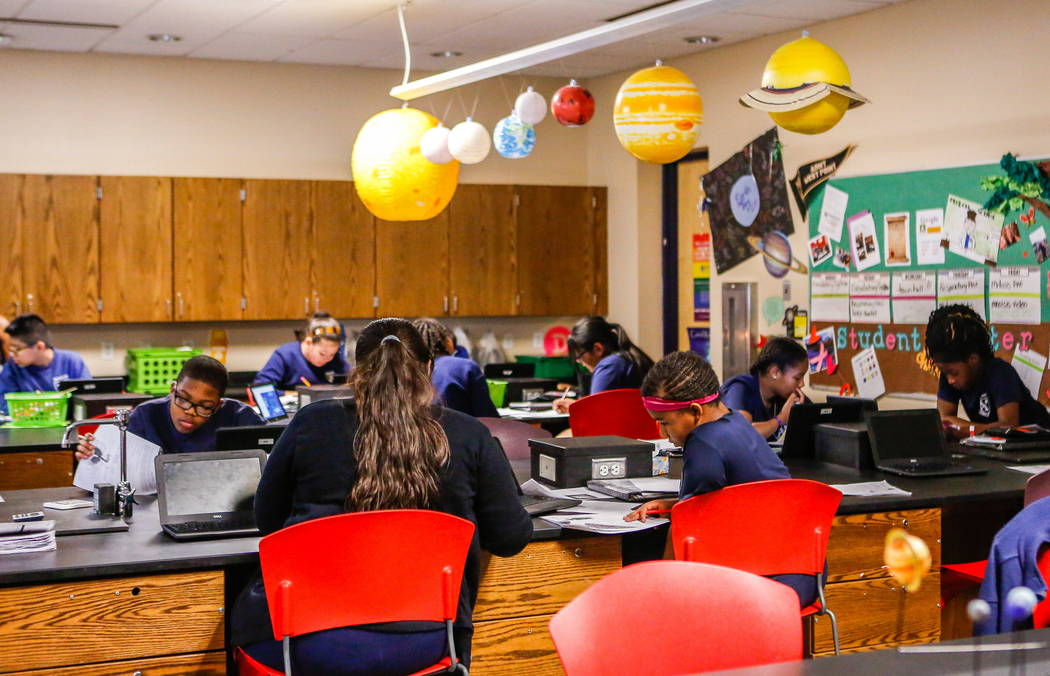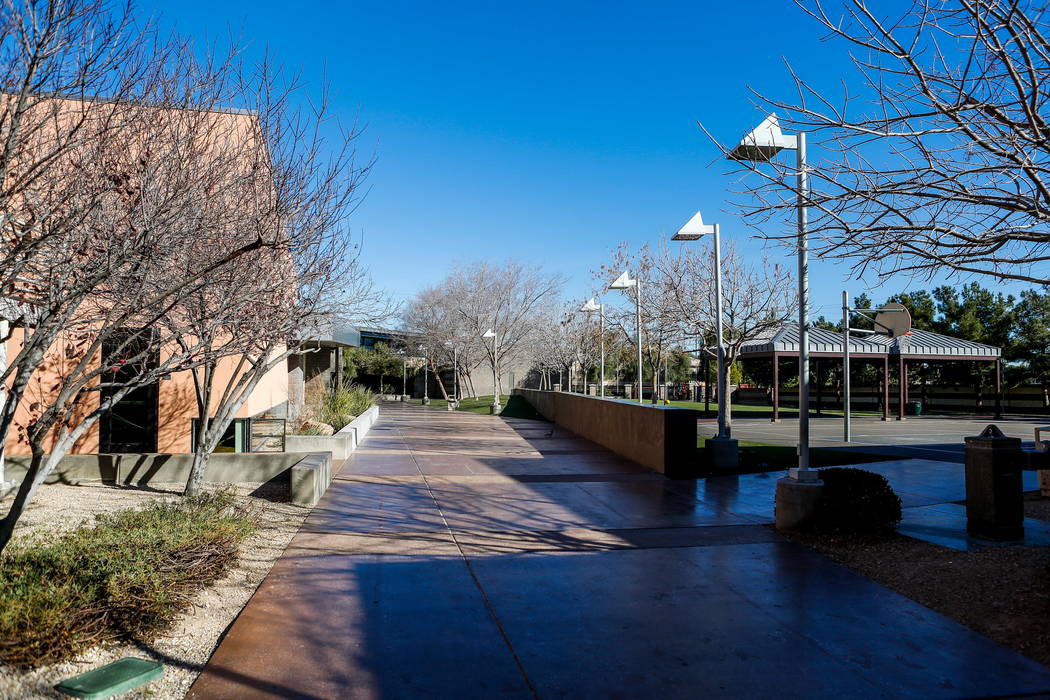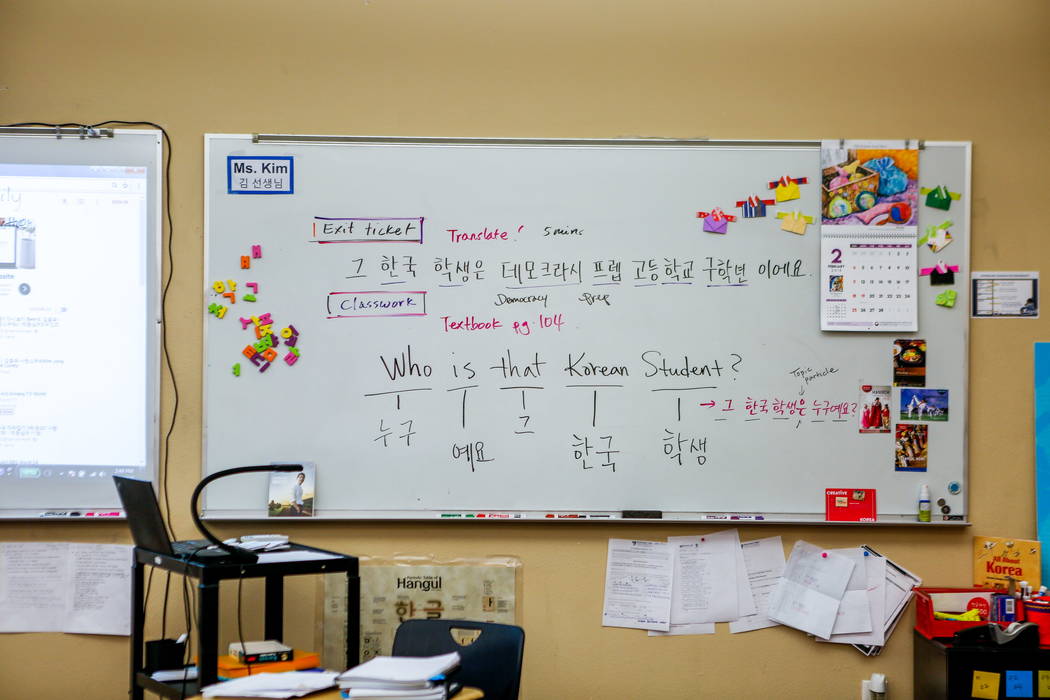 Adam Johnson doesn't go far without his little yellow notebook and pen.
Johnson is the executive director of Democracy Prep at Agassi Campus, a K-12 school in west Las Vegas. He took charge of the public charter formerly known as Agassi Prep last year, after its board of trustees voluntarily agreed to hand over control to an out-of-state operator under a state initiative designed to improve struggling schools.
The charter operator, New York-based Democracy Prep Public Schools, assumed command at the start of the 2017-18 school year.
That's a lot of change in a short time, but many things remain the same at the school at 1201 W. Lake Mead Blvd.: 83 percent of last year's students returned, enrollment remained stable and the sports program was untouched.
But much also is new, including changes distinctive to the Democracy Prep brand.
That includes high expectations: Students who receive a D aren't promoted to the next grade because, as Johnson puts it, that's not going to help every student reach the goal of attending college. Students also study Korean as a foreign language, an homage to the charter network's founder. And there are new teachers and administrators.
"Culture is not easy to shift in a day," Johnson said of the many changes during a recent tour of the school. "The thing I try to do the most of is listen."
And take notes. More than halfway through the school year, Johnson is on his third notebook.
'Flagship model'
As an existing charter, Agassi Prep "opted in" to the state's Achievement School District in December 2016. It was the only Clark County School District school to voluntarily agree to surrender operational control under the controversial state initiative. And it may be the only school that takes that route, as a "neighborhood option" model also allowed under the law isn't seen as being as controversial as the "takeover" or "transformation" model that Agassi underwent.
The three new schools joining the program for the 2017-18 year will all open under the neighborhood option, as occurred this year with the Futuro Academy charter partnering with Cambeiro Elementary School.
Democracy Prep came in after Agassi Prep's secondary school landed on the 2016 underperforming list, meaning it was in the bottom 5 percent of middle schools in the state. Though not on the list, the Agassi elementary school was not performing much better, with just two stars on the state's five-star rating system.
Data from this school year, the first with Democracy Prep at the helm, are not yet available.
Last year, when the partnership was announced, Gov. Brian Sandoval said it would serve as "the flagship" example of the Achievement School District program.
Not all parents saw it that way when classes began, however. Some distributed a flyer expressing concerns about longer school days, silent hallways and a "no excuses" policy.
Democracy Prep flair
Democracy Prep opened its first charter school in 2006, a middle school in New York City's Harlem neighborhood.
In addition to those attending the Las Vegas school, more than 6,500 students are now receiving their education at Democracy Prep schools in New York, New Jersey, Louisiana and Washington, D.C.
The schools have longer days, and often longer years, than their traditional public school counterparts. They also have a strong focus on community and civic engagement. Most Democracy Prep schools don't offer athletic programs, though the Las Vegas campus does.
Students are expected to do well enough to attend college, and Johnson wants them to be able to compete with students from elite high schools across the nation. He'd eventually like to create an "elite, private school atmosphere" at the school, whose student body is 71 percent black, 25 percent Hispanic. Two-thirds of the students qualify for free or reduced-cost lunch programs, a measure of poverty.
The school relies entirely on public funds — about $5,700 per pupil from the state and a few other federal education sources — so improving Nevada funding for education is of keen interest to Johnson.
But by using "scrappy" methods, the school makes it work. For example, supply costs are kept low and it invests in computers more than textbooks, a costly expenditure for districts. All Democracy Prep schools also share some central services, such as legal expenses and curriculum design.
"I'm able to stretch a penny till it shines," Johnson said of his budgeting.
Democracy Prep schools send all middle school students on multiple free trips to visit college campuses.
"It's important for them to be exposed," Johnson said of the middle schoolers. "The more you are exposed, the more you feel like you belong (on a college campus)."
High school students take an international trip each year, with families asked to pay a nominal amount of around $300 for a week abroad. This year, seniors are headed to Italy.
Each school also has a Korean language and culture program, the result of the time founder Seth Andrew spent teaching English in South Korea. The country highly values hard work and education, and the hope is that studying that culture will rub off on the American students.
Right now, Democracy Prep is still offering Spanish, though it's going to phase it out. In the meantime, Korean classes under teacher Genie Kim are getting fuller.
For most students, walking into the class is a complete shock, she said.
"If they can succeed in Korean class, (then in) chemistry, math, you can do it," Kim said.
Growing pains
The concerns, although quieter, have continued, particularly over the policy to hold back students who earn D's.
But Rebecca Feiden, the head of the state's Achievement School District program, urges patience, saying that change often raises concerns. And from what she's seen, school leaders are working hard to communicate with parents.
"We've certainly seen them engage deeply in that process," she said.
For the most part, Johnson said he's been listening and trying to overcommunicate. Parents and the school can rally behind a common aim, including helping students get to college, but communicating how certain practices help achieve that goal is more complicated.
"That has been tough," he said. "Explaining the why is more important than anything."
Contact Meghin Delaney at 702-383-0281 or mdelaney@reviewjournal.com. Follow @MeghinDelaney on Twitter.
Related
Principal has big plans for Futuro Academy in Las Vegas
10 struggling Clark County schools still eligible for state intervention
Sandoval touts Agassi Prep partnership as model for achievement district