Elementary school prepares for 'final flight' at Nellis
February 14, 2016 - 8:16 am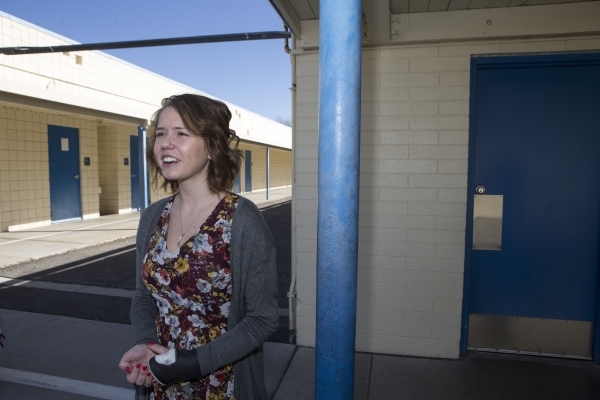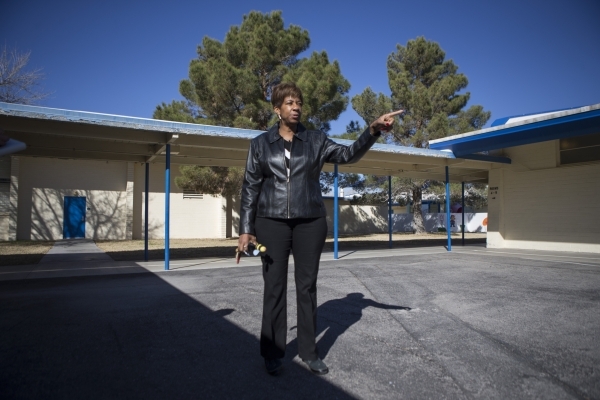 Emotions have been running high at Heard Elementary School at Nellis Air Force Base.
Teachers voices crack as they describe their love for the aging campus. Students fight back tears — most, unsuccessfully — as they offer parting gifts to their favorite teacher.
The school clerk, as if she were planning a funeral, calls former students and administrators with a somber invitation to a "final flight" assembly in May.
After more than four decades of serving thousands of military families and their children, the Clark County School District soon must shutter Heard Elementary and hand over the keys to a charter school.
"When we announced it to students in October, I had students who were devastated — like, on-the-concrete-sidewalk-crying devastated," fourth-grade teacher Allison Mesina said Tuesday as jets roared above her quiet classroom.
"Do you know how many times military families move around? For some of (the students), this has been a really strong sense of security and stability," Mesina added. "Now that's changing, and they have no control. They have no idea what's coming next."
In August, the high-performing Coral Academy of Science, a public charter school, will move into Heard, which most recently earned a four-star accountability rating from the state. Coral Academy officials have encountered many questions about what exactly a charter school is but already have received enough applications for the Nellis campus that it had to start a waiting list.
For the past decade, Nellis officials have pleaded with the school district to replace the 63-year-old school with a new one in a quieter part of the base. The district declined and last year revealed a $420 million plan to build 14 new or replacement schools over the next two years.
Absent from that list: Heard Elementary. Instead, the district will replace Lincoln and Bell elementary schools, which opened two and 10 years, respectively, after the Air Force built Heard in 1953.
"I'm sad, a little bit, that we're closing a school that's been an institution on that base for a lot of years," said Clark County School Board member Chris Garvey, whose district includes Heard.
She noted military parents feel secure sending them to a school within the base gates but questioned whether the incoming operator could successfully accommodate the students there, especially those with special needs.
"It's a concern," she added. "If you had a child like that, you want to make sure that child has the best opportunities to grow and develop. For me, I just want to make sure parents don't have to choose between safety of the base or a program for their child."
Different demographics
The School Board on Thursday unanimously voted to close Heard on June 30.
The Air Force, meanwhile, is negotiating to replace Heard with Coral, which has three campuses in the Las Vegas Valley.
Coral boasts the state's highest-possible accountability rating but serves a student population with less diversity and fewer disadvantaged students. In 2014-15, less than one-fifth of its students were black or Hispanic. Only 6 percent qualified for free and reduced-priced lunch, and only 4 percent identified as special education.
Contrast that with Heard, where 30 percent of students are black or Hispanic, a full third comes from low-income households, and the special education population hovers around 15 percent.
Master Sgt. Sanjay Allen, a Nellis spokesman, directed questions about Coral Academy's ability to handle a more diverse student population to the charter school.
Asked how Nellis will ensure the school serves special-needs children well, Allen wrote in an email that Coral Academy "complies with federal and state regulations with establish eligibility criteria for all students seeking special education services."
'The whole kid'
For its part, Coral has not ignored concerns that it may face a learning curve when it expands to Nellis.
The charter, which offers a science- and mathematics-based curriculum, will operate for two years in the former Heard building.
During that time, it will build a facility of up to 50,000-square-feet that will serve 800 to 1,000 students in kindergarten through eighth-grade. Coral expects to pay $1.9 million to $2.1 million in campus construction debt over 25 years.
More immediate, Coral Academy must hire enough workers to staff both the Nellis expansion and a new elementary campus in Centennial Hills. Both open in August.
"We view that as a positive," said Candyce Farthing, Coral's chief academic officer. "They're both K-5."
Farthing and her staff will meet with their counterparts at Heard to learn what it takes to meet the unique needs of military children.
Heard last year reported a transiency rate of 32 percent, meaning nearly a third of students move to or from the campus as their parents received new assignments from the Air Force.
Heard also welcomes students who travel the globe and may have limited proficiency in English — Coral taught no such students last year.
And schools that serve military families must be prepared to help students who lose a parent in combat.
Farthing stressed the Nellis campus will house a full-time counselor, mentoring and other services to focus on "each, individual" student. "We support the whole kid," Farthing said.
The full-time counselor already has been hired, school officials said Saturday.
'Closing a chapter'
At the end of this month, Coral will host a public lottery for all students who apply to enroll in any of its campuses.
Nonmilitary families, if they won a spot at the Nellis school, would have encountered security clearance issues to enter the base. But state law grants priority enrollment to military families and children of civilians who work at Nellis.
Those priority groups have filled every seat at the Nellis Coral, with many more on a waiting list. Students who attend Heard but do not get into Coral will be absorbed by two nearby elementary schools, based on class size per grade.
Initially, the Nellis Coral will have 600 students and about 75 teachers.
Prospective candidates can apply at two job fairs on Feb. 20 and April 9, and Farthing said she would "love" to receive applications from the existing Heard staff.
That staff includes kindergarten teacher Cristina Manns, who once attended Heard as a military brat.
"This has been so special for me because I used to walk these same hallways and know what it's like to have to adapt," Manns said. "This was my first school in the states, so it's really like closing a chapter. It's heartbreaking."
Contact Neal Morton at nmorton@reviewjournal.com or 702-383-0279. Find him on Twitter: @nealtmorton