Few Clark County children go to preschool – why that matters
December 7, 2017 - 6:09 pm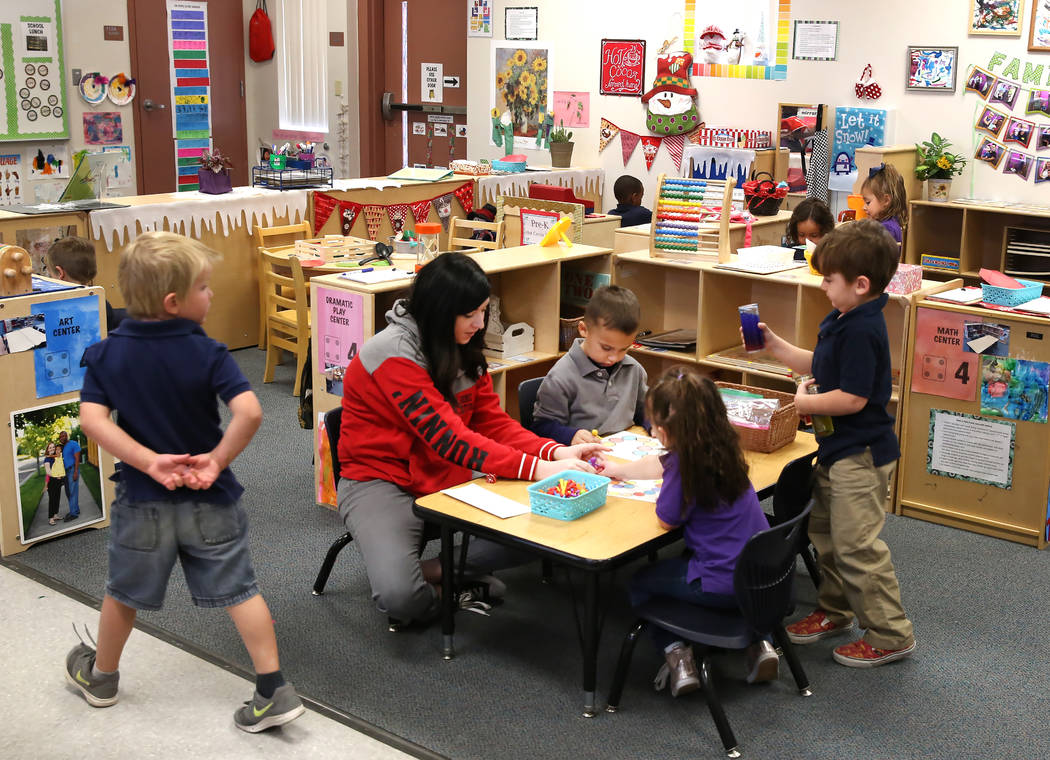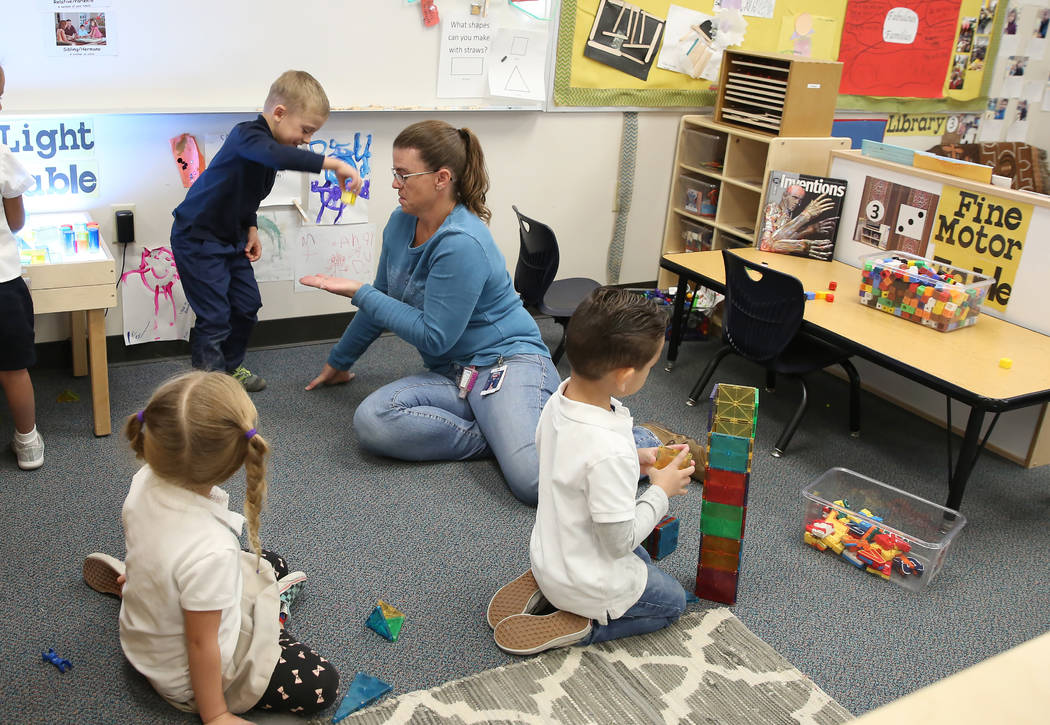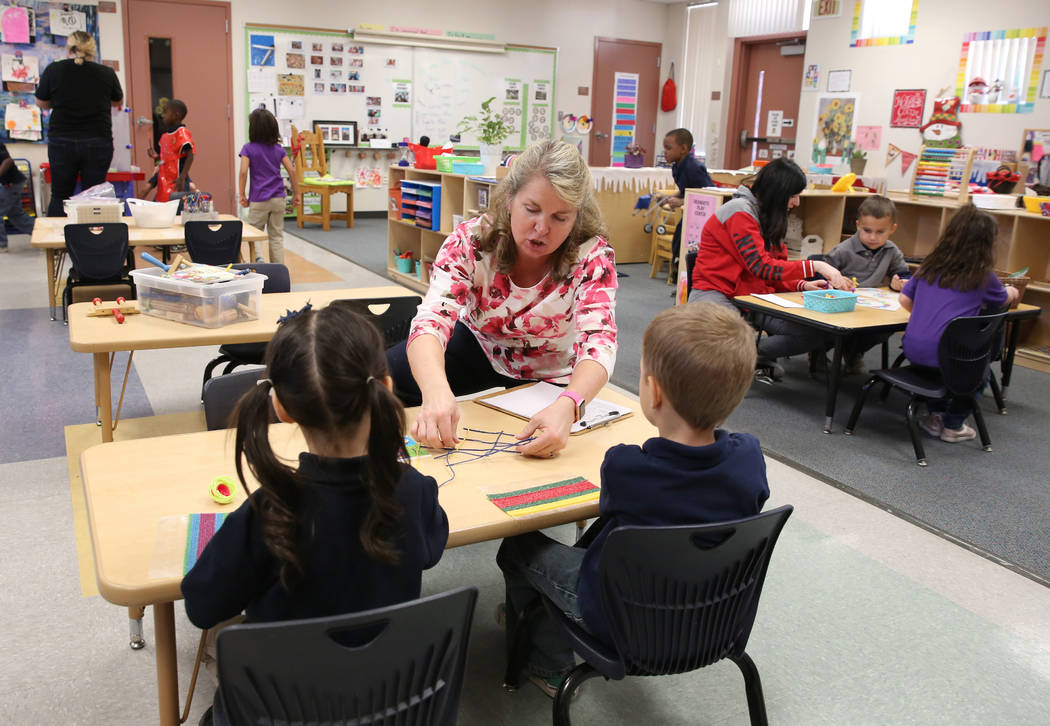 Preschool teacher Katelyn Ferman has her hands full.
With 20 children in her full-day preschool class at McCaw Elementary, she regularly has to quickly switch gears from teaching social skills to calming 4-year-old meltdowns.
Challenging though they might be, her students are among the fortunate minority in Clark County who get an opportunity to attend a public preschool, an experience that experts say increases the likelihood of future academic success.
Nevada is near the bottom of the pack in preschool availability compared to the rest of the nation. In the 2015-16 school year, it ranked 39th out of 44 states and the District of Columbia in availability of preschool for 4-year-olds, and 29th of 29 states in state-funded access for 3-year-olds, according to the National Institute for Early Education Research.
In Clark County, just 31 percent of 3- and 4-year-old children are enrolled in preschool, according to 2011-2015 estimates from the Census Bureau's American Community Survey. Statewide the rate was slightly higher — 32 percent — for the period.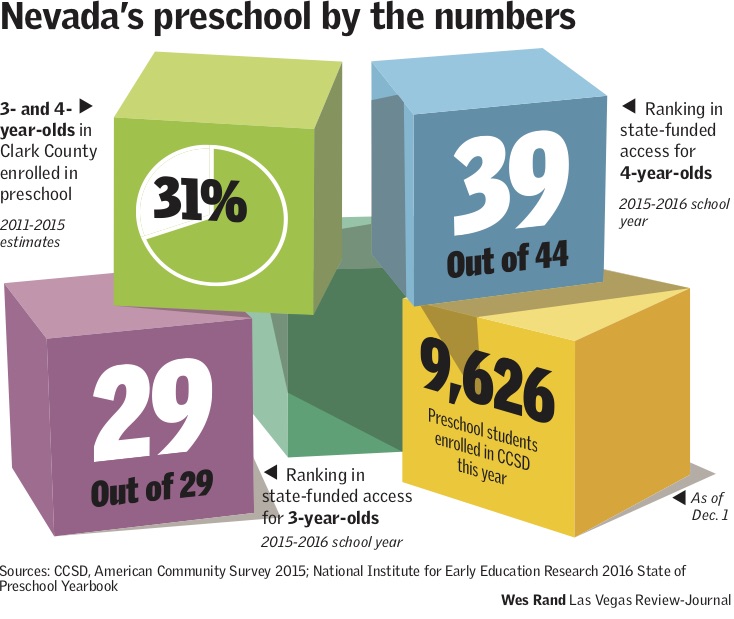 Those figures show a need for early childhood education programs, according to Elaina Mule, vice president of collective impact and social innovation for the United Way of Southern Nevada, which recently issued a report on early childhood education.
"Early education is a topic of conversation in our community, but it's usually focused (on) the benefits of the children," Mule said. "It becomes sort of controversial when we talk about funding early education."
Nevada has shown improvement in recent years, reaping the benefits of the federal dollars available through the Preschool Development Grant. That fund, which has grown from $8.5 million in 2015 to $19.8 million in 2017 with a state match, has added 991 new full-day slots and expanded 1,564 others from half- to full-day this year.
There's still a long way to go before public preschool becomes universal.
Serving the neediest
The Clark County School District receives funding for preschool in a variety of forms, enabling it to offer programs in 215 of about 224 elementary schools. This year, there were 9,626 preschoolers in the district as of Dec. 1. By the end of the school year, the district anticipates serving closer to 11,000 students.
Yet the vast majority of those funds restrict openings to students who are from low-income families, in special education, or zoned to attend a school with a high level of English language learners.
The federal Preschool Development Grant, for example, only can be used to serve 4-year-olds whose families are at 200 percent of the federal poverty line or below, and must also serve a percentage of special education students. And state Victory and Zoom funds, which also can be used for preschool, are reserved for schools with high poverty or a high population of English language learners.
Separate state funding has remained relatively flat in recent years at about $3.4 million annually, according to the Department of Education.
Julie Kasper, director of the Clark County district's early childhood programs, acknowledged that preschool-age children are still being underserved, but said it's still a huge improvement from the past.
"When I started here in 1995, we had maybe a total of 100 programs," she said. "And only two of those were full-inclusion programs that served children without disabilities."
Now preschool programs are available at the majority of elementary schools, she said.
Aside from district preschool, there are also other options through private schools or the Head Start program, a separate federal initiative for low-income students.
Benefits of preschool
At McCaw elementary, Ferman's class sometimes seems like a glorified day care.
But experts say preschool is much more than that. It teaches children social-emotional skills and helps prepare them for kindergarten and beyond.
"Often, people think, 'Well, anybody who's had children knows how to teach a 3- and 4-year-old,'" said Steven Barnett, director of the National Institute for Early Education Research. "The problem is, they don't."
One of the most significant studies, which followed a group of Michigan students for three decades, concluded that those who were enrolled in preschool completed higher levels of education and earned more by age 27 than those who did not.
Children who grow up in disadvantaged circumstances are often a year and a half behind when they start kindergarten, Barnett said. Preschool can help close that gap.
Preschool access isn't just an issue in Nevada — it's a challenge nationwide.
Seven states did not offer state funds for preschool programs in the 2015-2016 school year, according to the State of Preschool report.
Middle-income families are often caught in between when it comes to preschool education for their kids, Barnett explained. Many can't afford a private preschool, but they also don't qualify for low-income spots at public preschools.
The challenge for states, Barnett said, is to explain to the public why preschool is a worthwhile investment.
"Every child can benefit from a good early education, whether that's provided in a center or in a home," Barnett said. "Increasingly, it's not possible for parents to do that and not be poor."
Contact Amelia Pak-Harvey at apak-harvey@reviewjournal.com or 702-383-4630. Follow @AmeliaPakHarvey on Twitter.
Clark County School District preschool funding sources
1) NV Ready/Preschool Development Grant: 618 seats
2) Title I money: 1,892 seats
3) Zoom money— 1,659 seats
4) Victory money — 62 seats
5) Head Start collaboration — 170 seats
6) Special education funds (IDEA) — 4,225 (plus another 980 students in the typical peers program runs with special education students) seats
7) UNLV program — 20 seats
Total: 9,626
Source: CCSD (numbers as of Dec. 1)