Florida educator named next Clark County schools superintendent
Updated May 2, 2018 - 7:45 pm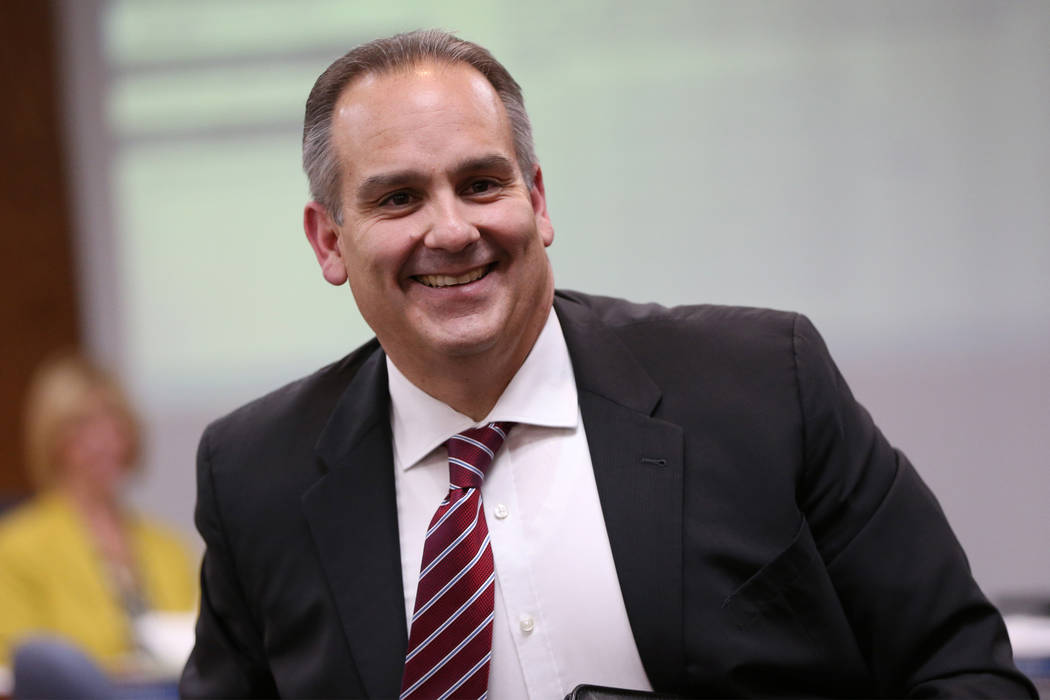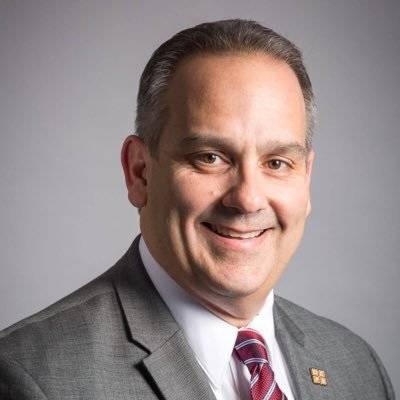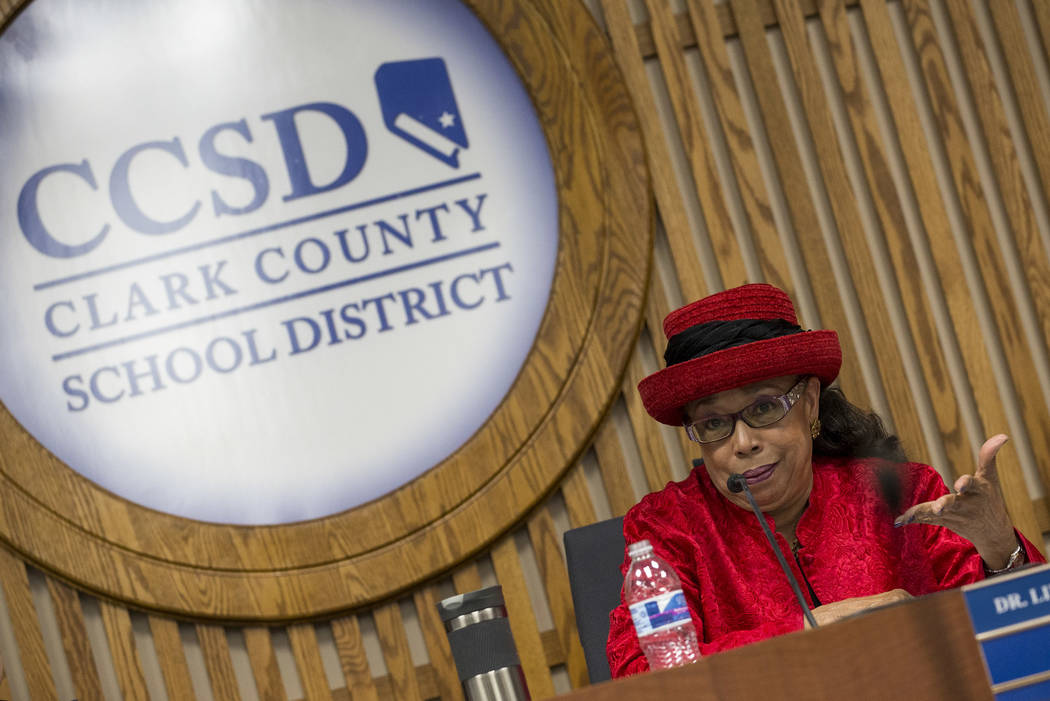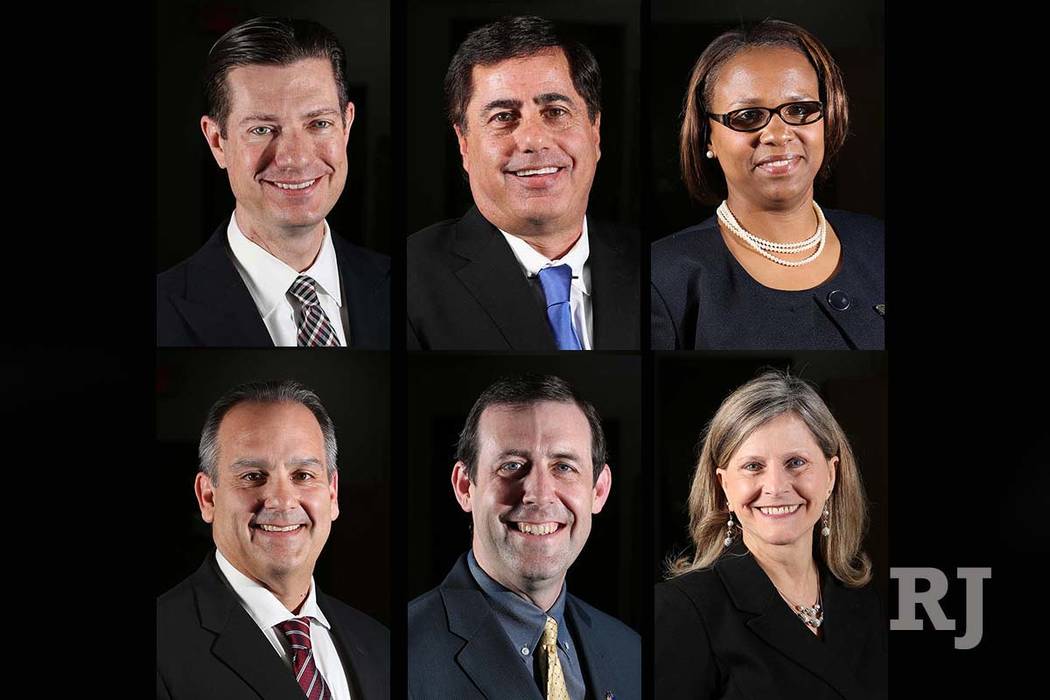 The people spoke, but the Clark County School Board went its own way.
At the end of a contentious, 4½-hour meeting on Wednesday that featured a vocal campaign for one of the district's own, the divided trustees picked an outsider to succeed retiring Superintendent Pat Skorkowsky as head of the nation's fifth-largest school district.
The selection of Jesus Jara, deputy superintendent of Orange County Public Schools in Orlando, Florida, came by a 4-2 vote.
Voting for Jara, 48, were Trustees Carolyn Edwards, Lola Brooks, Linda Cavazos and Kevin Child. Trustees Deanna Wright and Chris Garvey voted "no," and Trustee Linda Young abstained after her preferred candidate was not chosen.
The vote for Jara came after trustees rejected Mike Barton, the district' chief academic officer, by a 4-3 vote despite an avalanche of praise and support from district employees and community members.
No votes were held on the four other candidates. Don Haddad, Shonda Huery Hardman, Jesse Welsh and Eva White, who participated with Jara and Barton in the interview process last week.
"Education changed my life; it gave me opportunity," Jara said in a statement Wednesday night. "Ensuring that every single student gets that same opportunity is why I first became a teacher and what drives my work every day. I could not be more eager to get to work alongside CCSD's incredible teachers, principals, and staff to build on and accelerate the district's progress, and I look forward to starting by listening to the entire Clark County community about what has been working and where we can continue to improve."
A Clark County School District spokeswoman said that contract talks will begin shortly. The trustees hope to have him in place by early next month, and he can overlap with Skorkowsky for a few weeks.
Board deliberations
Barton, the district's chief academic officer, appeared to have all of the momentum after the public comment portion of the meeting, in which nearly every speaker sang his praises. But the vote to offer him the job failed, with Child, Garvey and Young voting in favor and Brooks, Cavazos, Edwards and Wright in opposition.
"I love Dr. Barton, I think he is amazing. But I will not support him for superintendent," Edwards said during the debate.
Barton's backers on the board said they were heeding the wishes of their constituencies, but other trustees questioned the show of support and indicated they had heard from people who felt pressured or even threatened to support Barton. The trustees said they didn't think Barton was involved in the campaign, but it colored their ability to support him.
"We can't blame the candidates for the tactics," Child countered.
Barton's lack of experience in contract negotiations also was raised by Brooks and Wright.
"I would call Mike Barton and his wife a friend," Wright said. "But does that mean that I vote for him to be superintendent because he is my friend or do I look at all the things that I need done in this district that maybe he has not quite gotten the experience to do?"
Young strongly backed Barton, and some of her comments, including one in which she said a vote against Barton was a vote against the district's children, drew the ire of other trustees. Young also said Barton was the only candidate who got the support of the largely black and Hispanic community she represents.
"I want to state, just for the record, my decision on the last vote was not about race, it's about our entire student population and what I believe will be best for student achievement, for climate and culture," Edwards said after the vote.
Barton told the Review-Journal afterward that he was appreciative of all those who turned out to support him and said he did not direct anyone to pressure anyone on his behalf.
"I just think sometimes people who supported me, passion may have blurred the line with pressure," he said.
Barton said he is going to stay loyal to the organization and hopes to work closely with Jara.
"I want to make sure Dr. Jara is supported and welcomed into the community. I feel we have a lot of work to do together," he said.
New superintendent
Jara's experience as a superintendent in Monroe County Public Schools, which includes the Florida Keys, coupled with current duties as deputy superintendent in the large, urban Orange County district earned him support.
But Garvey, in particular, expressed concerns about Jara's involvement in certain educational groups, including the nonprofit Chiefs for Change, charging that they promote charter schools and hurt traditional public schools.
Jara is a member of the group's Future Chiefs program, which is aimed at building a pipeline of state and district leaders. The organization describes itself as a nonprofit, bipartisan network that champions policies that make a difference for students.
After Jara's selection, state Superintendent Steve Canavero said he was looking forward to working with him.
"I look forward to partnering with him to ensure all students receive a world-class education and gain access to the college and career opportunities they deserve," he said in a statement.
Other were hoping that Jara would dive straight into work. The Clark County Education Association urged him to quickly address what it said was an all-time low in the relationship between the district and the union.
"CCSD has lost two straight arbitrations with CCEA with a third scheduled for June 11-13, 2018. Jara will inherit this problem. Accordingly, we expect Jara to make it a priority to improve labor relations the moment he begins his new job," spokeswoman Christina Cober said.
Contact Meghin Delaney at 702-383-0281 or mdelaney@reviewjournal.com. Follow @MeghinDelaney on Twitter.
Reactions to Jara's selection
Jesus Jara's selection was praised Wednesday by many who have worked with him, including Barbara Jenkins, his current boss in Orlando, Florida.
"We are incredibly proud that the Clark County School District Board of Trustees selected our own deputy superintendent, Dr. Jesus Jara, to be their new superintendent," Jenkins posted on Twitter. "His talent, consistently demonstrated in (Orange County Public Schools), will be of tremendous benefit to all the children of Las Vegas."
Jara was described by colleagues as a "true educational leader," who is rarely ruffled.
"I have nothing but great things to say about him," Orange County School Board chair Bill Sublette told the Review-Journal last week.
Chiefs for Change CEO Mike Magee said Jara is a visionary who would help Clark County close achievement gaps.
"As a Future Chief, he has had the opportunity to learn from the country's boldest, most innovative education leaders, and he will continue to collaborate with them as he transitions into his new role as superintendent," he said in a statement.
Jara does have his critics.
The teachers union in Monroe County wrote a letter to the local teachers union expressing concerns over Jara's handling of the school district's financial crisis, which included furlough days for staff. The letter said Jara couldn't effectively manage the small district there and wouldn't be able to manage district the size of Clark.
In a tweet over the weekend, Jara said he was "disappointed" by the letter and defended his work to stabilize the district's budget.