Las Vegas students get lesson in pre-integrated military
February 12, 2018 - 4:14 pm
Updated February 12, 2018 - 8:42 pm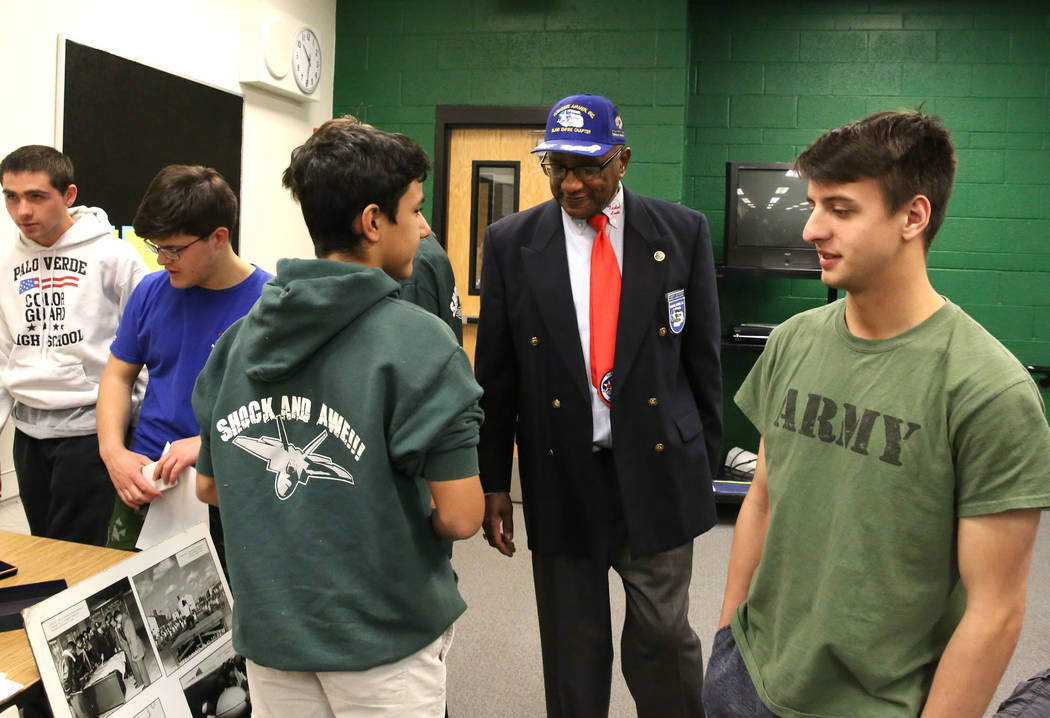 When Zack Severance and Brian Wolstencroft hear about segregation, it feels like something way back in the history of the United States.
But on Monday, the Palo Verde High School students were reminded that less than a century ago, black pilots flew separately while fighting against Germany in World War II.
"It's just crazy that it wasn't that long ago things were that different," said Wolstencroft, a 17-year-old junior.
Robert Lee Porter, a retired Air Force veteran and past president of the San Diego chapter of the Tuskegee Airmen, made a presentation to the Air Force Junior Reserve Office Training Corps students as part of Black History Month. Porter, who was drafted out of college in the 1970s, said those pilots helped paved the way for him, and he felt compelled to tell their stories.
The men were segregated on bases, and Porter said they fought two wars, one against the Nazis and another with racism.
"These guys just wanted the same thing everybody else wanted," he said. "Racism always will be, you know? But it was so prevalent for these guys; that was the norm. I think it's better now, not that we are one."
For students now, it's hard to imagine.
"That's totally messed-up," Severance said. "I think it's very important we learn the sacrifices they made for us."
The airmen, trained at the Tuskegee Army Air Field in Alabama near the Tuskegee Institute, first deployed in April 1943 over North Africa. Known as Red Tails, after the color on the tails of their planes, the Tuskegee Airmen completed 15,000 sorties.
In total, 996 pilots and 15,000 support personnel were trained.
The military remained segregated until 1948, when President Harry Truman signed an executive order mandating integration. It was under that model that Porter served, and he said the Tuskegee Airmen paved the way for his experience.
About 20 of the original airmen are still alive now, Porter told the students. Many of them are nearly 100 years old. In 2007, the Tuskegee Airmen were awarded the Congressional Gold Medal, the highest civilian award presented by the U.S. Congress.
A previous version of this article misidentified the medal presented to the Tuskegee Airmen.
Contact Meghin Delaney at 702-383-0281 or mdelaney@reviewjournal.com. Follow @MeghinDelaney on Twitter.