'Not normal': CCSD takes on school safety in wake of shooting, threats
Updated May 10, 2023 - 5:32 pm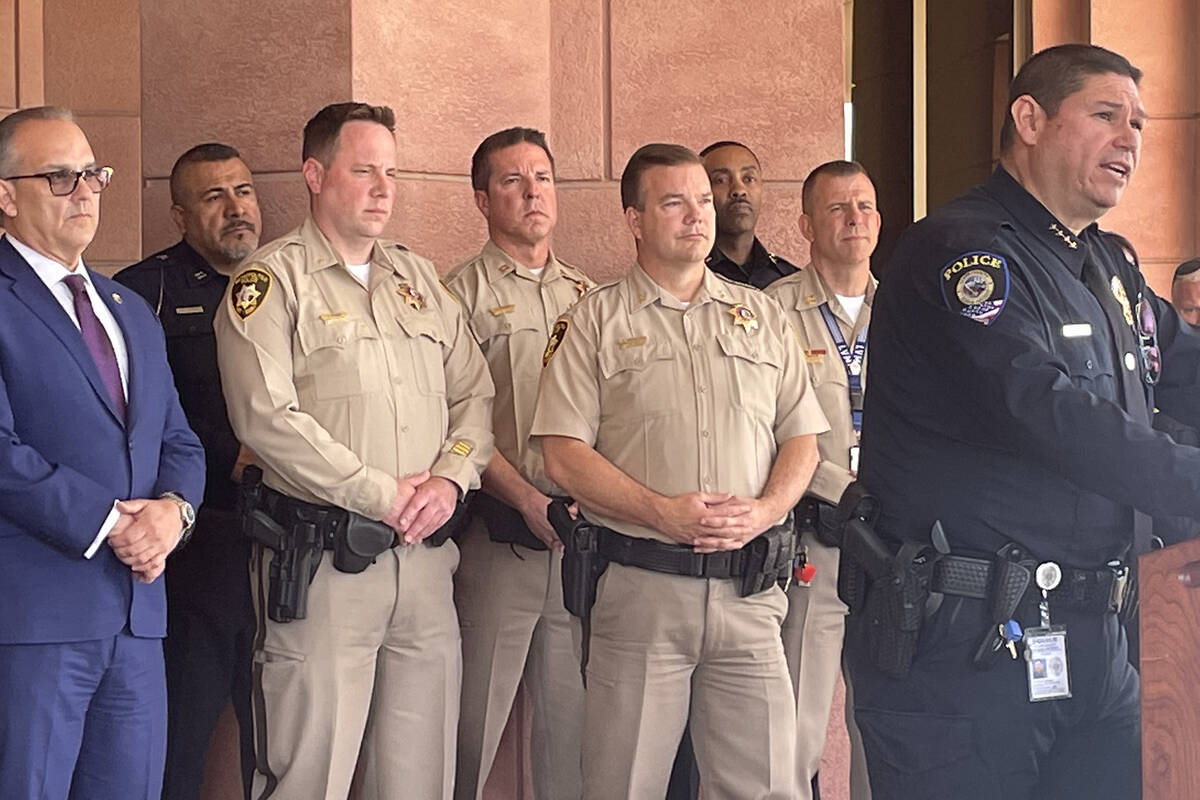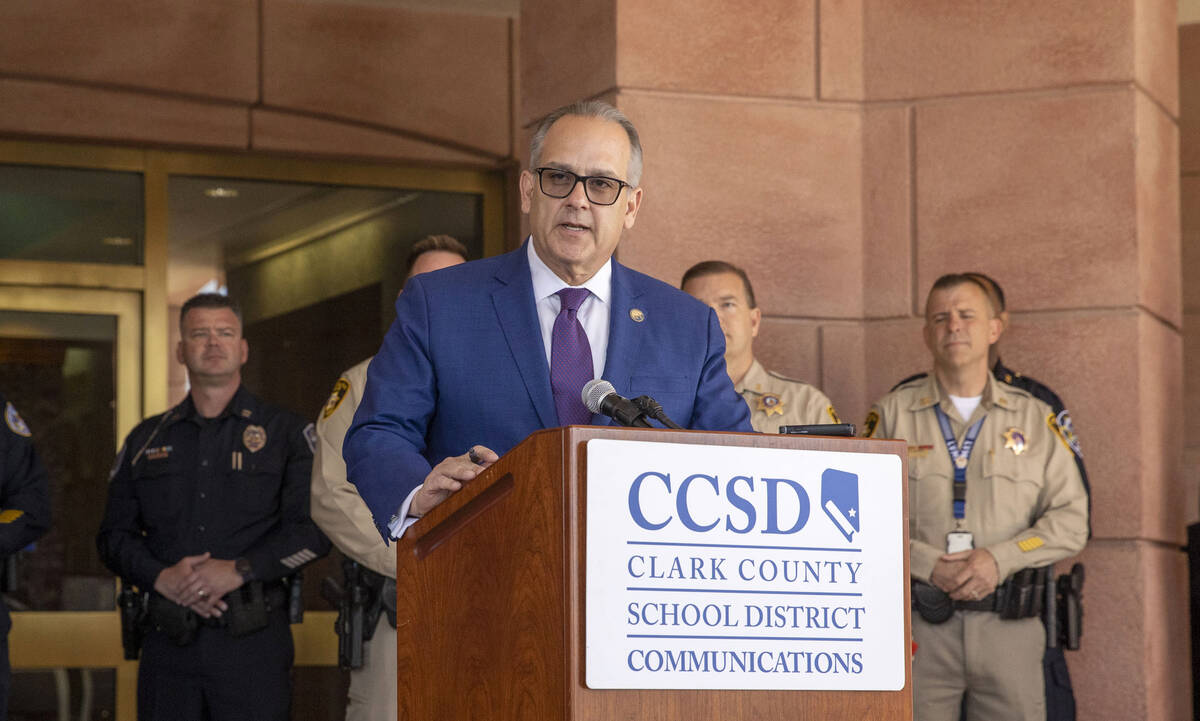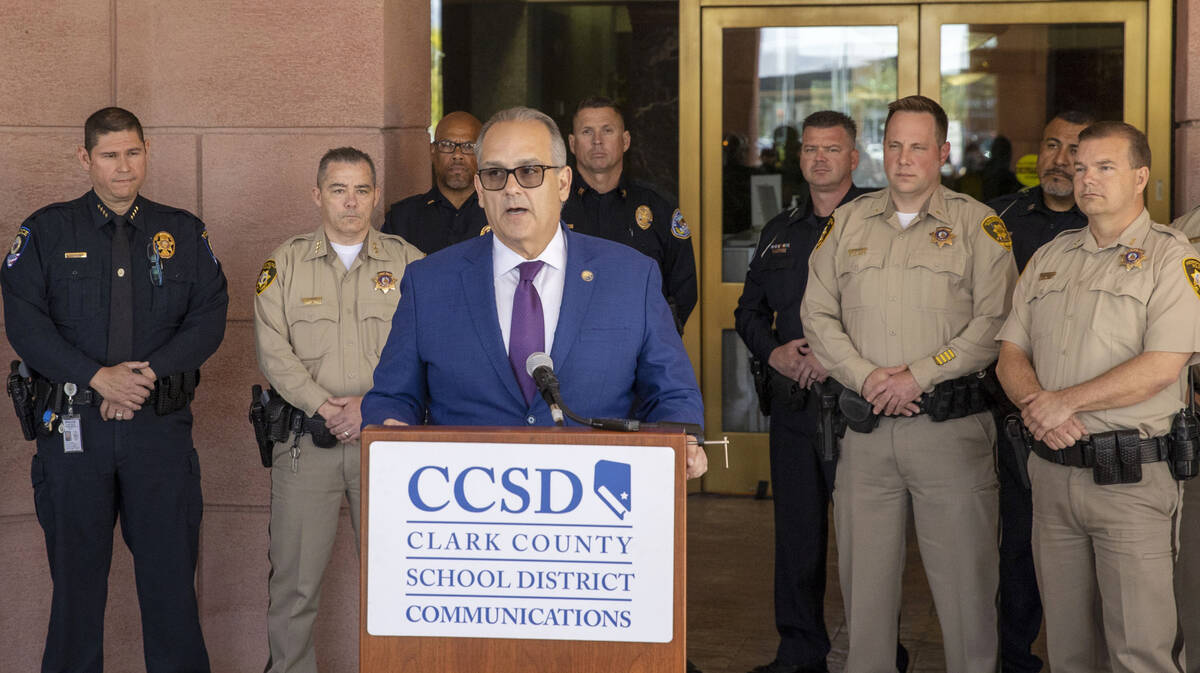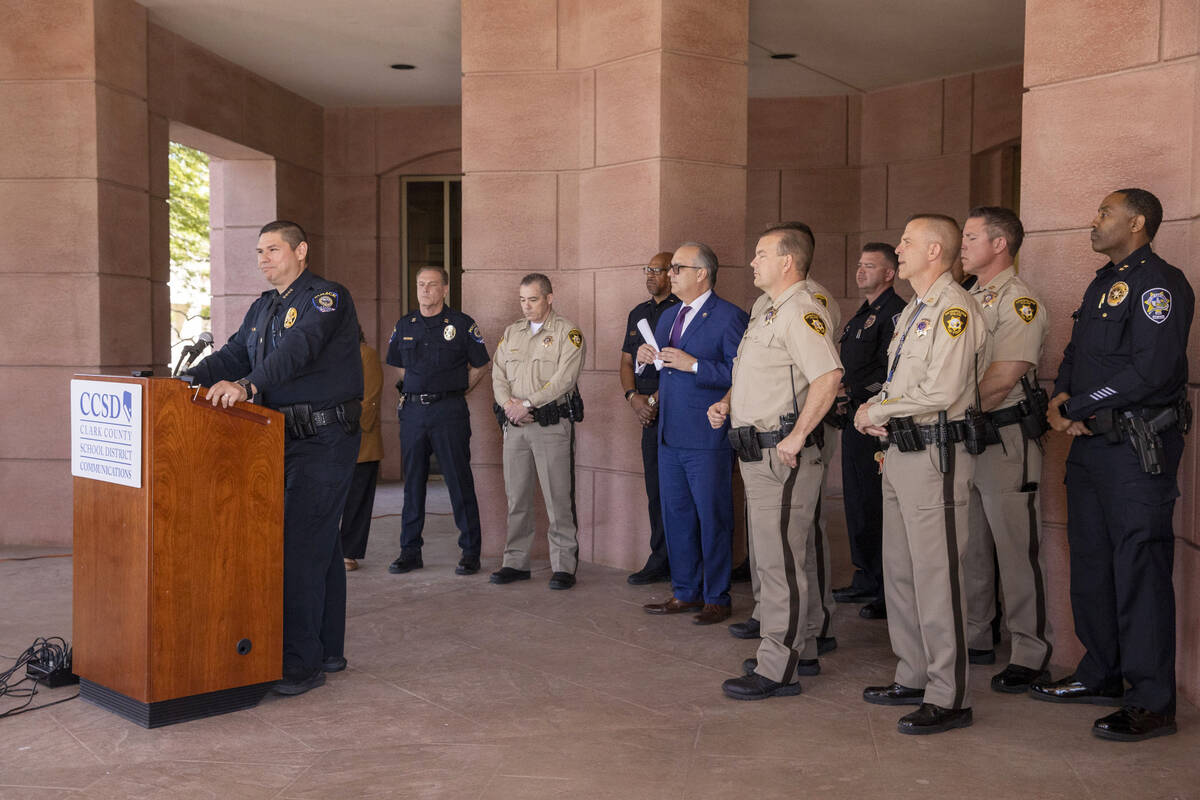 Amid nationwide social media threats and a campus security monitor being shot this week, Clark County School District and law enforcement officials called Wednesday for the community's help to ensure school safety.
School Board President Evelyn Garcia Morales said the community cannot accept violence any longer and cannot wait until their own child or relative is affected by these "senseless acts."
"This is not normal," she said.
Families, as well as cities and counties, must step up to prevent violence from spilling onto school district campuses, Garcia Morales said.
While addressing reporters at the district's administrative center on West Sahara Avenue, officials encouraged parents to be proactive in monitoring their child's activities, including knowing where they are, checking their backpack for weapons and monitoring their social media use.
They also urged parents to secure firearms at home and to report any suspicious activities to SafeVoice, the state's anonymous reporting hotline, at 1-833-216-SAFE (7233) or safevoicenv.org.
On Monday, a campus security monitor was shot outside of Von Tobel Middle School in northeast Las Vegas. A stray bullet from a shooting a few blocks away hit the employee, police said.
Police said Tuesday that 18-year-old Jessie Rios was arrested and charged in connection with the shooting.
Social media threats against schools have been circulating for days.
School District Police Chief Henry Blackeye said there are a lot of social media threats that are causing concerns around school safety.
The district wasn't able to provide the Las Vegas Review-Journal with student attendance data Wednesday, amid another day of threats.
But on Tuesday — the day after the campus security monitor was shot — only 50.5 percent of students were in class at Von Tobel Middle School, the district said. That is a steep drop from the school's average daily attendance rate this school year of about 83 percent.
With less than two weeks left of the school year — which ends May 22 — Superintendent Jesus Jara said the district has worked with law enforcement to increase patrols around campuses. School police Lt. Bryan Zink said Tuesday there would be two officers assigned to most high school capmuses, as well as additional officers normally assigned to administrative jobs out on patrol.
"We do this every year at the end of the school year," Zink said.
This school year, 30 firearms have been confiscated at schools — five of which were from adults coming onto campuses, Jara said. That compares with 33 firearms recovered last school year.
The youngest child who brought a gun to school was 6 years old.
"These are community challenges that are coming into our schools," Jara said.
Also, 35 BB guns and 182 knives have been confiscated this school year. Jara called the numbers unacceptable.
The nation's fifth-largest district, with more than 300,000 students, is also investigating different options for security measures for next school year, Jara said.
Some districts across the country, for example, are requiring students to have clear backpacks, he said.
The district has also asked the state Legislature for $21 million to increase the number of school police officers, Jara said.
The district is also planning a pilot program to use metal detectors at some of its schools, Blackeye said.
He said he hopes to end the school year with no more security occurrences in and around schools affecting students.
Metropolitan Police Department Undersheriff Andrew Walsh emphasized the importance of parents being proactive with their children.
During her remarks, Garcia Morales asked: "When will we have enough?" — enough of social media threats, and violence in the community, and in and around schools.
"Our schools must be safe environments where our children can learn and grow," she said. "And all of our children are depending on it."
Contact Julie Wootton-Greener at jgreener@reviewjournal.com or 702-387-2921. Follow @julieswootton on Twitter. Review-Journal staff writer David Wilson contributed to this report.