Parents pursue alternatives as Fremont school faces closure in Las Vegas
November 27, 2016 - 10:10 pm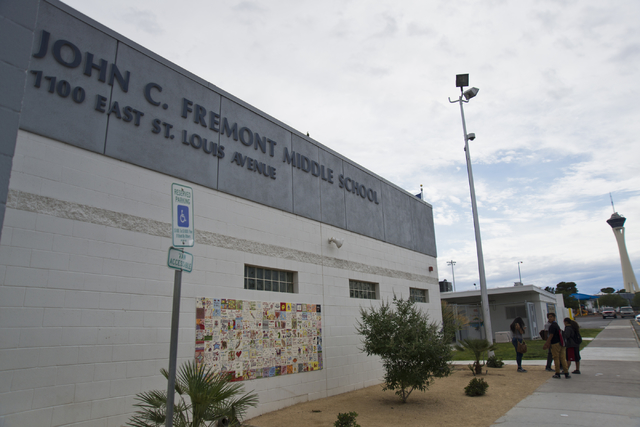 The potential closure of Fremont Professional Development Middle School has caused concern among parents and community leaders, leading to meetings with Clark County School District officials about alternatives to shuttering Fremont in 2018.
The faith-based group Nevadans for the Common Good has organized parents who would have issues concerning transportation and other things if the school were to close.
"At this point, we're really very concerned about what a proposed school closure would mean for families and future families at Fremont," said Courtney Dufford, an organizer of the group. "Transportation is a major concern that's come up as we talk with parents and the difficulties that would mean."
The district could close the school as part of a $2.1 billion plan to build 17 new schools across the Las Vegas Valley and close or replace another 17 old buildings.
Fremont would be rebuilt and converted to an elementary school, one that the district needs as it faces overcrowding in those grade levels. Fremont students would be rezoned to attend Smith Middle School, roughly four miles away.
Fremont earned a very high score on a facility-ranking index that determined which schools could still be feasibly repaired, according to Chief Student Achievement Officer Mike Barton.
"When you think about all the money that's going into the HVAC system, the work orders are just so numerous at Fremont that the outages are expensive," Barton said, noting that the school is beyond economic repair.
The group met with Barton recently to discuss options for the school's future. Both parties said the meeting went well, and they will meet again in December.
Developments with the Achievement School District also could affect the school's future.
If nearby Orr Middle School were to become part of the achievement district, Barton said, that would change the dynamic in the area as well.
As a professional development school, Fremont also is considered a training ground for future teachers.
"That is another complexity that we need to look at," Barton said. "It's been such a strong, (respectful) partnership."
Patt Burton, whose granddaughters attend the school, said the situation is "kind of yucky" all around.
"Right now we attend the school for meetings and to see our children and such," she said. "But now we wouldn't be able to because the school is going to be further and a lot of the parents don't have cars."
She is hoping that the school is rebuilt as a K-8 school instead.
The Clark County School Board would need to approve the official closure of the school.
Contact Amelia Pak-Harvey at 702-383-4630 or apak-harvey@reviewjournal.com. Follow @AmeliaPakHarvey on Twitter.