Parents, teachers clash at CCSD meeting to address sexual misconduct
Updated June 15, 2017 - 11:21 pm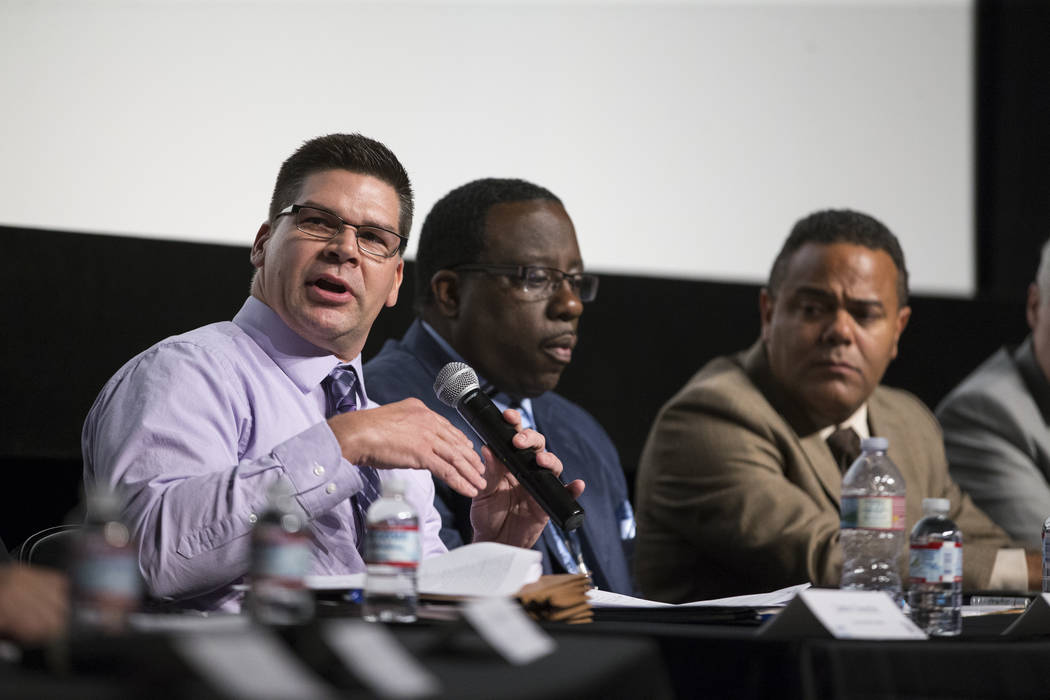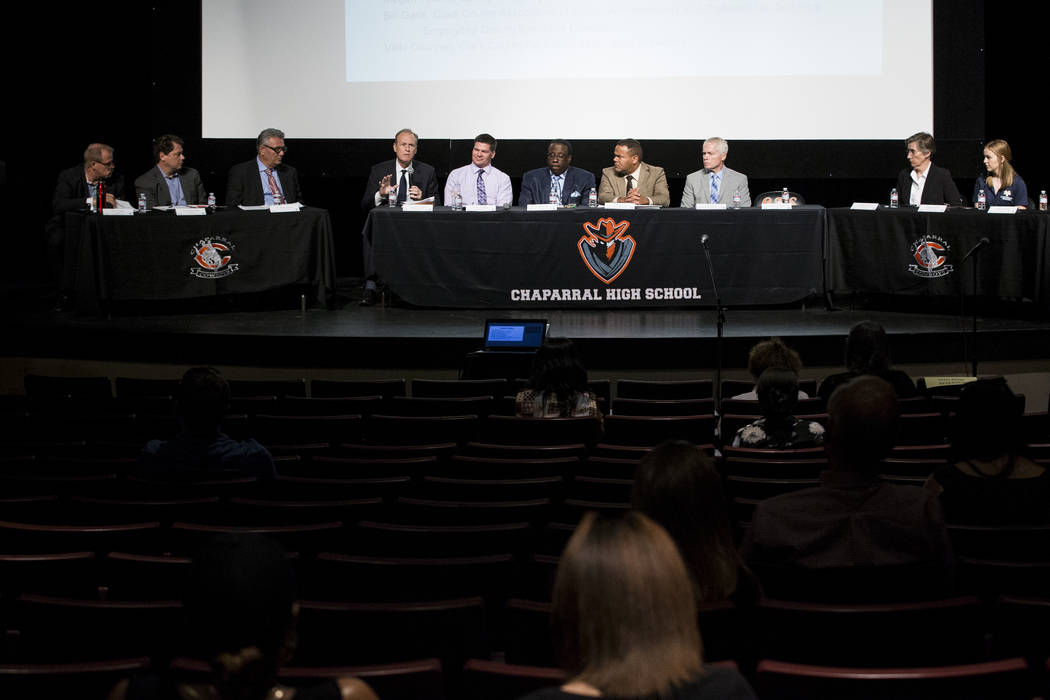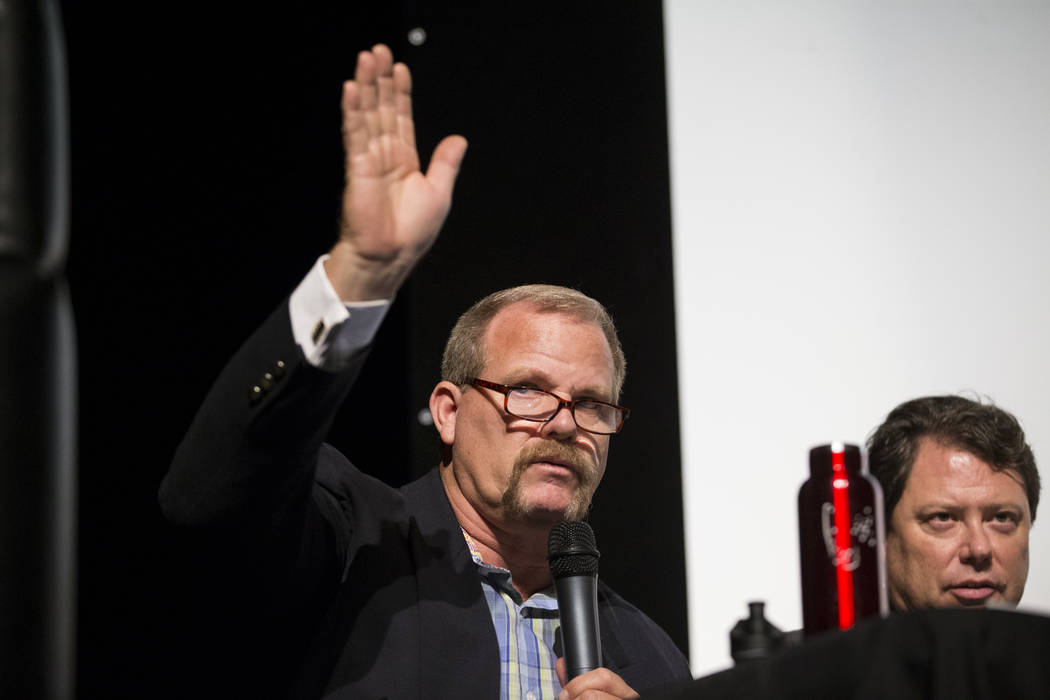 Electronic communication between students and teachers became a point of contention between educators and parents Thursday night, as the Clark County School District solicited feedback on its first-ever social media policy.
Canyon Springs High School teacher Ryan Fromoltz said many of his colleagues favor stronger background checks but are worried about not being able to text students individually — one of the main proposals from the school district.
"There (are) so many gray areas right now in this policy that many of us are fearful for our jobs for doing things outside of the classroom that we normally do," he said.
The draft policy would prohibit texting students individually, but it would allow teachers to text students in groups from 5 a.m. to 10 p.m. Fromoltz said he knows many teachers use texting or electronic messaging to communicate with students for out-of-town trips. His own students have his number in case of emergency.
On the other hand, parent Amanda McWilliams said she never thinks it's appropriate for teachers to text her two middle school children.
"Maybe CCSD could develop their own app," she said. "There's no reason they couldn't communicate via group message."
About 120 people — a mixture of school district officials, activists, teachers, community members and parents — attended the event at Chaparral High School. A total of 1,494 people had completed the district's online survey as of Thursday.
The discussion comes as the district is dealing with a rash of arrests for sexual misconduct among employees. Since July, 13 staff members have been arrested on charges of sexual misconduct with students.
A recent Las Vegas Review-Journal three-part series, Broken Trust, explored three major factors contributing to the issue. Those include flaws in the background check process, moving suspected offenders from school to school — a practice called "passing the trash" — and a lack of proper employee training.
In the majority of cases since July, employees used social media to foster relationships. The district convened a 27-member working group to bring forward the first draft. A final policy will likely be adopted by the board in August.
Policy proposals
A streamlined plan to get law enforcement involved earlier in the process was one policy aspect highlighted by representatives from the legal perspective.
Lt. Dave Valenta of the Metropolitan Police Department said the proposal simplifies the complaint process. "Prior to this draft, no two schools operated in the same manner," he said. "Which made our job more difficult when we went back and investigated."
James Sweetin, deputy district attorney in the Clark County district attorney's office, said the policy raises an extra level of protection. Immediately getting the police involved helps him prosecute cases further down the road.
Though the district already required background checks for staff, the new policy also would require background checks for volunteers — which falls in line with new laws passed in the 2017 legislative session.
"There are modifications that will need to be made in our processes based on new laws that are coming forward," said Andre Long, the district's chief human resources officer.
Employees will not be issued a school-district badge until they've cleared all background checks.
Principals and supervisors will be required to watch district training videos with their staff, instead of employees watching the videos alone.
Staff also should refrain from interacting with students from their personal social media sites and are encouraged to use district-recommended communication tools to talk to students about assignments, grades or other matters.
Parent perspective
Donald Baum, a parent of two children in the school district, took issue with parents finding out about arrests from the media, aiming his criticism directly at Superintendent Pat Skorkowsky.
"This is a Band-Aid on a bullet wound," he said of the proposed policy.
He suggested requiring the superintendent to issue a statement any time an employee is under investigation and include information for parents, such as where the employee works and their current employment status.
"By doing this, you put the information to the parents in a timely manner," he said. "Because as the way this goes, I feel as though you're not doing your job."
Not everybody felt that way. "I don't blame Clark County," said Gloria Nacoste, a 66-year-old Henderson resident. " I believe it is the individual that committed the offenses who should be held accountable. But we can always do more."
Nacoste formerly worked in the district as part of the junior ROTC program, and she's back training to work as a substitute teacher.
Nacoste spoke highly of the district's response to the offenders and to the training applicants have to undergo before being allowed in a classroom. She said there needs to be a culture shift, to spread the responsibility to keep kids safe.
"Everyone on that campus needs to be the eyes and the ears of the school district," she said. "If they see something, they need to report, it and that's just the way it is."
Contact Meghin Delaney at 702-383-0281 or mdelaney@reviewjournal.com. Follow @MeghinDelaney on Twitter. Contact Amelia Pak-Harvey at 702-383-4630 or apak-harvey@reviewjournal.com. Follow @AmeliaPakHarvey on Twitter.


RELATED
Broken Trust: Sexual Misconduct in Our Schools